Student
Drew Kendall Jones is as passionate about writing as any storyteller can be and as hardworking as any professional needs to be to succeed. It has been a busy year for Drew: he's published an article on Houston's local scene in The Washington Post and he spent two weeks in May reporting for The New York Times, culminating in a published article about social media's relation to gardening.
Alumni
Broadcast journalism alum Karli Burghoff landed a job working as a Houston Astros Ballpark Host in June 2019. Originally a biology major, Karli says she switched her degree to one that aligned with the dream job her six-year-old self would be proud of.
Alumni
When she was in third grade, Janel Strong's teacher told her she had a voice for radio. Now she works as a radio host at a station in Downtown Dallas.
Faculty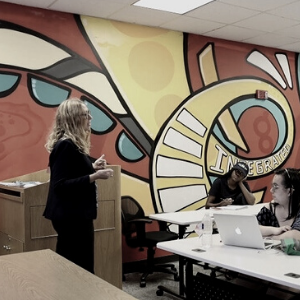 After years of working as a journalist in Guatemala, El Salvador, and Brazil, assistant professor of journalism Summer Harlow is using research and experiences to train the next generation. "I think that we as journalists have to put humanity first, and sometimes that means maybe having to take a stand," said Harlow.
Faculty
From working at her local newspaper to becoming a lecturer at the Jack J. Valenti School of Communication and now also working in the healthcare industry, Kelli Gifford has had a remarkable journey."I learned something new every semester, and it was exciting to see all my students grow, whcich increased my love for teaching," said Gifford.