How COVID-19 Changed Human Trafficking
September 7, 2023
By Chris Becker
Maria Burns shared with the TEDx Sugar Land audience the story of a flight attendant working a flight from Seattle to San Francisco. She noticed a young girl traveling with an older man. The girl looked distressed and when the flight attendant discreetly passed her a note asking if she needed help, the girl said yes. The pilot notified the police, and the man was apprehended in San Francisco. He was a human trafficker.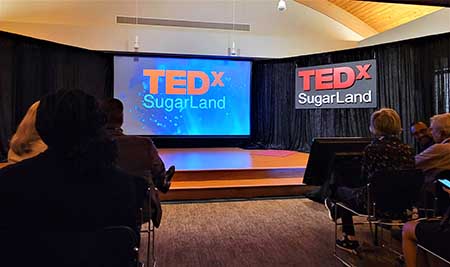 "This case has a happy ending for the victim, but upon researching thousands of cases, most do not," said Burns, assistant professor in the University of Houston Cullen College of Engineering-Technology Division, in the Information Science Technology department. She relayed information from her research into the upsurge of human trafficking during the COVID-19 pandemic. "In 2020, the world encountered two pandemics. One was well known, but the other went unnoticed."
Her talk was based on her past research interaction with the Department of Homeland Security. She also referenced her Ph.D. dissertation, which included a multivariate Federal and State policy analysis, and the data analysis of more than 50,000 trafficking victims from around the world.
While anyone, regardless of age, race, or gender, can become a victim of human trafficking, Burns pointed out that sex trafficking typically involves young women and underage girls, whereas forced labor traffickers often recruit young men in good physical health, capable of working long hours.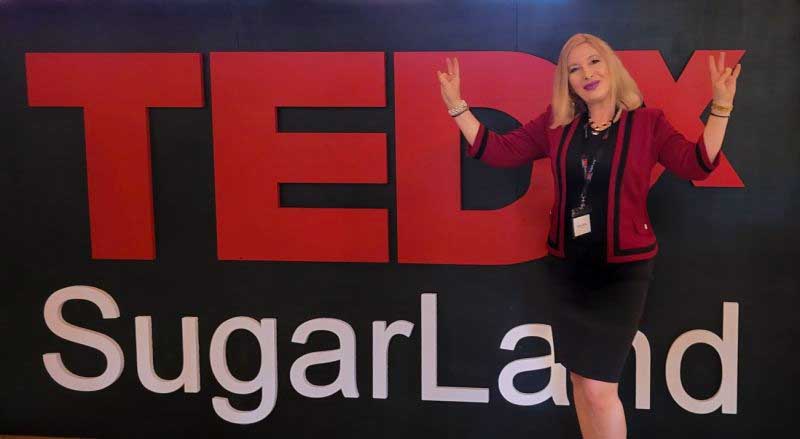 Texas, she said, is a hot spot for human trafficking, second only to California in the number of cases reported. According to the Department Of Health And Human Services, out of the total number of people trafficked into the United States, a quarter enters the country through the Texas-Mexico border.
"Just before COVID most people spent about five hours a day in front of a screen," she said. "According to recent research, that number went up during COVID. Traffickers took advantage of this and changed the way they operated."
Burns explained that the pandemic led to increased unemployment and health issues, which in turn made vulnerable populations even more vulnerable. During the months of lockdown, the amount of time a person spent online and on social media increased dramatically, from what was once on average five hours a day to 12.
Traffickers increased their efforts for online recruitment, accordingly, using fake profiles and cyber scams. For traffickers, the anonymity of the Internet provided an ideal opportunity to identify a potential victim's psychological and/or economic vulnerabilities.
She described the method of operation:
Step 1: Targeting, when the trafficker spots victims. Before COVID, this was done mostly face-to-face and less online. During COVID, online targeting increased radically.
Step 2: Grooming, when the trafficker approaches with "an amazing job or friendship opportunity," often out of town, and away from family, leaving the victim to think their life will change for the better.
Step 3: Breaking Point, when the victim sees the trafficker for what they are, but now are trapped. Traffickers threaten to extort or kill the victim or family members if they try to escape.
Step 4: Exploitation. This is a life of long working hours, as part of "repayment to the trafficker." It often involves abuse, sleep and water deprivation, malnourishment, etc.
"The traffickers are like actors, because they can take on any role the victim wants them to be," Burns said. "If a person is looking for a job, traffickers will impersonate recruiters, offering well-paying jobs, or present themselves as potential intimate partners or supportive friends."
Most people use the Internet in an isolated environment, without documenting their activity or online conversations. If they become a victim, there are few who can attest to what has happened.
"The problem is that criminal groups often use high-tech for their own benefit," Burns said. She added that even though there have been impressive advances where technologies like facial recognition, cyber security and artificial intelligence have been effective in combating human trafficking, trafficking is a complex, asymmetrical threat, where the human element of awareness still is needed.
"To quote the DHS slogan, 'If you see something, say something'. Volunteer your time and resources to partner with agencies fighting human trafficking, and help survivors get on with their lives," she said.
Public and private partnerships, where governments partner with private companies and non-profits to identify and collect evidence to prosecute human traffickers and help victims, are also effective. While federal and state governments have launched initiatives to combat human trafficking, awareness in one's community is important.
She closed her TEDx talk with a quote from Nikos Kazantzakis, the Greek writer and philosopher who said, "Love responsibility. Say: It is my duty and mine alone to save the world. If it is not saved, then I alone am to blame."
The TEDx Sugar Land event was held at the Ismaili Jamatkhana and Center.
The Cullen College of Engineering-Technology Division is housed at the University of Houston at Sugar Land.
Read more