More than $500K from Wheeler Foundation to UH College of Nursing Health Clinic
By Dennis Spellman
February 22, 2022
The University of Houston College of Nursing is receiving a $550,000 grant from the Burt and Mae Dean Wheeler Foundation to benefit healthcare services for Houston's homeless population.
"It is a big deal for us. It is a huge deal," said Kathryn Tart, dean of the college.
The college's Nurse Managed Health Clinic attends to Houston's homeless and working poor. Nurse Practitioners and nurses provide wellness exams, management of acute and chronic conditions and treatment of minor injuries, colds and flu.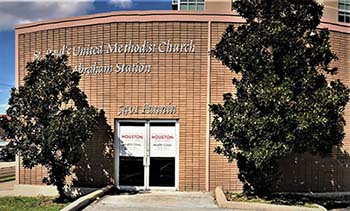 Located at 5401 Fannin Street, at St. Paul's United Methodist Church, the clinic draws people from those who come to the feeding station, about 250 people a day, and clothing center operated by the Emergency Aid Coalition housed at the Abraham Station.
The UH College of Nursing health clinic opened its doors in fall 2021.
"Wheeler foundation managers read a story about the clinic and visited St. Paul's United Methodist Church and Rev. Andrew Wolf," Tart said. "They like what they learned about the clinic."
People who come to the clinic with intricate medical conditions can utilize telehealth and be treated virtually by a physician or nurse practitioner working at another location. The referring provider assesses the injury and quickly provides a treatment plan.
According to Tart, social conditions determine 80 percent of a person's health.
"Food security, access to education, sidewalks and neighborhood safety are all factors that contribute to a person's health," she said. "If you look at the homeless, they experience every healthcare danger."
Currently, the clinic is open one day per week. The Wheeler Foundation's donation will allow the clinic to expand to two days a week and eventually be open three days a week.
"Mrs. Wheeler really liked nurses and was very appreciative of the care nurses provided to her and her husband in their later years," Tart said. "She was interested in the training of nurses."
The clinic is also a training facility for the College of Nursing. As a nurse-managed clinic, operated by nurses, it provides an unparalleled learning experience for UH nursing students who use what they learn in the classroom and apply it in a clinical setting.
UH students studying optometry, medicine, law, social work and pharmacy will eventually have opportunities to learn and care for individuals, within their discipline, at the clinic. Additionally, students will help enroll individuals for Medicaid and Medicare.
"It will be a hands-on experience for the students. It also helps them to learn about the homeless population," said Shainy Varghese, UH associate professor of nursing, nurse practitioner and clinic director. "The best way to provide the homeless with healthcare is to take it directly to them."
"Healthcare access and community service is a goal of the University of Houston as a whole," she said.
"It's a way to serve our community. The gift from the Wheeler Foundation validates that we are doing the right thing for our community and our students," Tart said.
The UH College of Nursing is at the University of Houston Sugar Land Instructional Site with programs at UH at Katy and the UH main campus.
Read more