Graduate Student Wins Axalta Scholarship
$5,000 Award Recognizes Excellence in Research
Zhongzheng 'Amy' Cai, a fourth-year chemistry Ph.D. student at the University of Houston, was awarded the inaugural Axalta Achievement Scholarship. This scholarship, which came with a $5,000 award and a plaque, was sponsored by Axalta Coating Systems in conjunction with the Powder Coating Institute (PCI). This scholarship is offered annually to a student pursuing studies in fields related to powder coating chemistry at a US university.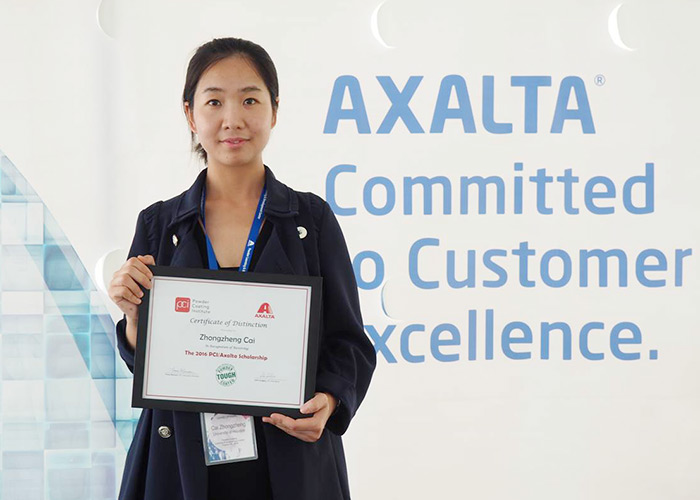 Amy Cai, graduate student in chemistry, was recognized for her excellence in polymer research with the Axalta Achievement Scholarship."After obtaining my doctoral degree in chemistry, I want to work as a research scientist, applying my knowledge and expertise in catalyst design to solve challenges in polymer science," Cai said.
Cai, who joined the Ph.D. program at UH in 2013, is a graduate student in the lab of Loi Do, assistant professor of chemistry in the College of Natural Sciences and Mathematics. Her research focuses on developing new catalysts for the synthesis of polymers.
Polymers are used in applications ranging from adhesives and coating materials to plastics and tech devices. Developing new types of polymers, as well as more efficient methods of synthesis, is an area of research with the potential to have a significant impact on industry.
For example, new synthesis methods can help lower production costs, increase the types of materials available for industrial applications, as well as provide environmentally friendly alternatives.
"The Axalta Achievement Scholarship Award is a commitment to foster the development of the inquisitive minds of future technologists in our industry," said Kevin Biller, member, PCI Board of Directors and president, Powder Coating Research Group, in a press release issued by Axalta.
"Amy was given the Axalta award in recognition of her innovative research and her potential to be a leader in the polymer field," noted Do. "She has been the main driver in our olefin polymerization catalysis project."
- Rachel Fairbank, College of Natural Sciences and Mathematics
November 16, 2016