Biology and Biochemistry Graduate Student Wins UH Three Minute Thesis Competition
Ritwika Biswas Also Won NSM's 3MT in People's Choice Category
Ritwika Biswas is passionate about educating people by sharing her highly specialized work to find better treatment options for Crohn's disease.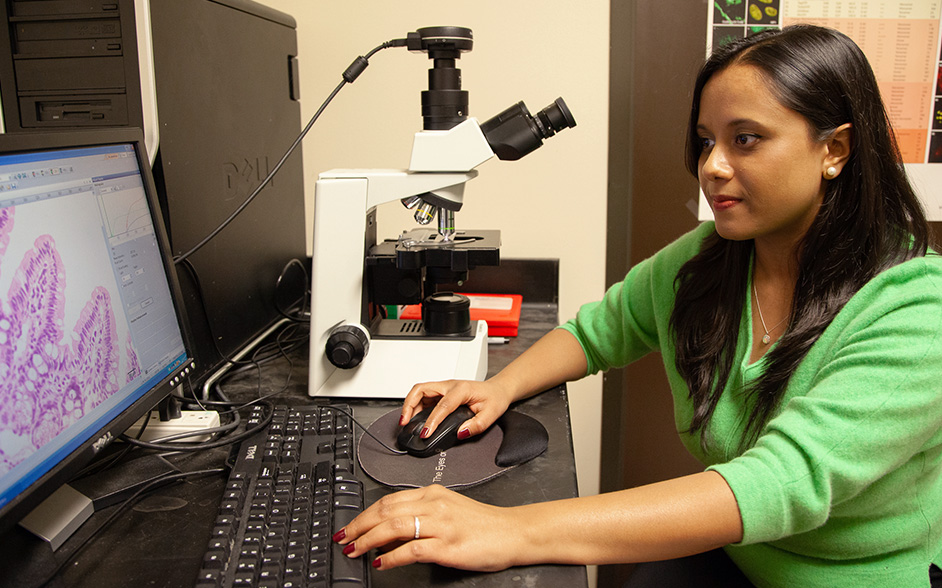 She is a fourth-year graduate student in the cell and molecular biology track working under the mentorship of University of Houston biology and biochemistry professor Seema Khurana. Biswas' research so far has proved to be award winning.
She won UH's in-person 3 Minute Thesis, or 3MT, competition on November 19, 2021, beating several doctoral students from different colleges and winning $1,000. She also received the People's Choice award at the UH College of Natural Sciences and Mathematics virtual 3MT competition in October 2021.
"It feels amazing," she said about winning the competitions. "Suddenly people know who I am. Honestly, I get a lot of questions about my work."
Inquiries into her work are met with a plethora of information. Biswas is eager to tell you all about her research on Crohn's disease.
Expediting Treatment of Crohn's
In her presentation, she begins by describing the uphill battle those diagnosed with the gastrointestinal disease face. With no cure for it, patients must restrict their diet to a stringent regimen. Avoid carbs, oil, caffeine, alcohol, nuts, chips; the list goes on.
Biswas then describes the causation for Crohn's. It is basically caused by a miscommunication between sensors in the patient's body and the stress response system. The stress makes the lining of the intestines swell up and die.
However, she has found a possibly effective treatment for the condition – anti-cancer drugs. These specific drugs treat cancers driven by mutations in the oncogene BRAF. This oncogene provides instructions to make a protein that helps transmit chemical signals from outside the cell to the cell's nucleus.
These drugs are expected to work well in patients with Crohn's to fix the miscommunication between sensors and the stress response system to make cells healthy again.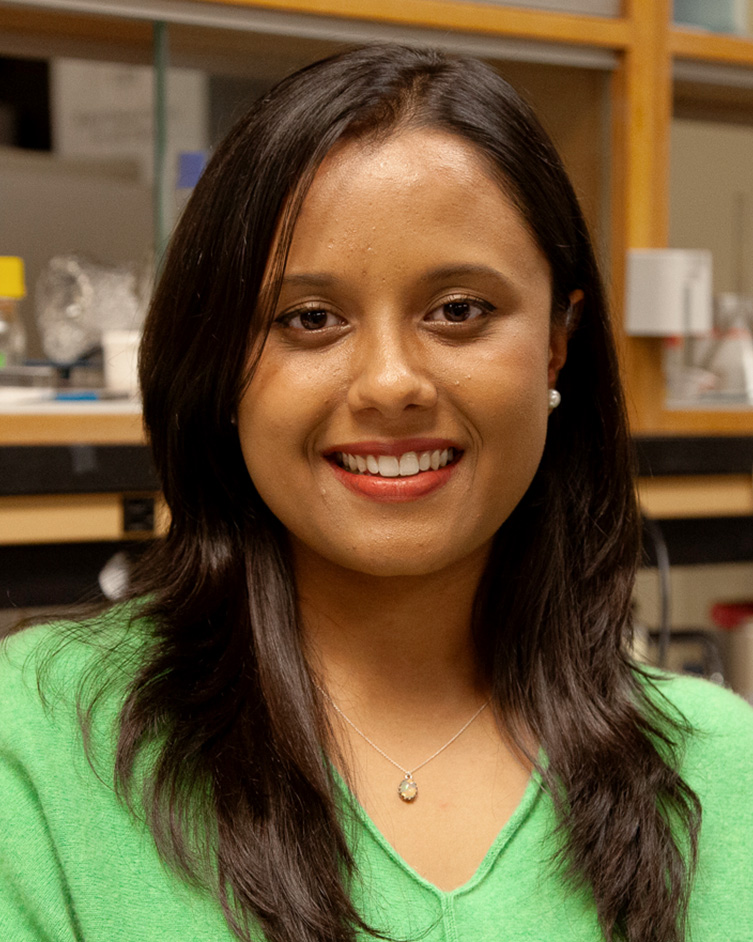 Biswas is using stem cell technology to test the drugs. She takes stem cells from the intestines of Crohn's patients and uses them to grow mini intestines in the lab. They are called organoids.
"They serve as powerful preclinical tools to test drugs," Biswas said.
The results? In both human and mouse organoids with Crohn's, she and her lab mates have reversed the disease using the anti-cancer drugs. Since the drugs have already been approved by the FDA for cancer treatment, that means clinical trials on the drugs can begin as soon as Biswas' studies are published. This reduces the timeline to a few years, as opposed to a decade.
She aims to publish her work in the high-impact journal Gastroenterology at the end of 2022.
Checking the Chemistry
Biswas explains organoids are superior to using mouse models alone.
"I am getting biopsy samples from real patients. I'm using their stem cells to grow organoids and then testing drugs on those organoids."
Now that she and her lab colleagues have found new results using cancer-fighting drugs in organoids with Crohn's, they must prove their findings through data validation. This is the biochemical part of their experiments.
"We perform assays to check RNA levels," she said. "There will also be changes in protein levels. We check for that, too. That is basically validation. We check to see whether a change has actually happened biochemically."
Competing Nationally
Biswas said the fact that her graduate student project is highly successful, as shown by her 3MT award, is one of the most exciting aspects of being a student at UH.
In addition, she said "I have made a lot of new friends who I can trust and who I can seek guidance from for my future goals."
Her post-graduation plans are still to be determined. She is weighing the option to teach and become a professor herself or to enter industry as a clinical trial researcher, such as working as a medical science liaison. Either way, she will likely seek a position as a researcher, to work under a principal investigator on the clinical side of medicine or applied research.
She has received most of her support from her husband and family. They encouraged her to compete in the NSM 3MT. She saw it as an opportunity to tell people in an easy-to-understand way what her research is about and how it can help society.
"I thought it would be a great opportunity for me to tell other people about my work that is not my family," she said with a smile.
Biswas will compete in the national 3MT competition which takes place in Raleigh, North Carolina, February 17-19.
- Rebeca Trejo, College of Natural Sciences and Mathematics
January 31, 2022