Physics Student Earns Graduate Fellowship from UH Center for Mexican American and Latino/a Studies
Pablo Lopez-Duque Bringing Next Generation of Computing to Hispanic Community
Earning a graduate fellowship from the University of Houston's Center for Mexican American and Latino/a Studies (CMALS) is quite an accomplishment.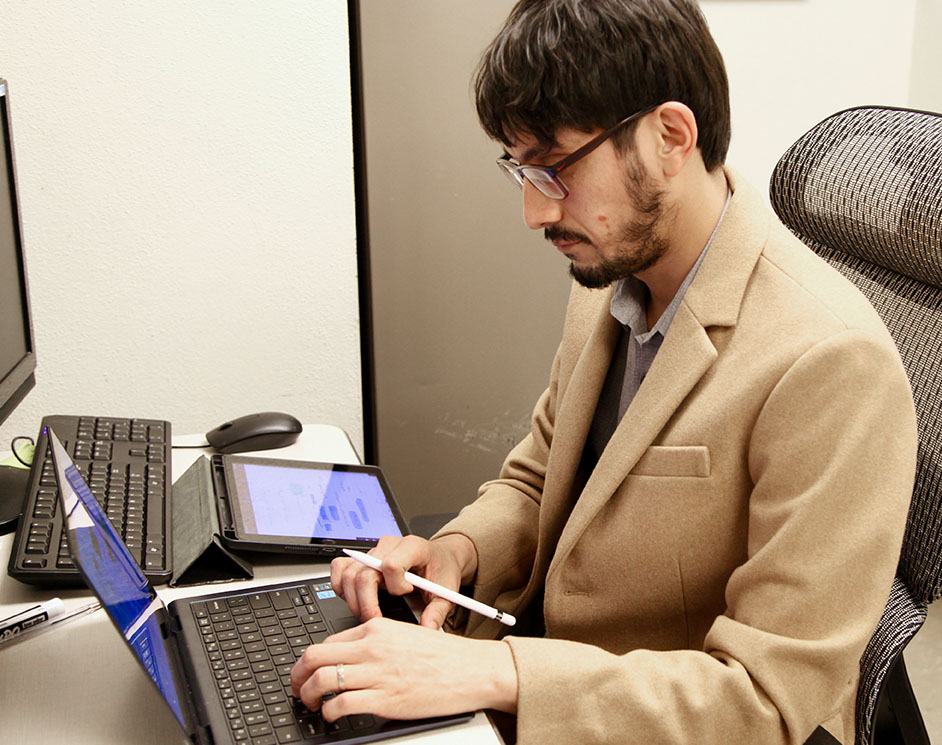 For Pablo Lopez-Duque, a fifth-year physics graduate student at the College of Natural Sciences and Mathematics, it's a distinction that's part of an educational journey that began as a child thousands of miles from Houston in his homeland of Ecuador.
Last summer, Lopez-Duque received a master's degree in physics from UH and is now pursuing a doctorate in quantum physics. He is only the second UH student with studies focused in science, technology, engineering or math to earn the CMALS graduate fellowship. Five graduate students received a CMALS fellowship this year.
Focused on Computing Careers Among Hispanics
At UH, Lopez-Duque is studying quantum computing, which is the focus of his fellowship.
He was chosen based on his collaborative work with UH physics professor Carlos Ordonez and UH professor of Mexican American studies Pamela Quiroz. Together, they are working with IBM to shape the diversity of the future workforce in quantum computing. IBM is particularly interested in their help promoting quantum computing in Houston's Hispanic community, especially in high schools.
According to Lopez-Duque, the future of technology lies in quantum computing, and it's something that will grow significantly with more opportunities in the years ahead.
"Companies and academia want society to learn how to use quantum computing and apply it to everyday applications," said Lopez-Duque.
Quantum computing is different from traditional computing in that it uses quantum bits, known as qubits, as a basic unit of quantum information. This is the quantum version of the classic binary bit in which traditional computers use zero or one to complete tasks.
Graduate Fellowship Supports Mexican American, Latino/a Collaborative Studies
The CMALS graduate fellowship, which began in 1993, provides a stipend for up to two years. Lopez-Duque's stipend is $19,500 for a year, and it is renewable for a second year.
The fellowship is open to any Master of Arts, Master of Fine Arts or Ph. D. student at UH. It focuses on collaboration efforts in academia that benefit the Mexican American and Latino/a communities.
Quiroz, who also serves as director of CMALS, believes it's important to include fellowship students from diverse studies. "The Center for Mexican American and Latino/a Studies is a university-wide designated center," said Quiroz. "It should fund graduate students in a multitude of subject areas.""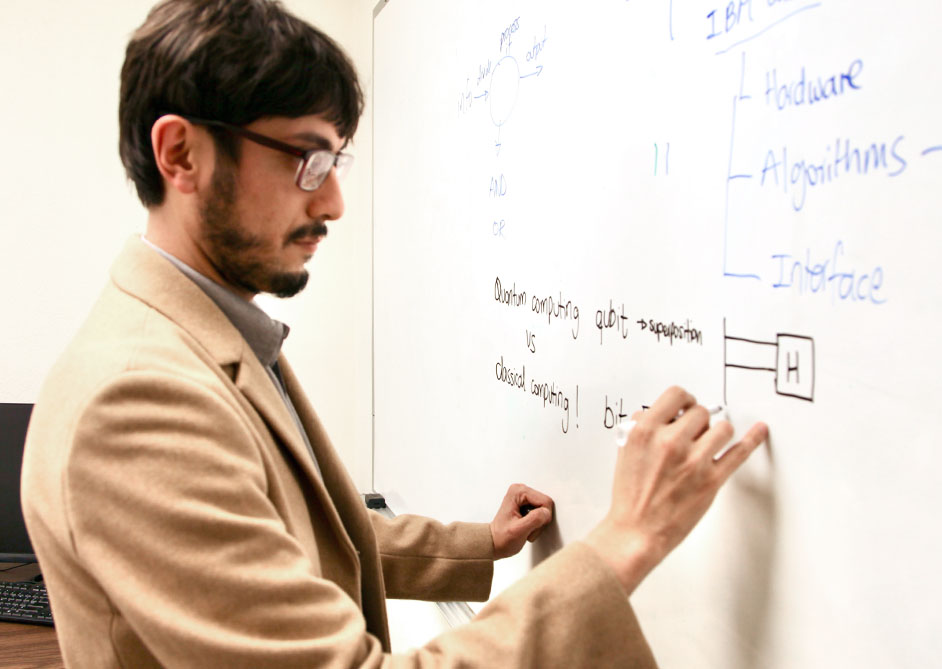 Lopez-Duque worked with Ordonez, Quiroz, UH physics assistant professor Greg Morrison and UH physics associate professor Oomman Varghese to obtain the fellowship.
"Pablo's background in STEM made him a natural choice for the fellowship," said Ordonez, who serves as an advisor to Lopez-Duque.
Morrison, who is also a mentor to Lopez-Duque, was impressed with his adaptability.
"I noticed early on that he took on research more quickly than was expected of a typical graduate student," said Morrison.
Journey from Ecuador to Houston and UH
Before attending UH, Lopez-Duque graduated from Universidad San Francisco de Quito in Ecuador. According to Ordonez, the university has a strong background in physics because it was founded by two physicists.
After graduating, Lopez-Duque taught for two years in his homeland before coming to Houston and to UH for graduate studies.
He said UH opened new possibilities for him thanks to support from a university community that champions innovation, creativity and diversity.
"I am grateful to the faculty at UH, as well as my friends, for supporting me through this process," said Lopez-Duque. "I'm also thankful for UH's culture of fostering creativity."
Lopez-Duque is also appreciative of his life partner, Evelyn Yanez, who has supported him throughout graduate school. "Without her help, love, company and constant backing, none of my achievements could have been realized," he said.
- Chris Guillory, College of Natural Sciences and Mathematics
November 15, 2022