Atmospheric Sciences Ph.D. Student Wraps Up Internship with NOAA
Madeline Statkewicz Inspired by Bob Talbot to Apply for Program
Madeline Statkewicz credits her Ph.D. in atmospheric sciences for having a hand in saving her life. Specifically, she thanks the late Bob Talbot, former professor of atmospheric chemistry at the University of Houston, for being her advisor.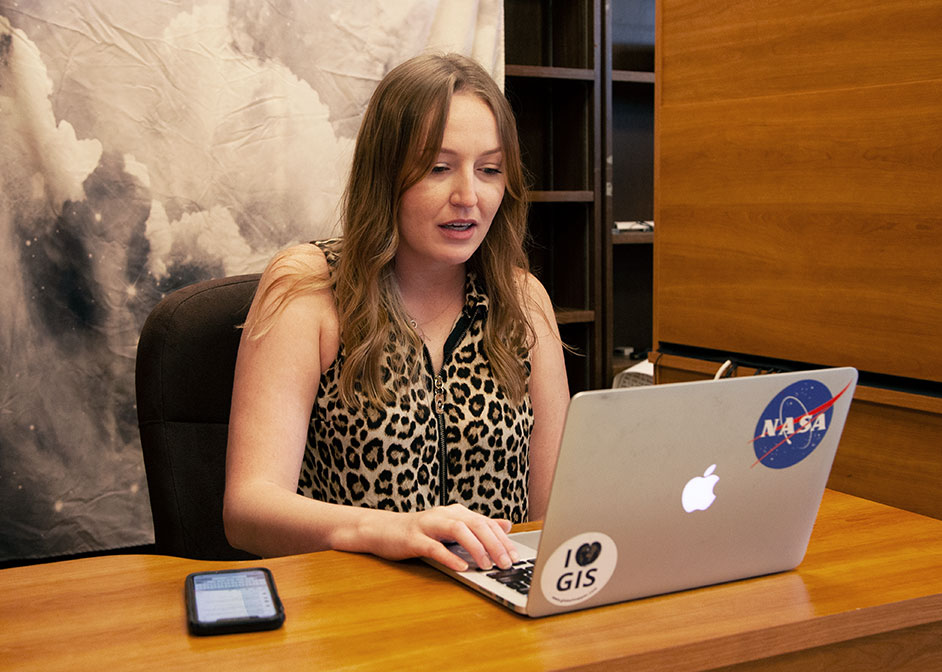 "By offering me a spot here as a Ph.D. student and funding my research, he got me out of a really bad home situation where I didn't have anywhere else to go," said Statkewicz, a graduate student focusing on atmospheric chemistry at the College of Natural Sciences and Mathematics' Department of Earth and Atmospheric Science.
She is now wrapping up her 10-week, virtual William M. Lapenta Student Internship with the National Oceanic and Atmospheric Association. According to NOAA, students participating in the internship focus on scientific areas that will meet the future needs of the administration's broadening user community and address strategic weather, water, and climate issues.
This summer, Statkewicz worked with NOAA's Atmospheric Chemistry, Carbon Cycle and Climate program, studying the weather at the interface of land, sea, and large cities like New York City. These factors can contribute to an "urban heat island," where one part of town is significantly hotter than another.
She cites a study in Harris County from August 2020 that found a 17-degree temperature difference between two neighborhoods in the county on a single day. Channelview, a more rural area, was 17 degrees cooler than the Galleria, the hottest part of town that has little green space.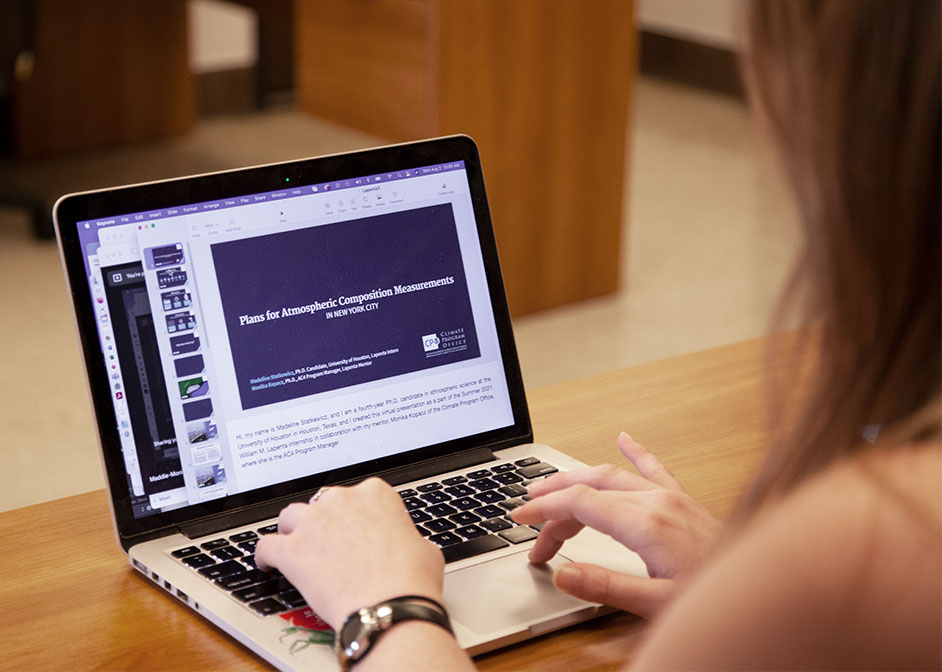 "Take that example and apply it to New York City," she said. "There are reasons there for people to be invested in air quality, because if you have an urban heat island, then you're going to have complex atmospheric chemistry accelerated by heat – think pollution, emissions and air quality."
Through her internship, she's compiled NOAA's ground, flight and satellite studies on air quality and made communications items to stakeholders like the New York City's Mayor's Office.
Pursuing a Ph.D.
What drew her to the program was Bill Lapenta himself. She admires the fact that he mentored the next generation's scientists and meteorologists.
"He sounds like a scientist I would have liked to have met," said Statkewicz. "Like a mentor I might have chosen for myself."
Talbot, her former mentor, inspired her to apply for the position. She was three semesters into her Ph.D. program when he passed early last year.
"I was devastated by his loss," she said. "I remember when I found out he had cancer I expressed to my best friend that I was nervous. Dr. Talbot talked so positively about the future. During our last meeting, we were talking about his retirement. So, the news was blindsiding, absolutely blindsiding. Still today, there are questions I wish I could ask him."
She could have decided to graduate with a master's in atmospheric sciences after his passing, but she followed through with her Ph.D. instead.
"My whole department has been amazing," she adds. "EAS has been a dream team. All of them."
Statkewicz has continued her research project: to investigate the nature of precipitation events, provide a comprehensive characterization of storm types, and to address the societal implications for the greater Houston metro.
As her Ph.D. progresses closer to graduation, she reflects on her experience with professor Talbot.
"The only regret that I have with Dr. Talbot is that my plan was to tell him at graduation he saved my life, so I have held on to that," she said. "I guess maybe that's why I'm telling it to you, because I never got the chance to say it to him."
- Rebeca Trejo, College of Natural Sciences and Mathematics
August 12, 2021