UH Graduate Students Push for New Answers into Cancer Causes and Treatments
Khan and Zhou Earn Robert Hazelwood Graduate Fellowships for Cancer Research
Ashfia Khan and Tianyi Zhou have been focused on finding answers for cancer and how it affects the body. Now, they're getting extra help to enhance their research.
Khan and Zhou, Ph.D. students at the University of Houston College of Natural Sciences and Mathematics, have earned Robert Hazelwood Graduate Fellowships for cancer research. Khan is pursuing her Ph.D. in biochemistry, and Zhou is pursuing his Ph.D. in biology with a focus on cell and molecular biology.
The fellowship, $5,000 for each student, is awarded annually to exemplary Ph.D. students in the Department of Biology and Biochemistry who are engaged in cancer research.
Ashfia Khan
Khan's research focuses on drug-resistant luminal A breast cancer, the most prevalent breast cancer subtype, according to the National Institutes of Health. About 30%-40% of patients with this subtype show resistance to conventional anti-cancer therapy.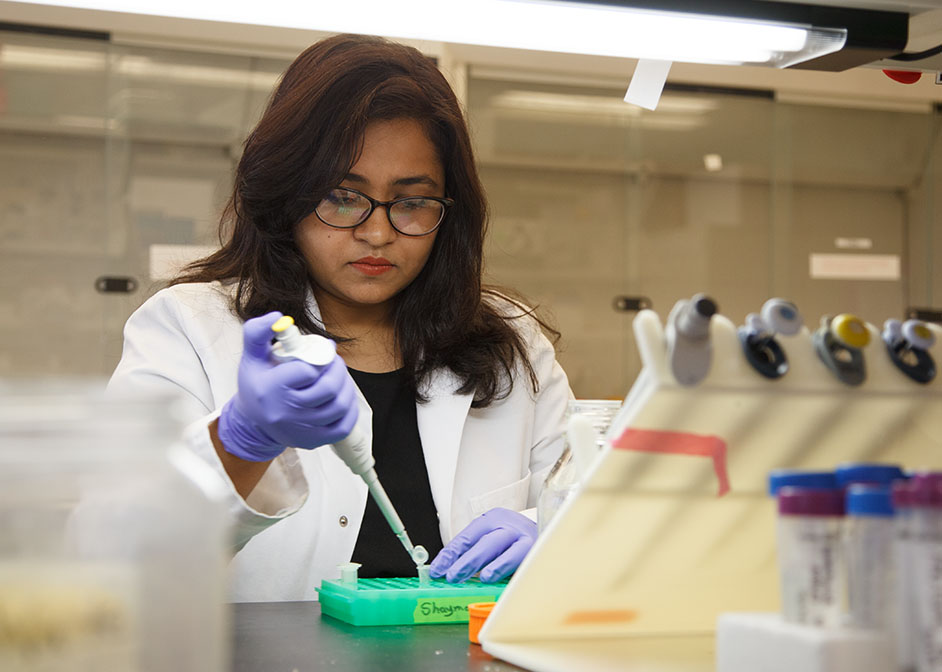 "I'm interested in learning more about the role the androgen receptor (AR) plays, in particular with the nonconventional modified AR in breast cancer," said Khan.
Khan is designing molecules to target the modified AR and, consequently, deliver targeted therapy for patients with luminal A breast cancer.
"Cancer cells can evade therapy and evolve into a more aggressive form to survive and metastasize," she said. "There is a clinical need to target drug-resistant metastatic breast cancer."
Khan, whose aunt recently passed away from breast cancer, knows the challenges of the disease and wants to help others who are affected.
"It's difficult to see people in this state of health," she said. "I want to find a way to give cancer patients hope that this disease is not a death sentence."
Khan's advisor, associate professor Tasneem Bawa-Khalfe, describes Khan as a highly productive, hard-working independent thinker. She is thrilled with the progress Khan has made since joining UH four years ago.
"Ashfia is a co-author on three published manuscripts on cancer biology and anti-cancer therapy," said Bawa-Khalfe. "Her recent findings define how and why the modified form of the AR accumulates in luminal A breast cancer patients."
Khan earned a master's degree in pharmacy from Primeasia University in her native Bangladesh and received an additional master's degree in cancer sciences from the University of Glasgow in Scotland before coming to UH.
Tianyi Zhou
Zhou's research focuses on the molecular mechanisms that drive advanced prostate cancer. The ultimate goal of his work is to identify novel target molecules for potential therapeutic interventions.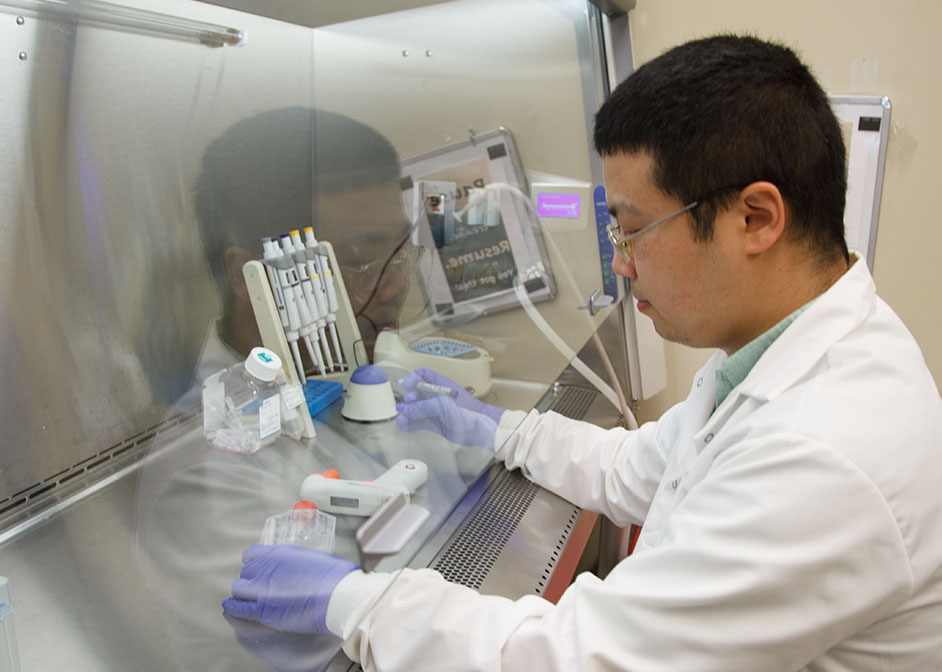 "Prostate cancer is the second most common cause of cancer-related deaths among men in the United States," said Zhou. "Our research aims to elucidate the mechanisms responsible for the progression of primary prostate cancer to advanced metastatic prostate cancer."
Zhou explained that the current gold standard for treating prostate cancer is hormone therapy, also known as androgen deprivation therapy. This treatment targets the AR found in prostate cells. The primary purpose of hormone therapy is to reduce the activity of the receptor, limiting its ability to fuel growth of prostate cancer cells.
"Many who undergo androgen deprivation treatment mistakenly think they're cured as the tumor size shrank, along with the shutdown of androgen receptor signaling," said Zhou. "However, after an average of two to three years, the cancer can come back in a more aggressive form."
Finding out why it comes back is where Zhou's work comes into play.
His advisor, associate professor Qin Feng, said Zhou exceeded expectations since joining her lab.
"Zhou has an outstanding self-learning ability and strong critical thinking skills," said Feng. "I found he had immense research potential."
As a result of his proactive and quick learning abilities, Feng said Zhou has already published two papers and is preparing two, first-authored manuscripts.
Zhou completed his undergraduate studies as part of a cooperative program with Sichuan University and the University of Washington-Seattle. He earned his master's degree from Texas A&M University before attending UH.
Common Goal
Both Khan and Zhou share a similar goal. They want to use their research to help create a better way of life for those affected by cancer.
"I believe that a comprehensive understanding of the molecular mechanisms underlying prostate cancer will enable people to develop more effective treatments and save thousands of lives," said Zhou.
Through her work, Khan also hopes to find novel approaches to target metastatic cancer.
"If we are able to detect cancer early, we have a much greater chance of curing it," said Khan. "Educating the population and having access to affordable healthcare for everyone are keys to achieving this."
- Chris Guillory, College of Natural Sciences and Mathematics
March 29, 2023