Geology Ph.D. Student Awarded NASA Grant
Two-Year, $285K Grant Funds Martian Climate Research
Joanna Clark, a second-year University of Houston Ph.D. student in geology, was awarded a two-year, $285,000 NASA grant. This grant will support work to determine the effect of temperature on silica formation, with a goal of using this information to understand previous climate conditions on Mars.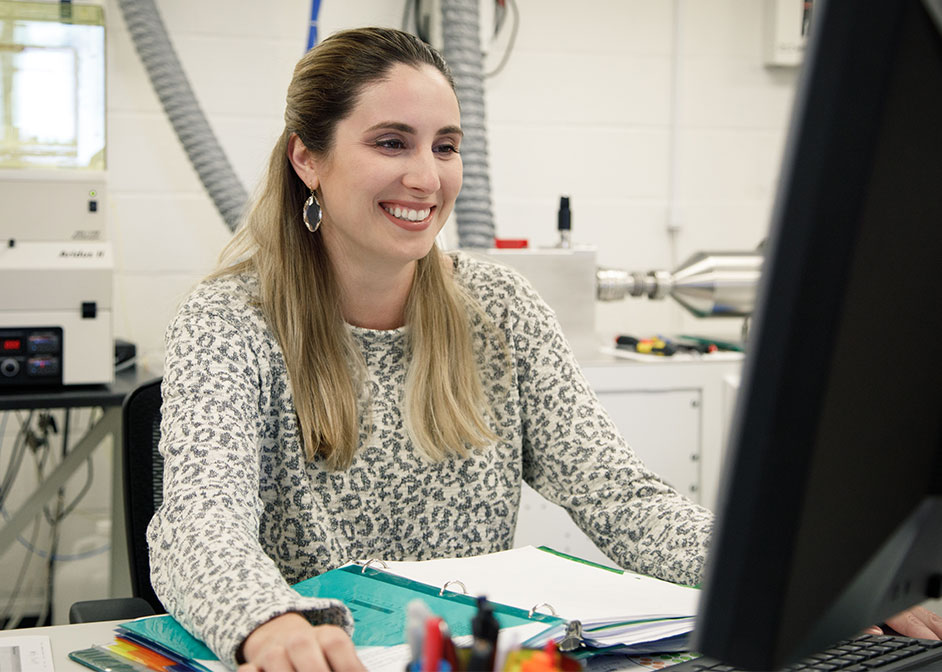 "We hope to have samples from Mars one day," said Clark, whose research is advised by Tom Lapen, professor of geology and chair of the earth and atmospheric sciences department. "When we do, we need to be ready to evaluate them."
Studying Climates During Past Geologic Periods
Paleoclimatology is the study of climates during past geologic periods.
To understand past climates, paleoclimatologists look to clues left behind in rocks. One clue is the oxygen composition of silica.
Silica is formed by precipitating out of water, similar to how rock candy is formed by sugar crystals coalescing around a stick.
Depending on the temperature at time of formation, silica will form with different ratios of oxygen isotopes. Isotopes are when the mass of an atom varies. For oxygen, atoms can come in three different masses.
These isotopic ratios can be used as a thermometer, one that offers clues as to past climate conditions.
Silica Formation at Subzero Temperatures
This technique has been developed to establish isotope ratios for temperatures ranging from approximately 0 degrees Celsius to 300 degrees Celsius. Below 0 degrees Celsius, however, is an unknown.
Current temperatures on Mars are below freezing, and it's possible that past temperatures were as well.
Precipitating silica at subzero temperatures is unusual in the sense that, since water freezes at 0 degrees Celsius, this does not usually happen.
The exception is when the water contains a high amount of salts, which means that the solution stays liquid even below the freezing temperature of pure water. Given the presence of a lot of salts on Mars, subzero silica formation is a distinct possibility.
Clark's research will focus on performing laboratory experiments to form silica at subzero temperatures in order to establish these ratios.
"This project will develop a technique that will help us understand past temperatures on Mars," Clark said.
Learning the Grant Proposal Process
"A graduate student conceiving of and writing a funded major NASA grant proposal is very rare," Lapen said. "Usually these programs have a 20% funding rate with hundreds of proposals being submitted by top researchers across the U.S."
For Clark, the process of writing a grant proposal was a valuable learning experience, one that will help her moving forward.
"At the beginning of this, I did not know how to write a proposal," Clark said. "It's not just coming up with an idea, it's coming up with a budget and a timeline, as well as a plan for executing this research."
Clark's advice for writing a grant? "Ask for help with reviewing, ask to see examples of funded grant proposals," she said. "Don't do it by yourself."
- Rachel Fairbank, College of Natural Sciences and Mathematics
November 18, 2019