Researching the Smallest Properties of Nuclear Particles
Doctoral Student Jamie Stafford Studies Most Fundamental Nature of Physics
Jamie Stafford, a University of Houston physics Ph.D. student, is fascinated by science at its most basic level. She credits this curiosity as the reason why she decided to study theoretical nuclear physics.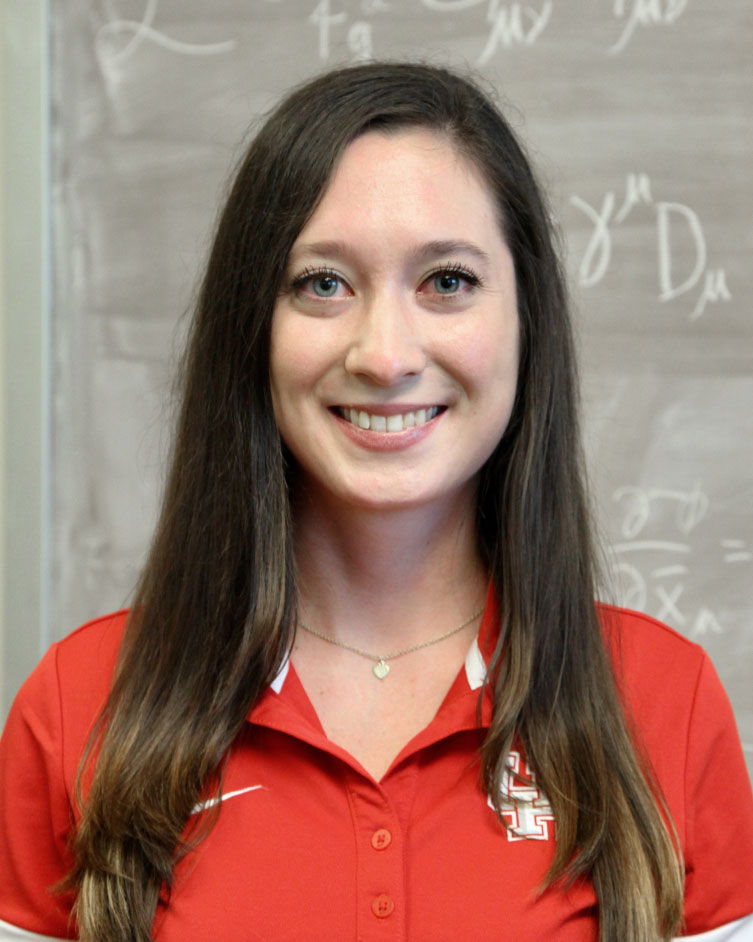 She works with College of Natural Sciences and Mathematics Associate Professor of Physics Claudia Ratti and studies the properties of different types of quarks. These are the elementary particles within protons and neutrons.
"In the models I use I can separate by quark type, essentially," Stafford said. "Protons and neutrons contain up and down quarks. Those are the ordinary particles we see everywhere. But in particle colliders we also create heavier quarks. There are several types of heavier quarks, but the one I focus on is the strange quark."
The particles containing strange quarks exist at a higher temperature and could have been remnants of the Big Bang.
Stafford's field of study also has application in astrophysics.
"It could be that this strange matter exists somewhere out there in the universe," Stafford said. "And it could be that very dense, stellar objects like neutron stars have, at their core, this strange quark matter."
An Interest in Fundamental Science
Her interest in science began in high school, when she visited a university chemistry lab. She later decided to major in chemistry at Lamar University in Beaumont and almost immediately got involved with research.
"From that time, I knew I wanted a research career," she said. "The fundamental nature of the universe was something I always wanted to know more about. It's amazing I actually ended up studying with Claudia. I feel like this is the most fundamental work I can do."
Stafford eventually double-majored in chemistry and physics, with a specific interest in heavy ion collision physics, after taking a class with a professor who was involved with that type of research.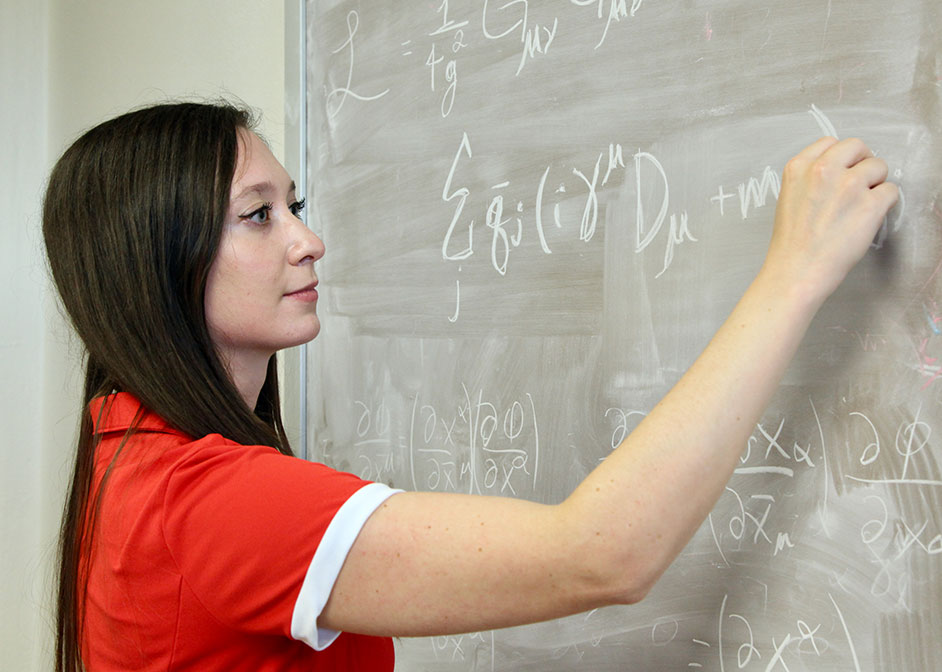 She decided to attend the University of Houston because she wanted to work with Ratti. Their paths crossed after the American Physical Society's Conference for Undergraduate Women in Physics at Rice University.
Stafford said Ratti goes beyond normal advisor duties. She not only explains concepts to students that they otherwise would have to learn by themselves, but Ratti is also incredibly supportive of her students getting noticed and recognized, which helps for their future academic career.
"Every time we have a conversation, I learn something from her," Stafford said. "It's so much more than just physics."
Ratti said Stafford is an excellent graduate student who has accomplished work that has already led to several scientific publications, conference presentations and awards.
"She is independent but also enjoys working in a team," Ratti said. "She is already contributing to train the next generation of undergraduate and graduate students in my group."
Looking to Future While Reflecting on Past
Stafford is currently at the Lawrence Berkeley National Laboratory working with a collaborator on a project related to her dissertation. She and Ratti received a National Science Foundation INTERN grant that made the six-month opportunity possible.
"We are trying to come up with an independent way to characterize the phase transition from ordinary protons and neutrons into the quark gluon plasma," which is the phase Stafford explains existed microseconds after the Big Bang.
Following graduation, she hopes to get her first postdoctoral position and to later pursue a career as a physics professor.
"I feel so rewarded if I can contribute, even a tiny bit of understanding toward the fundamental strong interaction," she said. "I also think these fundamental studies are good for humanity. We can know more about who we are and how the universe evolved to the state that we observe today. And that's really what I'm motivated toward."
Although Stafford looks forward to her future career, she reflects on her memories at UH's physics department, especially those before the pandemic.
"We would go down to the rec center bowling alley or to Pink's Pizza to celebrate and de-stress together," she shares. "In the beginning years, before we go our separate ways into the research, there's really a sense of interdependence between grad students."
Stafford adds she will even miss the late-night study sessions because of the natural flow that came from working with her physics cohort.
"I'm mostly really thankful for the times we could blow off steam together," she said. "I think those early days when we were just humans, not students, were really important."
- Rebeca Trejo, College of Natural Sciences and Mathematics
January 14, 2021