Geoscience Student Team Wins Imperial Barrel Award World Championship
UH Students Beat Out 190 Other Teams for a Unanimous World Final Win
A team of University of Houston geoscience graduate students won this year's Imperial Barrel Award (IBA) World Final, beating out 190 other student teams in the process.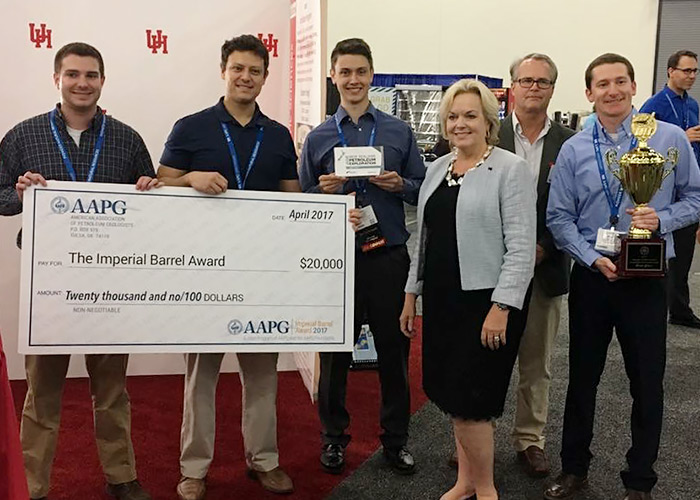 IBA Team Members and faculty adviser Paul Mann meeting with Judith Anne Collins, the New Zealand Minister of Energy and Resources. From left to right: Eric Lunn (captain), Leiser Silva, Walter Reed, Judith Anne Collins, Paul Mann, and Andrew Steier. Not pictured: Delaney Robinson.The IBA competition, run by the American Association of Petroleum Geologists, is an annual basin evaluation competition for graduate students. The winning student team received a $20,000 check, which will fund academic activities in the Department of Earth and Atmospheric Sciences in the College of Natural Sciences and Mathematics.
IBA Competition Prepares Students for Becoming Petroleum Geologists
"This competition teaches you how to be a petroleum geologist," said Andrew Steier, a master's student in geology. Team members also included Eric Lunn, the team captain and a Ph.D. student in geology, Walter Reed, an M.S. student in geophysics, Delaney Robinson, a Ph.D. student in geology, and Leiser Silva, an M.S. student in geology. Faculty advisors included Paul Mann, Julia Wellner and Kurt Rudolph, as well as industry advisors Mike Liebelt and Mark Richardson.
For this competition, student teams were given a dataset of a specific basin area eight weeks in advance, with no access to this data being given before this time period. Over the course of the allotted time period, they analyzed the dataset, and then gave a 25-minute presentation on their conclusions to a panel of six judges.
Twelve regional championships are held around the world, with the winners advancing to the finals. In March, the UH team won their Gulf Coast section of 10 universities in Texas, Louisiana, Mississippi, and Alabama to advance to the finals held on April 1 in Houston.
UH Team Analyzed Taranaki Basin in New Zealand
"We learned how to work as a team," Robinson said. "Everyone had their different focus, which we all brought together to do the analysis."
This year, UH students received a dataset of the Taranaki basin, which is off the west coast of New Zealand. The team analyzed this data, looking for features characteristic of oil or gas deposits.
"I learned the whole exploration process, from evaluating a basin to the process of actually drilling a well," Silva said.
Results Presented to Industry Experts
"As part of the competition, we learned how to present our results to a panel of industry experts," Lunn said.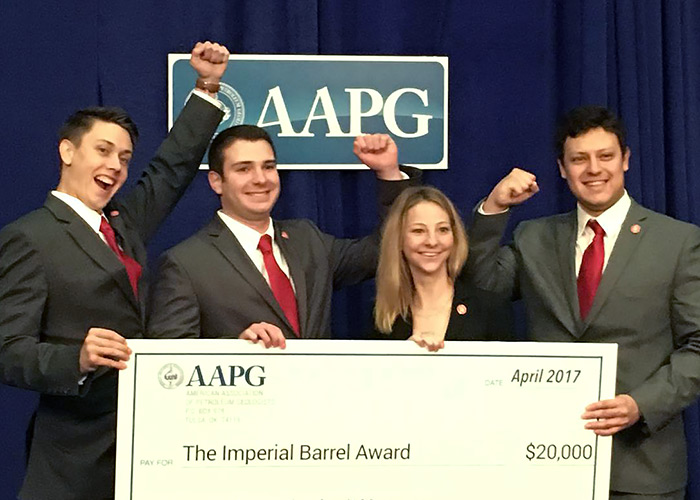 UH Imperial Barrel Award Team Members (from left to right): Walter Reed, Eric Lunn (Captain), Delaney Robinson, and Leiser Silva. (Team Member not pictured: Andrew Steier)After winning the regional championships, where they beat out teams from University of Texas at Austin, Texas A&M University and Rice University, they advanced on to the world championships, held at AAPG's Annual Convention and Exhibition.
During the world finals, they competed against 11 regional championship winners from around the world, presenting their results to a panel of six judges. For the first time in the memory of the judges present, all six judges came to a unanimous decision that UH deserved the first-place award.
"This is a great experience for students who want to go into industry," Reed said.
Student Excellence Recognized by New Zealand Minister of Energy and Resources
Based on the quality of their data analysis, Judith Anne Collins, New Zealand's Minister of Energy and Resources, met with the UH students after the competition. She gifted them with a digital copy of all of New Zealand's seismic and well data, which will be available for UH researchers to use.
"The number of alumni that reached out to congratulate us on our win was inspiring," Steier said. "It was like cheering for your alma mater's football team. Alumni wanted to see the big check and shake hands with us."
- Rachel Fairbank, College of Natural Sciences and Mathematics
April 27, 2017