Hanah Na: On Path to Becoming Independent Researcher
Research Focuses on Synthesizing and Modifying Light-Emitting Materials
"I came to graduate school to learn how to be an independent researcher," said Hanah Na, a Ph.D. student in the University of Houston's Department of Chemistry. With the help of her Ph.D. advisor, Thomas Teets, assistant professor of chemistry in the College of Natural Sciences and Mathematics, Na is already well on her way.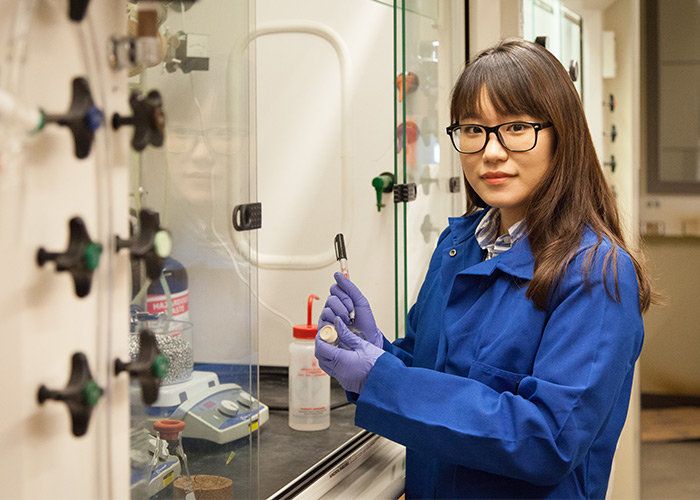 Hanah Na, Ph.D. student in chemistry, works on more efficient methods for synthesizing and modifying photosensitizer molecules, which are used as materials in devices such as light-emitting diodes and solar cells.Na's research focuses on synthesizing and modifying photosensitizers, which are molecules that absorb the energy of light, using that energy to drive chemical reactions. Many photosensitizers are also luminescent, meaning light-emitting. Photosensitizers are used as materials in devices such as light-emitting diodes or solar cells.
As a second-year graduate student, Na published her first, first-author paper in the journal Organometallics. In the paper, she described a more efficient way of altering the light-emitting properties of a photosensitizer molecule.
Na's approach was to alter a photosensitizer molecule through post-synthetic modification. In other words, instead of making a new molecule from scratch, which is a time-consuming process, she found that modifying an existing molecule was enough to alter the light-emitting properties.
"Hanah has quickly become one of the most proficient and talented researchers I have ever worked with," Teets said. "She did an impressive job of working out the kinks and bringing this novel concept to life."
Na received her bachelor's degree from Konkuk University in South Korea, where she conducted research in an engineering group. After graduation, she matriculated into the Ph.D. program in chemistry at UH.
"I chose the University of Houston because it is a big university, with connections to other departments, such as engineering and biochemistry," Na said.
When asked about what she's learned as a graduate student, Na's answer was simple: "I've learned two important lessons. The first lesson is the importance of knowing the basics. The second lesson is that failure is common in research. My advisor, Dr. Teets, taught me that sometimes we get more when we fail."
- Rachel Fairbank, College of Natural Sciences and Mathematics
October 26, 2016