Award-Winning Student Research Posters at AAPG
Grad Students Win Awards at AAPG Student Poster Competition
Annual Convention and Exhibition Held in Calgary, Canada
Two Department of Earth and Atmospheric Sciences graduate students, Shenelle Gomez and Luis Carlos Carvajal, won awards during the student poster competition held at the American Association of Petroleum Geologists Annual Convention and Exhibition in Calgary, Canada, June 19-22. Gomez won second place and Carvajal won third place.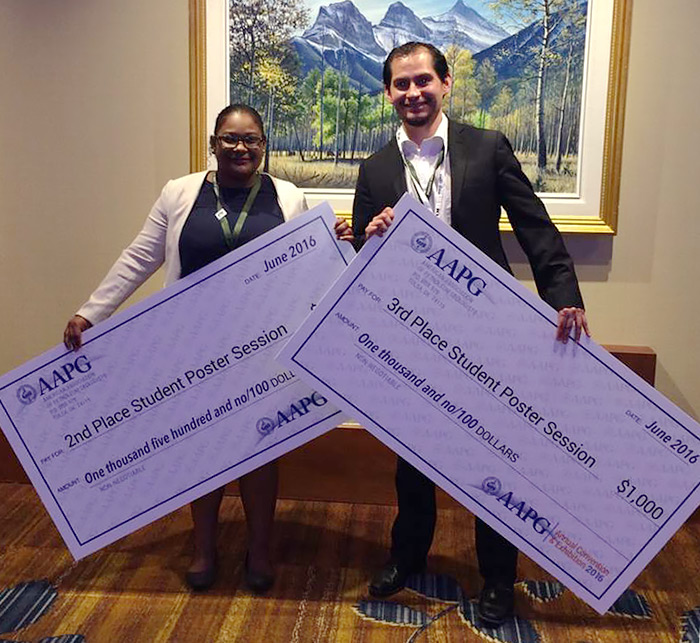 Gomez' poster was entitled "Deep Crustal Structure and Tectonostratigraphy at the Leading Edge of the Caribbean in Basins Offshore Barbados and Tobago: New Insights From 2-D Gravity Modeling and 2-D Seismic Data."
Carvajal's poster was entitled "Integrated Basin and Play Assessment of Undiscovered Oil and Gas Resources in the Miskito Platform, Verolania Basin and Los Cayos Basin — Western Caribbean Sea." He won a second place poster award at the 2013 AAPG meeting.
Gomez and Carvajal join a group of AAPG poster competition awardees from EAS spanning a period of three years.
Four students from UH's Caribbean Basins, Tectonics and Hydrocarbons (CBTH) project were selected for the competition from a pool of 90 first-authored, accepted abstracts to the Calgary meeting. The competition of 15 posters was judged by a panel of 5-6 judges. Naila Dowla and Lucia Torrado were the other CBTH students who participated in the competition.
Dowla's poster was entitled "Gravity and Magnetic Investigation of the South-Central Atlantic Margin of the USA (Offshore Florida to South Carolina) and its West African Conjugate Margins (The Gambia to Mauritania)."
Torrado's poster was entitled "Seismic Characterization of Early Cretaceous Fluvial-Deltaic Sandstones, Middle to Late Cretaceous Turbidites and Late Cretaceous Channelized Features in the Foz do Amazonas Basin, Northern Brazil." Torrado received a third place poster award at the 2013 AAPG meeting.
June 21, 2016