Orpheus in the Underworld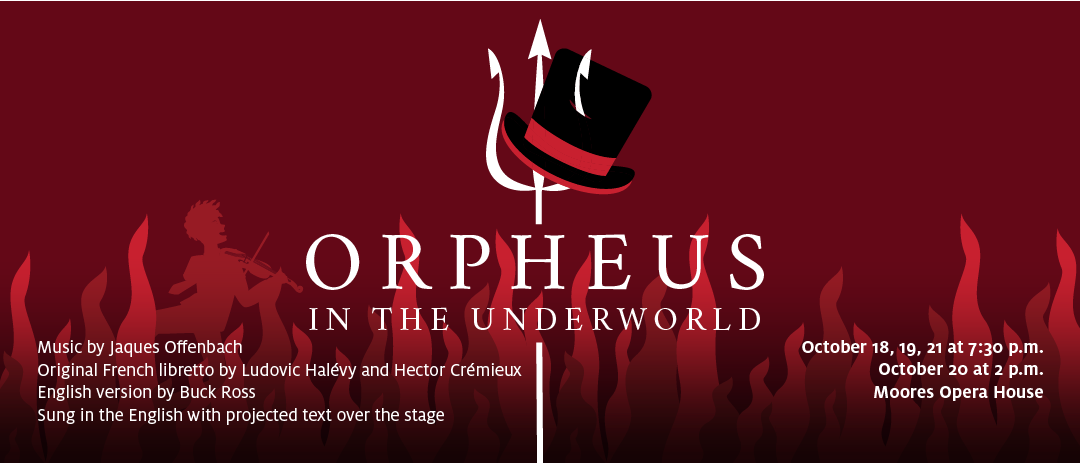 October 18, 19, 21 at 7:30 p.m.
October 20 at 2 p.m.
Music by Jacques Offenbach
Original French libretto by Ludovic Halévy and Hector Crémieux
English version by Buck Ross
Sung in English with projected text over the stage
While we may aspire to live with the gods in the heavens, hell is a LOT more fun. This satirical operetta takes the stuffing out of Greek mythology and proves that nothing is sacred in this wickedly funny and naughty romp that will inspire you to kick up your heels and join us in its famous can-can.
Please note: Advanced ticket sales close two (2) hours prior to the start of an event. However, tickets can still be purchased at the door for most events on the day of the performance. For more information, contact the KGMCA Box Office at 713-743-3388 or kgmcaboxoffice@uh.edu.
Join us for a pre-curtain lecture 45 minutes prior to each performance in Moores School of Music, Room 108. 
Orpheus in the Underworld Program