Who we are
Moores Music in the City is a series of performances and projects developed by current students, alumni, and faculty of the Moores School of Music and presented in venues across the city of Houston.
What we do
Moores​ Music ​in the City takes the music off of the University of Houston campus and into the larger Houston community. We create and perform innovative programs and bring them to audiences where they are, in libraries, museums, and many other venues.
Why we do what we do
Moores Music in the City represents the vision of the Moores School of Music to lead in arts innovation and prepare tomorrow's artists to engage audiences in effective, creative, and powerful ways.
Performances
December 11, 2020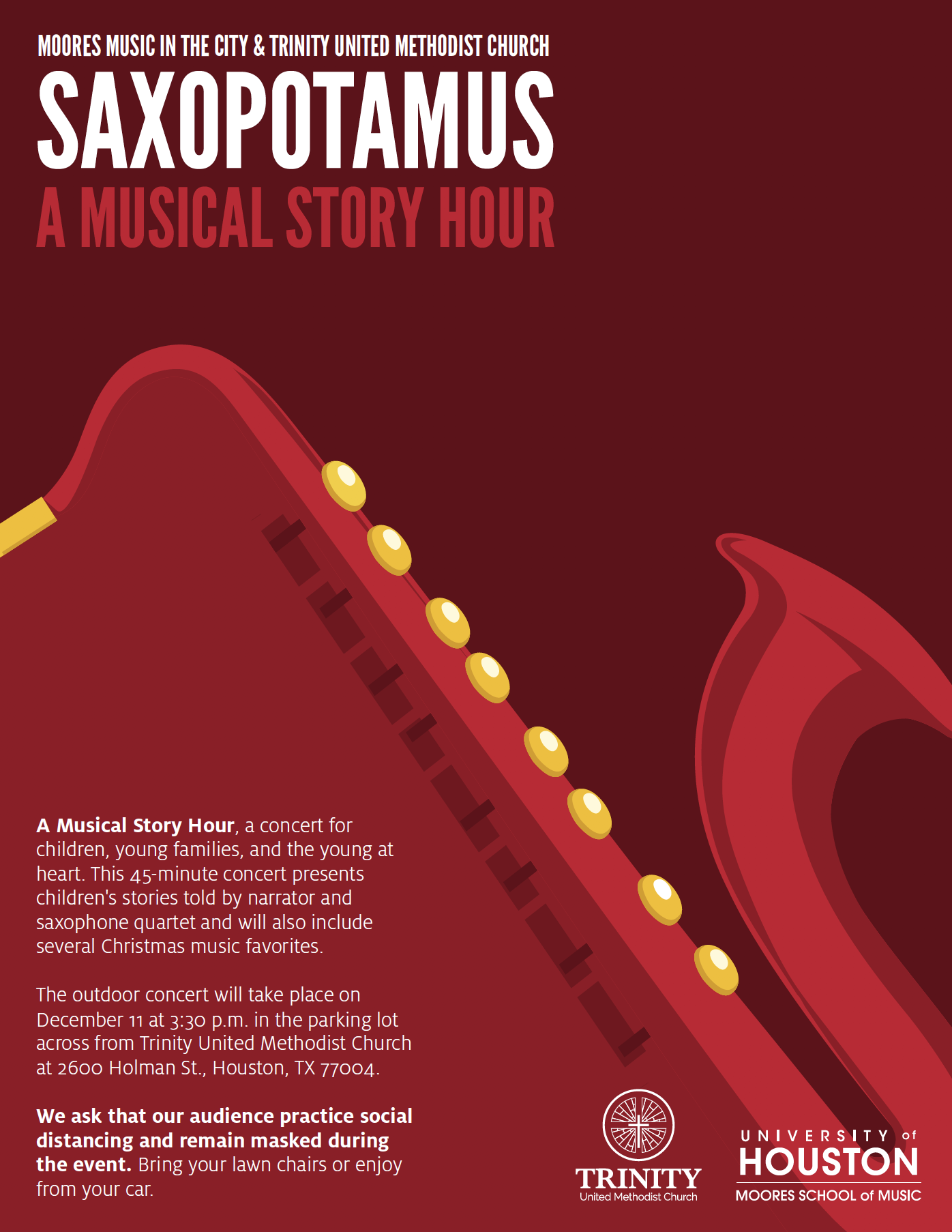 Where in Houston: Trinity United Methodist Church
Program: SAXOPOTAMUS
Tickets: Free!
Moores Music in the City presents this events in collaboration with Rev. Ed Jones and the Trinity United Methodist Church. SAXOPOTAMUS: A Musical Story Hour is a concert suitable for children, young families, and the young at heart. This 45-minute concert presents children's stories told by narrator and saxophone quartet. For this special holiday presentation, the event will also include several Christmas music favorites.

Houston's own Kazakou Quartet (Nick Bissen, Ellie Parker, Masahito Sugihara, and Evan Whitner) will collaborate with soprano Shannon Murray to present familiar stories like "The Three Billy Goats Gruff" and the original story of Saxopotamus, the whimsical tale of the invention of the saxophone, as told by Hippos! These works are composed by renowned British saxophonist and composer Paul Harvey and produced by Ellie Parker.

The outdoor concert will take place at 3:30 p.m. in the parking lot across from Trinity United Methodist Church at 2600 Holman St., Houston, TX 77004. We ask that our audience practice social distancing and remain masked during the event. Bring your lawn chairs or enjoy from your car.
May 30, 2020
Where in Houston: Rienzi (1406 Kirby Drive, Houston, 77019)
Program: In Flanders' Fields: Maurice Ravel's Piano Trio in A Minor
A Veterans Day Performance "In Flanders Fields" from The Museum of Fine Arts, Houston on Vimeo.
Maurice Ravel's Trio for Piano, Violin, and Cello has been praised as one of the greatest achievements in the development of the piano trio. With its incredible peaks of triumph and profound lows of despair, the trio contains some of Ravel's most heartfelt writing. Composed at the brink of WWI, this work captures the anxieties of the men and women of Europe as they faced apocalyptic atrocities. Ravel would himself enlist in the French Army as a driver where he saw the horrors of the war with his own eyes.
Moores Music in the City presents this masterpiece in a new light by combining it with poetry by John McCrae, Wilfred Owen, Edward Thomas, and Katharine Tynan, film and music created by J. E. Hernández, and the Romance and Pastorale for violin and piano by Ralph Vaughan Williams in an exciting multimedia experience. Audiences will get a glimpse into the lives and experiences of the artists who lived during WWI through poetry and film while enjoying new compositions by J. E. Hernández. This concert connects the old with the new with a generous touch of "Moores" along the way!