Logging in to the CMS ...and logging out!
Logging into Cascade v.8 is much the same as with v.7 - however, logging out is a little different.
---
Once you have been set up as a CMS user, logging in to the CMS is as easy as 1–2–3.
Simply start by using your web browser to go to https://cms.uh.edu.
Login as follows: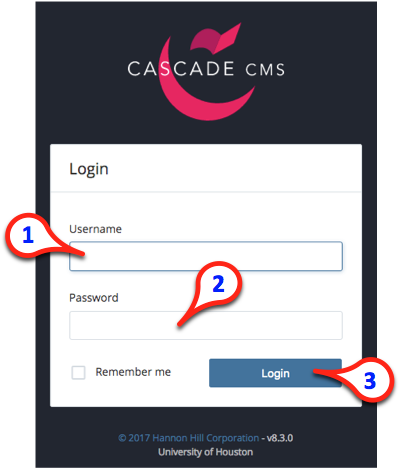 For Username, enter your Cougarnet ID;
For Password, enter your Cougarnet password;
Click the "Login" button.
You will be taken to your Dashboard. From there, you can navigate into the Site[s] you have access to.


For general security reasons, please leave unselected any "Remember me" sort of option - especially if you are using a shared or publicly-accessible machine.

Need a little help finding your way around Cascade v.8? See the tips on How to Find Your Site Materials in Cascade v.8 in this site, peruse the Cascade 8 Overview documentation on the Web Marketing site, and/or contact the Web Marketing, group, and/or the Web Services CMS Team.
---
Forgot your Cougarnet ID or password?
You should find all the help you need at the UH Password Wizard page. If you are still having issues, please contact UIT's Helpdesk.
If you are not yet set up as a CMS user -
Please be aware that we ask potential users to complete the CMS Basics training before being granted access. For more information on how to be enrolled in a training session, please contact the Web Marketing group, or the Web Services CMS Team.
If you are currently in training -
or have been given specific limited access for training purposes, your login process will then be specific to the scope of the training.
---
Logging Out of Cascade CMS v.8
To Logout of the CMS, select your User area, and choose 'Sign Out' to end your session.