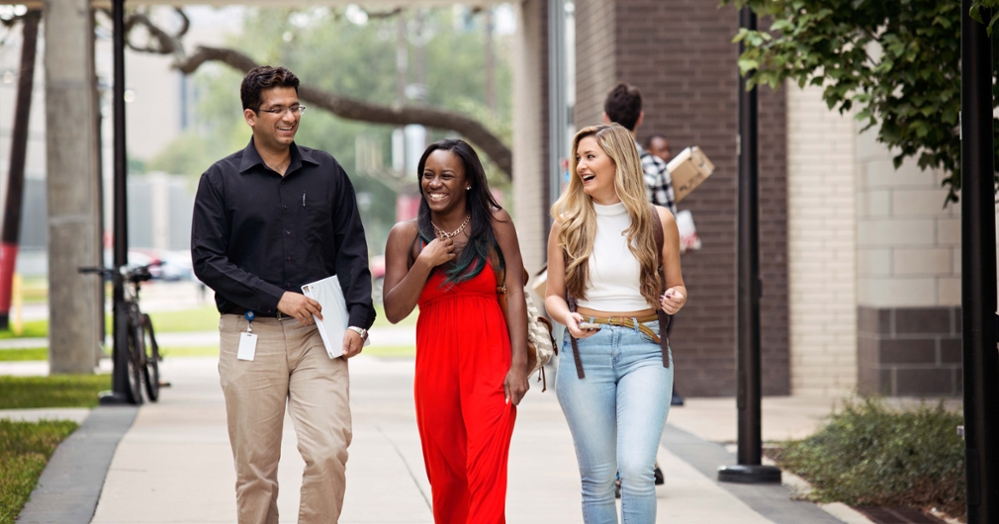 Upcoming Virtual Information Sessions:
Tuesday, October 25: 5:30 p.m. – 6:30 p.m. 
Tuesday, November 15: 5:30 p.m. – 6:30 p.m.
Domestic applicants that attend receive an application fee waiver!
---
Complete this form to receive more information about Hobby School graduate programs.
---
The Hobby School Admissions Committee uses a holistic approach to review an applicant's entire application. The application review process is based not only on GPA and test scores, but considers all academic, personal and professional experience.
The Hobby School has been steadily growing over the last few years. Our enrollment in the MPP program currently averages about 30 new students per year and a total of 60 overall students in a current semester. For the 2021-2022 school year, over 70 students were enrolled in our graduate programs.
The Hobby School is very proud of the completion rate of our MPP students. Based on a percentage of all students who entered the MPP program five years prior to the year the data was collected, which was also the program's first year, the Hobby School has a completion rate of 100 percent of students (9 out of 9) who graduated in two years.
GRE Waiver/Requirement
Beginning Spring 2023, the GRE waiver is for all applicants with a 3.3 or higher undergraduate GPA. The GRE requirement is also waived if an applicant has completed a master's or doctoral degree.
All other applicants are required to complete the GRE. The GRE will still be used as a factor in determining scholarship funding, so applicants who are eligible for a GRE waiver are still encouraged to complete the exam.
We evaluate students based on the entire application. Although the GRE is an important component of the application, there are no minimum scores required. GRE scores will only be counted if the exam was completed within the previous five years of the application.
Applicants must show through either their quantitative GRE score or their performance in previous coursework that they possess the ability to handle the quantitative elements of the curriculum. Students must have an undergraduate degree, although no particular major is required.
Applicants to the MPP program are not required to have any professional experience, although such experience enhances their application.
Application Deadline
The Spring 2023 priority deadline for domestic and international applicants is October 15, 2022. The Spring 2023 application deadline for international applicants is November 1, 2022, and for domestic applicants is December 1, 2022.
The Fall 2023 priority deadline for domestic and international applicants is March 1, 2023. The Fall 2023 application deadline for international applicants is June 15, 2023, and for domestic applicants is August 1, 2023.
All required application materials MUST be submitted by these deadlines.
International applicants should also visit the UH Graduate School's International Students page for more detailed information regarding transcripts, English language proficiency requirements, and visa procedures.
MPP Application Fee
Domestic application fee: $50
International application fee: $80
How to Apply
The UH Graduate School Application is completed entirely online.
Please follow these steps to complete your application to the MPP program:
1. Go to ApplyWeb, and click "Create Your Account." Fill in the requested fields to create an account.
2. Check your email for a message from accounts@applyweb.com. Click on the link in the message to activate your account, and log in to ApplyWeb.
3. Click "Online Application," and enter the requested personal information.
4. For "Program Choice," select the type of program and the requested term.
5. Enter your complete academic history.
Submit your official transcripts via one of these options. Electronic transcripts is the preferred method for Texas academic institutions.
Submitting official transcripts ASAP in the application process is strongly recommended. Unofficial transcripts refer to anything not received directly from an academic institution. Registration is not allowed until official transcripts have been received and verified.
International transcripts and degree certificates must be sent to the UH Graduate School in envelopes sealed and stamped by the issuing university to be considered official. Electronic academic documents sent from international applicants will not be accepted.
For more information on submitting transcripts for international applicants, visit the UH Graduate School's Transcript Information page.
Do not mail or drop off your transcripts to the Hobby School.
Regular Mail Address
Express Mail Address

Electronic or Speede Transcript

University of Houston
Graduate Admissions
P.O. Box 3947
Houston, TX 77253-3947
University of Houston
Graduate Admissions
4302 University Drive
102 E. Cullen Building
Houston, TX 77204-2012
Within the State of Texas, the fastest way to send your transcript is electronically. Please inquire at your previous institution about this option. Electronic transcripts can also be delivered by the academic institution via email to gradschool@uh.edu.
6. Enter your GRE test information, if applicable.
For Fall 2022, the GRE requirement is waived for all applicants with a 3.2 or higher undergraduate GPA. The GRE requirement is also waived if an applicant has completed a Ph.D., JD, or M.D. in the U.S. or the equivalent of a Ph.D. or M.D. outside the U.S.
GRE scores should be sent directly from Educational Testing Services (ETS) to UH (GRE Code: R6870). Your application will not be processed without GRE scores if they are required. GRE scores older than five years will not be accepted.
7. Submit two letters of recommendation.
Letters of recommendation are gathered electronically. Applicants will be asked to provide the email addresses of two references. The recommendation is that one recommender is a professional reference and the other recommender is an academic reference. However, the recommenders can be either professional or academic.
Once the application is complete, the selected references will receive an email providing instructions to upload their letters of recommendation.
8. Submit a statement of purpose, resume, and answer any supplemental questions if asked.
The statement of purpose (or personal/goal statement) explains why the applicant wants to pursue the MPP, and why the applicant would be a good candidate for the program. This document should be between 1-2 pages.
9. Enter awards and work experience.
10. Enter external scholarships and financial support information.
11. Enter citizenship, demographics, Texas residency questionnaire, and mandatory questions.
12. Complete the "Certificate of Information" page.
13. Submit the application.
14. Pay the $50 domestic/$80 international application fee.
15. Track your application status using your ApplyWeb account, and check items still needed for admission review.
Please contact Scott Mason (smason@uh.edu; 713-743-5572 ) if you have questions concerning your application.
---
Mission Statement for the Hobby School's Master of Public Policy Program
The University of Houston Hobby School of Public Affairs Master of Public Policy will actively prepare graduates for professions by providing a leading-edge education encompassing policy and political analysis, ethics, quantitative analysis, and the development and implementation of leadership skills with a focus on real-world solutions. Students will be prepared through in-class education and meaningful experiential learning opportunities in the diverse city of Houston and beyond.  Our students will demonstrate integrity, cross-disciplinary competence, strong communication skills, and a commitment to diversity.
---