Texas 2016 Super Tuesday Poll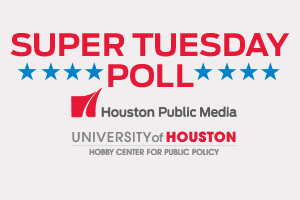 With 155 delegates, Texas has by far the highest number of delegates up for grabs among the states holding primaries on Super Tuesday, March 1, 2016.  A candidate must win a minimum of 1,237 delegates to win the Republican presidential nomination. Texas alone could provide more than 10% of the delegates needed to become the Republican Party's nominee.
So who is leading in Texas? The Houston Public Media and the University of Houston Hobby Schoo of Public Affairs Super Tuesday Poll examined who is leading among the Republican candidates and what Texas voters think about pressing public policy concerns.
Texas 2016 Super Tuesday Poll Information
Texas Primary Information
Voters Guide: League of Women Voters of Houston Education Fund
News Media Links
Breitbart: EXCLUSIVE—Experts: 'Unusual' and 'Significant' Donald Trump Wins Without Key Endorsements
Fort Worth Star-Telegram: New poll shows Cruz, Trump tied in Texas

Houston Public Media: UH Republican Debate Could Prove Make-Or-Break Night for Cruz's Presidential Hopes
Houston Public Media: GOP Presidential Race in Texas: Wednesday's Show (February 24, 2016)
Houston Public Media: Three Things Texans Can Watch For During Tonight's Republican Debate At The University Of Houston
Houston Chronicle: Poll: Cruz holds big lead over Trump in Texas

Houston Chronicle: Poll: Cruz leads in Texas but faces a challenge
Houston Chronicle: Texas Take: Feb. 25, 2016
Huffington Post: 2016 Texas Republican Presidential Primary - Cruz 35%, Trump 20% (Houston Public Media/University of Houston 2/12-2/22)
NBC News: How Did Republicans Do In Debate? Our Latino Panel Weighs In
Politico: Cruz leads Trump by double digits in Texas poll
Real Clear Politics: Texas Republican Presidential Primary
Texas Insider: Cruz Leads Trump in Texas, but not by Enough to Sweep State's Super Tuesday Delegates
The Dallas Morning News: Poll finds Cruz likely to beat Trump in Texas but not sweep state's delegates
The Hill: New poll finds Cruz retains huge lead over trump in Texas
UH Top Stories: Houston Public Media/University of Houston Statewide Poll Shows Cruz Over Trump
WOWK-TV: Results from Houston Public Media/University of Houston statewide poll show Cruz leading over Trump, but not by enough to sweep Texas on Super Tuesday