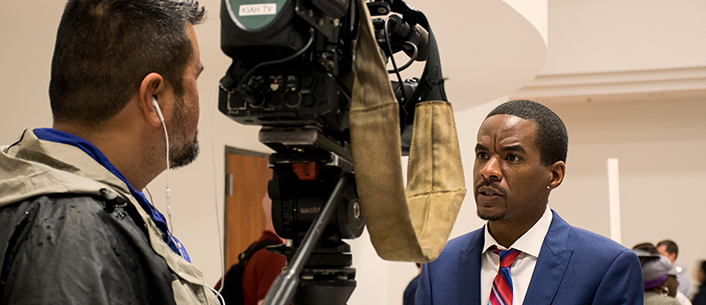 The Office of Communications helps facilitate media interviews and provides timely information about the College of Education. Our faculty have a wide range of expertise in education and health and can provide context and insight on newsworthy happenings.
Recent Media Mentions
Clinical Assistant Professor Duncan Klussmann provides clarity on the proposed state takeover of the Houston Independent School District.
Clinical Professor Margaret Hale comments on the importance of school librarians to assist teachers and promote literacy.
Associate Professor Lyle McKinney shared his insights on the impact of a slowing economy on higher education.
Doctoral student Victoria Doan, founded a nonprofit in 2016 to help high school students figure out what they want to do after graduation.
Department Chair Cathy Horn discusses a research project to better understand how families make decisions about schools.
Associate Professor Sissy Wong stresses the importance of changing the way schools teach science in order to prepare students for the energy workforce.
Counseling Psychology Professor Consuelo Arbona discusses her research about female firefighters, PTSD and suicide contemplation.
Teresa Edgar, associate dean and early childhood education professor, discusses the importance of training teachers to recognize adversity and help students rise above it.
Professors Cathy Horn and Lyle McKinney share insights on changes in higher education.
Associate Dean Jonathan Schwartz, a counseling psychology professor who researches men and masculinity, offers tips for talking to boys about sexual assault.