COE In the News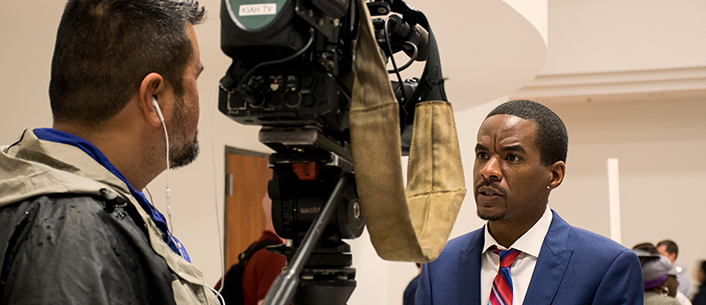 The Office of Communications helps facilitate media interviews and provides timely information about the College of Education. Our faculty have a wide range of expertise in education and health and can provide context and insight on newsworthy happenings.
Recent Media Mentions
Former Superintendent Duncan Klussmann, a clinical assistant professor of school leadership, discussed education in the COVID-19 era on the nationally distributed NPR show "1A."
Clinical Assistant Professor Duncan Klussmann, a former superintendent, shares insights on a blueprint for the next academic year amid COVID-19.
Associate Dean for Research Ezemenari Obasi calls for a better, more equitable normal in this op-ed.
Associate Dean Ezemenari Obasi, who leads the UH HEALTH Research Institute, discussed ways to address health disparities related to COVID-19 testing.
Clinical Assistant Professor Keith Butcher offered suggestions for making online learning fun and reasonable and reflected on the long-term impact on education.
Assistant Professor Ruth López offers advices for parents trying to help their children with schoolwork while schools are closed during the COVID-19 pandemic.
Clinical Assistant Professor Keith Butcher discusses rethinking active shooter drills, metal detectors and other school safety issues (segment starts at 6:06).
Curriculum & Instruction Department Chair Margaret Hale discusses the College's online master's degree programs, ranked eighth best in the nation by U.S. News & World Report.
Associate Dean Consuelo Arbona shares her research on female firefighters.
Clinical Assistant Professor Duncan Klussmann provides clarity on the proposed state takeover of the Houston Independent School District.
Clinical Professor Margaret Hale comments on the importance of school librarians to assist teachers and promote literacy.
Associate Professor Lyle McKinney shared his insights on the impact of a slowing economy on higher education.
Doctoral student Victoria Doan, founded a nonprofit in 2016 to help high school students figure out what they want to do after graduation.