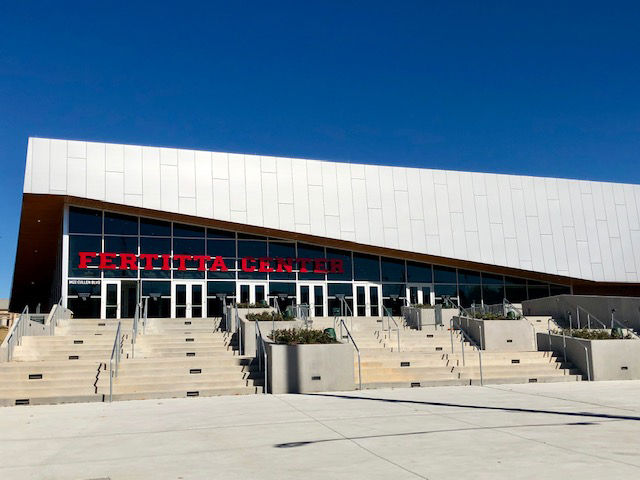 College of Liberal Arts and Social Sciences, Fall 2019
Ceremony for all Fall 2019 CLASS graduation candidates
When: Friday, December 13, 2019
Time: 9:00 a.m. - 11:30 a.m.
Where: Fertitta Center, UH Campus

Guests are asked to review the Fertitta Center Clear Bag Policy and Use of Metal Detectors prior to attending this event.
The University Commencement ceremonies for the College of Liberal Arts and Social Sciences will include all Fall 2019 bachelor's, master's and Ph.D. degree candidates. At University Commencement for CLASS, all graduation candidates will be individually recognized and will walk across the platform when their names are called. Tickets are not required for this event for graduates or guests. 
Fall commencement ceremonies are held at the end of the fall semester to recognize only fall degree candidates. Students graduating during the spring or summer semesters are not eligible to participate in the fall ceremonies.
Spring commencement ceremonies are held at the end of the spring semester to recognize all spring and summer degree candidates. Thus advanced planning is required for all prospective summer graduation candidates who will participate in springtime graduation events with no permission or petitions required, including securing commencement regalia during the spring graduation fair.
Important!

Required Before Graduation
Each graduate is required to pick up their stage card in advance of the ceremony.
There is no rehearsal, so this event is mandatory.
When: Friday, December 6, 2019, Anytime between 9 a.m. and 4 p.m.
Where: Agnes Arnold Hall, Second Floor Concourse
This card is your entry ticket into graduation line-up the day of the ceremony.
Student ID is required to take receipt of your stage card.
Questions about this required event? Commencement Team.
Senior Celebration hosted by the CLASS Ambassadors
(This event is optional!)
CLASS Ambassadors invite all CLASS undergraduates to decorate their graduation caps.
All decorating supplies, food and soft drinks are free during this event.
When: Friday, Dec 6, 2019, Time: 10 a.m. to 4 p.m.
Where: Agnes Arnold Hall Room 210
Don't forget to bring your cap!
Commencement Timeline: December 13, 2019

CLASS Ceremony 9 a.m. – 11:30 a.m.

7:30 a.m. Early Admission Mobility Impaired Guests, 3874 Holman Street
7:30 a.m.  Grads Arrive for Line-up, Alumni Center, 3204 Cullen Blvd
8:00 a.m. Faculty and Platform Party Arrive, Alumni Center, 3204 Cullen Blvd
8:00 a.m. Guest General Admission, 3874 Holman Street
9:00 a.m.  Procession Begins
11:30 a.m. Ceremony Concludes, Guests exist via Cullen Blvd side

In order to preserve the dignity of the program and honor all our graduates, we do not allow graduates to leave the floor before the ceremony is over. All graduates choosing to participate in the ceremony will remain for the duration of this event.

The Fertitta Center is designed with ADA accessible parking, restrooms, concessions, ATMs and seating areas. For more information call 713.Go.Coogs (462-6647).
Fertitta Center guests should note the facility's  CLEAR-BAG Policy which limits the size and type of bags allowed inside the facility. Items such as backpacks, purses and diaper bags are not permitted. The following will be permitted:

Clear plastic bags, vinyl or PVC which do not exceed 12" x 6" x 12".
One-gallon clear plastic freezer bag (Ziploc bag or similar)
Small clutch purse no larger than 4.5" x 6.5", with or without a handle or strap. These small clutches are subject to search.
Exceptions made for medically necessary items after proper inspection at the gate by arena personnel.

Walk-through magnetometers are used at all entry points of the Fertitta Center. Guests will be asked to remove cell phone, keys and large metal objects from their pockets prior to walking through the metal detectors.
Public restrooms are conveniently located throughout the arenas. All gender restrooms are located behind sections 101 and 109. All restrooms are ADA accessible, and are equipped with baby changing stations.
Strollers are permitted inside the Fertitta Center. However, their use cannot inhibit guest movement or block any aisles. Smaller, umbrella-style strollers can be stored underneath a seat as long as it does not create an obstruction for other guests.
Expect to park some distance from the commencement venues. Please wear clothing and footwear suitable for walking and be prepared for a crowd. 
Guest seating is on a first come, first seated basis.
Please plan to arrive and park early as there could be street closures and probable traffic delays around ceremony sites.

Live Streaming

University of Houston Graduation Fair

Location: UH Campus Store (Student Center South)
4455 University Dr., Houston, TX 77204

Fall 2019 Grad Fair Dates: Tuesday, Sept. 24 - Thursday, Sept. 26, 2019, 10 a.m. to 4 p.m.

Participating Vendors include –

Herff Jones – Regalia (cap & gown) and Graduation Announcements
Balfour – Class Rings
Grad Images – Portraits

Online orders CLOSE October 18, 2019 at http://colleges.herffjones.com/college/_uh/

Cap & gown orders will be distributed at the UH Campus Store beginning Monday, November 18, 2019.

Information about Applying to Graduate

Graduation Application for Fall 2019 Candidates 

Apply via myUH April 5, 2019 to September 27, 2019 (nonrefundable fee $25 per degree). Late applications are accepted September 28 to October 25, 2019 (nonrefundable fee of $50 per degree). Only those students who apply for graduation by September 27, 2019 will have their names included in any printed commencement booklet.  

Who should use the Fall 2019 Graduation application?  Only those students who will complete all remaining degree requirements by the end of the Fall 2019 semester.

Note: Students completing all degree requirements Spring 2020 must not use the graduation application available through October 25, 2019. Spring 2020 graduation candidates can begin applying for graduation using the application available November 4, 2019.

What happens if I miss the Graduation Application deadline?

Students who miss the deadline typically need to apply in the next term. Exceptions are considered for students who document job or program acceptance pending degree confirmation.

Required: Job offer letter, grad school acceptance letter, program acceptance letter
Letters should include a deadline for documentation of degree conferral and contact information for the employer or program (may be received via e-mail)
Students with these circumstances should provide the documentation to their major advisor
The major advisor will first verify the student is eligible for graduation for the current term

If eligible for current term graduation and documentation is provided of pending program/job, the student may submit a general petition to the major advisor requesting late application approval.

Photographs

Guests are allowed to bring cameras and video recorders; however, they must remain in their seats during the ceremony. Guests will not be allowed to stand in the aisles and under no circumstances will they be permitted on the floor of the arena. We suggest that family photographers take photos at home and at other locations prior to or after the ceremony.

A professional photographer will be on hand taking individual photos during the ceremony. Flash Photography will send proofs via e-mail to each participant so that prints can be ordered. The photographer will have the e-mail address approved by the student on the stage card used during the ceremony. If you do not receive the proofs within 30 days of your commencement, please contact: Flash Photography at 800.410.8070.

Status of Your Graduation Application

When an application to graduate is submitted, your primary major advisor will receive notification. This advisor will begin to collect all documents, petitions, etc. related to your degree progress and make a preliminary recommendation for degree conferral. If your graduation is contingent on completing any coursework, you must first successfully complete those requirements before a decision can be made. If there are any other outstanding items that your primary major advisor is aware of and has already communicated with you about, these items will also need to be completed before a preliminary recommendation for degree conferral can be made.

Your major advisor is your contact for questions related to the status of your application and the completion of your degree.

Conditions that Warrant Immediate Disapproval

If there are requirements for your degree completion that will not be met by currently enrolled courses and your major advisor is not already aware of these outstanding items, your application could be disapproved before the end of the semester that you have applied to graduate. A notification of that decision will be sent by UH (not CLASS) to you at your e-mail address listed on your record. You will then need to work with your major advisor to complete any remaining requirements and apply for graduation again in the next feasible semester.

Your major advisor is your contact for questions related to the status of your application and the completion of your degree.

Approval Process

Once the semester officially closes and all grades are posted (last day to submit grades is 72 hours after the close of the semester), a final recommendation will be made by your major advisor and the college Dean's Office for Academic Affairs will begin their final review for degree conferral.

If you have successfully completed all requirements of your degree program, your application will be approved by CLASS and then sent to UH with final recommendation for degree conferral. After UH has completed their review and has determined that all degree requirements have been satisfied, a final approval decision will be made and posted to your record. A notification of that decision will be sent by UH (not CLASS) to you at your e-mail address listed on your record.

Disapproval Process

Once the semester officially closes and all grades are posted (last day to submit grades is 72 hours after the close of the semester), a final recommendation will be made by your major advisor and the college Dean's Office for Academic Affairs will begin their final review for degree conferral.

If you have not successfully completed all pending requirements by that date, your application will be disapproved. A notification of that decision will be sent by UH (not CLASS) to you at your e-mail address listed on your record. You will then need to work with your major advisor to complete any remaining requirements and apply for graduation again in the next feasible semester.

Printed University Commencement Program

We make every effort to ensure all graduating students who applied on time (Fall Applications April 5, 2019 to September 27, 2019) are listed in the Commencement program. Only Fall graduation candidates who apply to graduate April 5, 2019 to September 27, 2019 will have their names included in the program

Please also be aware of the following information:

If at any time you have requested privacy protection for your academic records, your name cannot be published in the program by law unless you have indicated on your application for graduation that you desire your name be included in the program.
Although your name might not be included in the printed program, you will still be individually recognized by name as you cross the stage.

Academic Regalia

Academic regalia (the traditional black mortarboard cap and black gown) are required for all graduates. The University of Houston has selected Official UH Regalia for undergraduates and Master's. We strongly encourage you to purchase your regalia at the UH Bookstore.

Regalia and regalia item purchases must be made prior to CLASS Commencement through Herff Jones or through the UH Bookstore. A cap and gown is a requirement to participate in the commencement ceremony. Students not attired in appropriate regalia will not be allowed to participate in commencement.

Bachelor graduates and candidates

Must wear the black commencement gown and black mortarboard cap with UH CLASS tassel.
>Wear your tassel on the right side of the mortarboard.

Master graduates and candidates

Must wear the black commencement gown and black mortarboard cap with UH Class tassel.
Must also rent and wear the appropriate hood.
Wear your tassel on the left side of the mortarboard.

Doctoral graduates and candidates

Must bring the appropriate black commencement gown and black tam with tassel.
Must bring the appropriate hood with you.
Please contact the Program Director for Graduate Studies regarding the hooding ceremony process: Anna Marchese, CLASS Graduate Studies Program Director, amarchese@uh.edu

Invitations

Students can order personalized invitations and announcements from Herff-Jones Company , the authorized vendor for the University of Houston. Orders may be placed online or 713-864-6464.

Cougar Spirit Cord

The Cougar Spirit Cord is a symbol of your pride and a way to help make more scholarships available to next year's students or show support for a program that's made a difference in your UH experience. Consider making a $20.19 donation (a gift in honor of your class, 2019) to any CLASS department or program of your choice and wear the cord at commencement to show your Cougar Pride!

Baccalaureate Candidates Graduating with Honors

Once the current semester has officially closed and all grades have been posted, your honors status will be updated accordingly and will be engraved on your diploma. Undergraduate students who have completed the graduation requirements of the Honors College may graduate with special honors designations. See your advisor in the Honors College for more information.

Undergraduate students who complete degree requirements will graduate with the stated academic honors if they achieve the following grade point averages earned in the last fifty-four (54) hours (all of which must be A, B, C, letter grade courses) completed at the University of Houston. Grades of S, U, I and W are not assigned grade point values and are not used in the computation of the grade point average. The honors calculation will include all hours completed in the semester in which the first of the final fifty-four (54) hours was completed.

Honors Designations:

3.90 to 4.0 GPA Summa Cum Laude (with highest honors)
3.70 to 3.89 GPA Magna Cum Laude (with high honors)
3.50 to 3.69 GPA Cum Laude (with honors)

Where is My Diploma?

Diplomas are not issued during the commencement ceremony. Diplomas will be mailed out 6-8 weeks after graduation. If you do not receive your diploma, call the Graduation Office at 713-743-1010.

Do you need documentation of your degree for a job or grad school?

If you are applying to graduate programs or if you have a job offer for which your degree posting is required, you may request that your degree processing be expedited.
To do so, you must supply documentation of urgent need to your major department advisor. The documentation should be addressed to you and should include a deadline.
No reviews can post prior to the close of the term.

Diplomas are mailed directly to graduates at the most current address provided through their myUH student account. The diploma printing company will send e-mail notifications to diploma recipients indicating when diplomas have been mailed. Keep contact information updated in myUH to avoid shipment delays. Contact get help if you have questions about your diploma order.

There is a $25 fee for each additional diploma ordered (postmark by received on or after this date). This fee does not apply to the initial diploma mailed upon graduation, but applies to additional quantities requested via the diploma order form (applicable to diplomas requested as a result of a diploma name change.) Diploma names must be provided at the time of completing the online graduation application. Failure to do so may result in a $25 diploma order fee for subsequent name changes.

For questions not answered on this website

Undergraduate Students - Your major advisor is your contact for questions related to the status of your application and the completion of your degree. For all other event-related questions, please contact: CLASS Undergraduate Commencement .

Graduate Students - Master and PhD students who have questions about the ceremony and degree conferral process are asked to e-mail Anna Marchese, CLASS Graduate Studies Program Director, amarchese@uh.edu