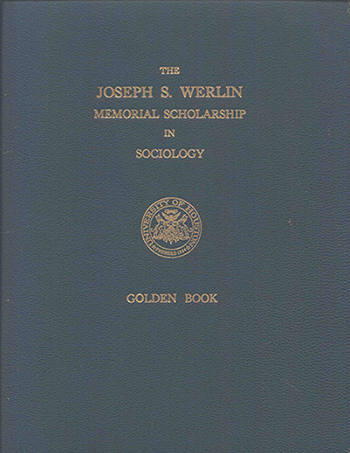 About Joseph S. Werlin
Professor Joseph Werlin (1900-1964) is a founding faculty member of the department of sociology at the University of Houston from its inception in 1934 until his death, March 30, 1964.
His approach to sociology was influenced by famous pioneers in the field at the University of Chicago and by his own doctoral pursuits in history. While he taught classic courses in sociology, his particular interest was to engage students in understanding those forces — historic, ethnic, demographic and cultural — which give shape to the social and political characteristics of societies. He often used the phrase "cultural understanding" to describe his vision.
During the 1940s, Professor Werlin became increasingly concerned with the problems of Mexican-Americans in Texas and the serious misperceptions which existed between the two neighbors, Texas and Mexico. In 1943, with financial help from a Houston philanthropist and friend, M.M. Feld, he met with administrators at the National University of Mexico to explore possibilities for an accredited summer study program for teachers and university students. With vital participation by Rosella Werlin, the first University of Houston International Study Center in Mexico was launched in the summer of 1944. Attracting more than 70 participants in the initial season, the program combined sightseeing and other tourist interests with lectures by university educators, government officials and social service administrators as well as required coursework in social history and Spanish. Beginning in 1947, the popular study programs were expanded to include similar university-affiliated programs in Guatemala and Cuba, where they continued successfully until 1953.
His enduring interest in Mexico, in particular, was expressed in innumerable ways during his 30-year career at the University of Houston. He logged more than 30 trips to Latin American countries, most frequently to Mexico. For many years, he taught a course he developed called, "Contemporary Mexico," which was, to his knowledge, the only such course offered in American universities. He spoke frequently on Mexico, Guatemala and Cuba to civic organizations throughout Texas and served on the Houston Board of the Texas Good Neighbor Commission. He authored articles on Mexico for the Yale Review, South Atlantic Quarterly, Proceedings of the Texas Academy of Science and on other Latin American-U.S. concerns in Houston newspapers. He obtained scholarship support through the University for students from Mexico and Guatemala, several of whom remained in contact with the Werlin family until Rosella Werlin's death in 1985.
In 1951, he received the Distinguished Visitor's Medal and diploma from the government of the Federal District of Mexico.
In spring of 1960, he took a semester leave from teaching in order to concentrate his energies on a book, not completed, to which he gave the working title, "Today's Mexico." His personal collection of background materials and books numbered 1,500 volumes. That collection resides at Brigham Young University.
Joseph S. Werlin Sociology Faculty Award to Promote Latin American-U.S. Cultural Understanding
Forty years after his death, the Joseph S. Werlin Sociology Faculty Award to Promote Latin American-U.S. Cultural Understanding Endowment was established by Ernest Pyle Werlin, son of Joseph and Rosella Werlin on behalf of his siblings, Herbert H. Werlin and Joella Werlin, his wife, Eloise, and daughters, Michele and Danielle. The award, says Ernie Werlin, "is a vigorous way of expressing my father's vision." The award has generously supported faculty research that promotes Latin American and U.S. cultural understanding. Recent recipients of this award include:
| Year | Awardee |
| --- | --- |
| 2022-2024 | Pamela A. Quiroz |
| 2020-2022 | Zelma Oyarvide Tuthill |
| 2018-2020 | Sheila Katz |
| 2016-2018 | Kathryn Freeman Anderson |
| 2014-2016 | Maria Monserud |
| 2012-2014 | Xavia Karner |
| 2010-2012 | Amanda Baumle |
| 2008-2010 | Jarron Saint Onge |
| 2006-2008 | Joseph Kotarba |
| 2004-2006 | Nestor Rodriguez |
Joseph S. and Rosella H. Werlin Memorial Scholarship Endowment
The Joseph S. and Rosella H. Werlin Memorial Scholarship Endowment has generously provided scholarships to University of Houston undergraduates who pursue graduate studies in sociology at the University of Houston. Students are nominated by the Department Graduate Studies Committee from those admitted for the following semester. Recent scholarship recipients include:
Year/Semester
Awardee
Spring 2022
Jahnee Baker
Camurria Cooper
Sloan Rucker
Fall 2021
Connor Mitchell
Spring 2021

Lizbeth Figueroa

Fall 2020

Sheryl Woodall

Fall 2019

Daniella Richardson

Spring 2018

Angelica Lopez

Spring 2017
Suezen Salinas
Spring 2013

Kristin Richie
Spring 2012
Tommi Ross
Spring 2011
Kenneth Powers
2010
Julianna Clifton
Alberto Mancillas
2009
Monalisa Chandra
Ginni Van Katwijk
2008
Lucia Galvan
Jill Oliver
2006
Kathryn M. Nowotny
Joseph S. and Rosella H. Werlin Student Success Fund
The Joseph S. and Rosella H. Werlin Student Success Fund has generously provided support to further graduate studies in sociology through various awards to assist with thesis and internship binding, support for student travel to conferences and other program needs. Application for these awards can be made to the Department Graduate Studies Committee as the need arises. While there is no deadline for these awards, students are expected to apply prior to incurring the expense for which they are seeking the award. Recent recipients of this award include:
Semester
Awardee
Spring 2022
Wanjun Chen
Fall 2021
Jahnee Baker
Caroline Creekmore
Fall 2020
Chelsea Cooper
Juana Campos
Summer 2020
Sandra Poblano
Spring 2020
Angelica Lopez
Dylan Simburger
Summer 2019
Sarah Castillo
Jonathan Khandaker
Laura Livesy
Spring 2019
Suezen Salinas
Fall 2018
Fanni Farago
Summer 2018
Lindsay Oncken

Spring 2018

Angelica Lopez
Annie Pham
Erian Aquil
Lisa Sargent
Fall 2017
Shannon McNamara
Hannah Richard
Summer 2017
Monika Cassell
Fernando Clark
Michael Ohsfeldt
Spring 2017
Yvonne Chen
Greg Daues
Suezen Salinas
Alyssa Yan
Fall 2016
TiMar Long
Summer 2016
Joshua Lowry
Krisitin Richie
Aida Nikou
Andrew Strange
Spring 2016
Dipabali Saha
Fall 2015
Jacob Gunter
Summer 2015
Cameron Rivers
Laura Halcomb
Praveena Lakshmanan
Spring 2015
Trenton Haltom
Nan Li
Fall 2014
Feyza Aslan
Spring 2014
Phoenicia Fares
Giorgia Pozzan
John Mueller
Zelma Oyarvidez
Danesa Ruiz
Lianglei Huang
Fall 2013
Tommi Ross
Summer 2013
Natalie Castaneda
Spring 2013
Adriana Estrada
Angela Leal
Patrick Casey
Ragini Sengupta
Fall 2012
Kenneth Powers
Summer 2012
Ayse Esmali
Hasan Yilmaz
Lucia Galvan
Spring 2012
Moumita Mukherjee
Carlton Ahrens
Jared Wright
Julianna Clifton
Megan Holston
Matt Henderson
Fall 2011
Heather Cox
Erin Mione
Monica Hernandez
Summer 2011
Yi Ren
Spring 2011
Ryan Belli
Shantel Buggs
Monalisa Chandra
Rasa Kusleikaite
Ian Fitch
Sheila Singh
Earletta Sykes
Fall 2010
Tamara Cobb
Isolina Maria Sanchez
Summer 2010
Laura Achenbaum
Daliah Morris
Spring 2010
Sarath K. Menon-Chembottil
Gianncarlo Muschi
Fall 2009
Jill Oliver
Cecelia Pham
Kelli Scott
Spring 2009
Colleen Ireland
Carlos Lazo
Belgin Ozbay
Simay Ozlu-Diniz
Fall 2008
Dogan Koc
Spring 2008
Jennifer Fackler
Kathryn Nowotny
Simay Ozlu-Diniz
Lindsey Wilson
Fall 2007
Brad Powell
Spring 2007
Christina Herrera
Gianncarlo Muschi
Fall 2006
Amity Overall Laib
Micah Riley
Spring 2006
Kelly Ballenger
Miyuki Inoue
Robin Leonard
Guenevere Lee Mead
Joseph S. and Rosella H. Werlin Graduate Competitive Scholarship
Semester
Awardee
Fall 2020

Jahnee Baker




Camurria Cooper




Branaun Galentine




Victoria McDonald

Spring 2019
Lizbeth Figueroa
Fall 2018
Juana Campos
Fall 2017
Steven Barrientez
Spring 2017
Erian Aquil
Mojan Modaresi
Fall 2015
David McBride
Spring 2015
Alyssa Yan
Fall 2014
Nan Li
Fall 2013
Giorgia Pozzan
Praveena Lakshmanan
Dipabali Saha
For more information about student awards, please contact:

Stella Grigorian, Graduate Adviser
University of Houston
Department of Sociology
3551 Cullen Boulevard
Houston, TX 77204
Email: sgrigorian@uh.edu
Phone: 713.743.3960
Fax: 713.743.3943