Sociology Students Association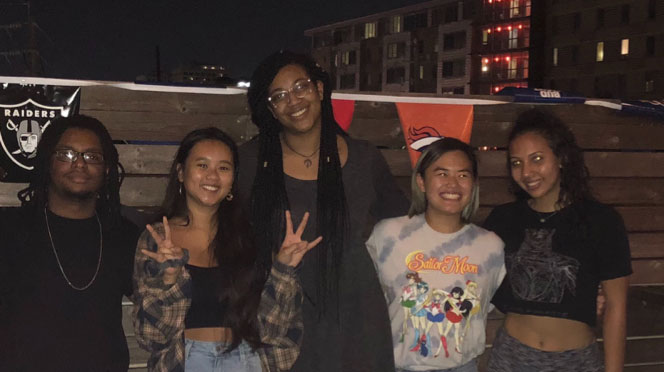 The Sociology Students Association (SSA) at the University of Houston works to demonstrate the relevance and applicability of sociology to UH and the broader Houston community. The organization aims to create an intellectual environment that enhances the experience of undergraduate students interested in Sociology. This is accomplished through regular meetings, campus activities, and community outreach.
Links
Associations bylaws | Facebook
Officers
Winnie Tran- President
Winnie Tran is a senior pursuing her B.A. in psychology and sociology. She is planning to attend law school after her graduation in May 2019. Winnie joined SSA in Spring of 2016, and was previously involved with a sociology club at her community college. She plans to use the knowledge gained from working with SSA in other aspects of her life after undergraduate school. Winnie is a second generation Vietnamese-American, and some of her goals include improving local communities and eventually practicing civil rights law. She enjoys doing yoga, weightlifting, and reading in her spare time.
Sid Weaver- Vice President
Sid Weaver is a senior pursuing his B.A. in psychology and sociology. He plans to attend graduate school after graduating in May 2019. Joining SSA in Spring of 2017, Sid served as financial officer for the 2017-2018 year. His particular focus in sociology is sociology-psychology and how the two play dual roles in human communication. He enjoys spending time with his friends and meeting new people. In his spare time, Sid enjoys writing, exercising, engaging in debates, and meditating.
Lilian Nguyen- Treasurer
Lilian Nguyen is a senior pursuing B.S. degrees in both psychology and economics. She will be graduating in May 2019 with plans to pursue a Master's in actuarial science. In her spare time, Lilian enjoys shooting archery, listening to podcasts, and weightlifting.
Jasalyn Victoria- Secretary
Jasalyn Lacy is a senior pursuing her B.S. in psychology and law. She joined SSA in spring of 2018, which has given her many friendships that she plans on keeping after completing her undergraduate education in May of 2019. Jasalyn is from San Antonio Texas and enjoys the diversity our University and the city of Houston has to offer. She also enjoys volunteering with children, studying cognitive psychology and working part-time at Abercrombie in her spare time.
Sky Hall- Historian
Sky Hall is a junior pursuing her B.S. in Geology and minor in Biology. She joined SSA in Spring of 2017, having previously been a psychology major and always having had an interest in sociology and psychology. She is a first generation Nigerian-American, and loves studying Nigerian and African history. She plans to graduate in 2020 and pursue a Masters in Geology, and enjoys studying earth science, listening to music, and traveling in her spare time.