Sociology Students Association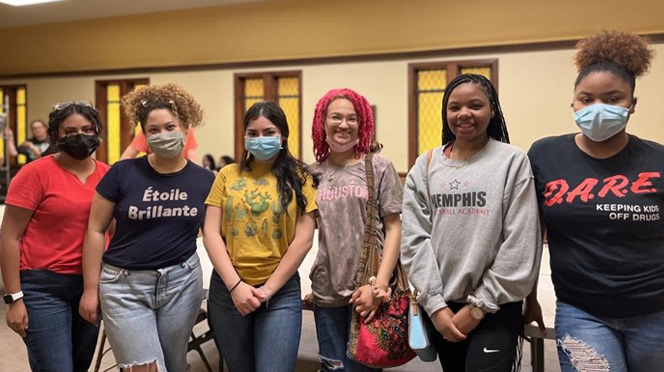 The Sociology Students Association (SSA) at the University of Houston works to demonstrate the relevance and applicability of sociology to UH and the broader Houston community. The organization aims to create an intellectual environment that enhances the experience of undergraduate students interested in Sociology. This is accomplished through regular meetings, campus activities, and community outreach.
Links
Associations bylaws | Instagram | SSA Linktree | SSA GroupMe
SSA November 2022 Events
Global Dinner: Thursday, Nov. 3, 7pm at Cafe Caspian Restaurant (12126 Westheimer Rd # 100, Houston, TX 77077), $20 per student
Meeting ID: 895 3740 0977, Passcode: 798916
End of the Semester Social: Tuesday, November 29, 4-6pm, location on-campus TBD
Officers
Jennifer, President
Jennifer is a Sociology major and minoring in Law, Values and Policy. When she began her undergraduate studies, she was unsure of what to major in and spoke with Career Services to discuss what her interests are and what career goals she has. She is keen on learning more about social change and how members in society interact as a whole. She looked at coursework for Sociology and knew she was in the right major as she found herself relating to the material. She will use her knowledge from what she learned in class and SSA, to promote social change and in other aspects of her life. She will graduate Fall 2022 with plans of attending Graduate School in Social Work to empower people and communities. In her spare time she enjoys being out in nature, going out for runs and being with her two dogs.
Jailene, Vice President
Jailene is a Sociology major with a minor in Human Development Family Studies. When she first started her studies here at the University of Houston, she was unsure of what degree plan to pursue. She was then introduced to her first sociology class her fall semester of her sophomore year, and she became interested in the subject, so she decided that now she knew which degree to pursue. She was able to relate to how sociologists thought about concepts about society and realized that her way of thinking about society might have also made herself a sociologist. What made her join SSA was the thought of wanting to be able to have a good impact in the university and be able to help share to others the importance of this degree. She will be graduating in the spring semester and appreciates the memories and friends she has made while being an officer for the SSA organization. She wishes that others could take the time to learn about what sociology is and how it is important in our society.
Minako Pressley, Public Relations Officer
Minako is a Sociology major, minoring in African American studies. She was introduced to Sociology coursework during her sophomore year of high school. This influenced her to assemble her school's first Sociology Student Club where she would host weekly discussions around different social issues and current events. Her developed interest in studying social life, social change, and the social causes and consequences of human behavior encouraged her choice in majors. She feels that studying sociology is the bedrock for understanding the human experience and the start of making a difference. Minako is an active member of the University's Sociology Students Association and serves as their Public Relations Officer. As PR officer, she facilitates all of the social media campaigns for events and panels that the association participates in. After graduation, she plans on pursuing a career in social media strategy helping local businesses gain more visibility and grow their enterprise. She believes that applying sociological perspective and concepts to social media will bring new context and innovation and looks forward to contributing.
AB Winter, Event Coordinator
AB Winter is a senior pursuing their B.A. in Sociology with a concentration in Workplace Diversity and minors in Psychology and LGBTQ+ Studies. They are graduating in May 2023 and are planning to attend graduate school to study Social Work and Public Health. AB is particularly passionate about intersectionality, social norms, and health disparities, specifically when applied to sexuality and gender identity. (You can take this out if it is not relevant). They are enthusiastic about community, and are grateful to have the opportunity to strengthen the sociology community at the University of Houston. In their free time, AB loves gardening, vegan food, and spending time with their two cats and bearded dragon.
Katerina Solyst, Member Relations
Katerina Solyst is a senior majoring in Sociology and minoring in Human resources development. When She came to the University of Houston and took Intro to Sociology she had a moment of complete clarity- this was it- sociology was what she always needed in her life. Katerina will be graduating in the spring of 2023, and would like to take her skills gained in sociology and apply them to HRD to help organizations provide employees with a positive work environment. She dreams of furthering her education by getting a master's and eventually a Ph.D. in Environmental Sociology. Katerina believes societies should work towards being more self-sustainable by introducing alternatives and being to understand the effects that climate change will have on humans.