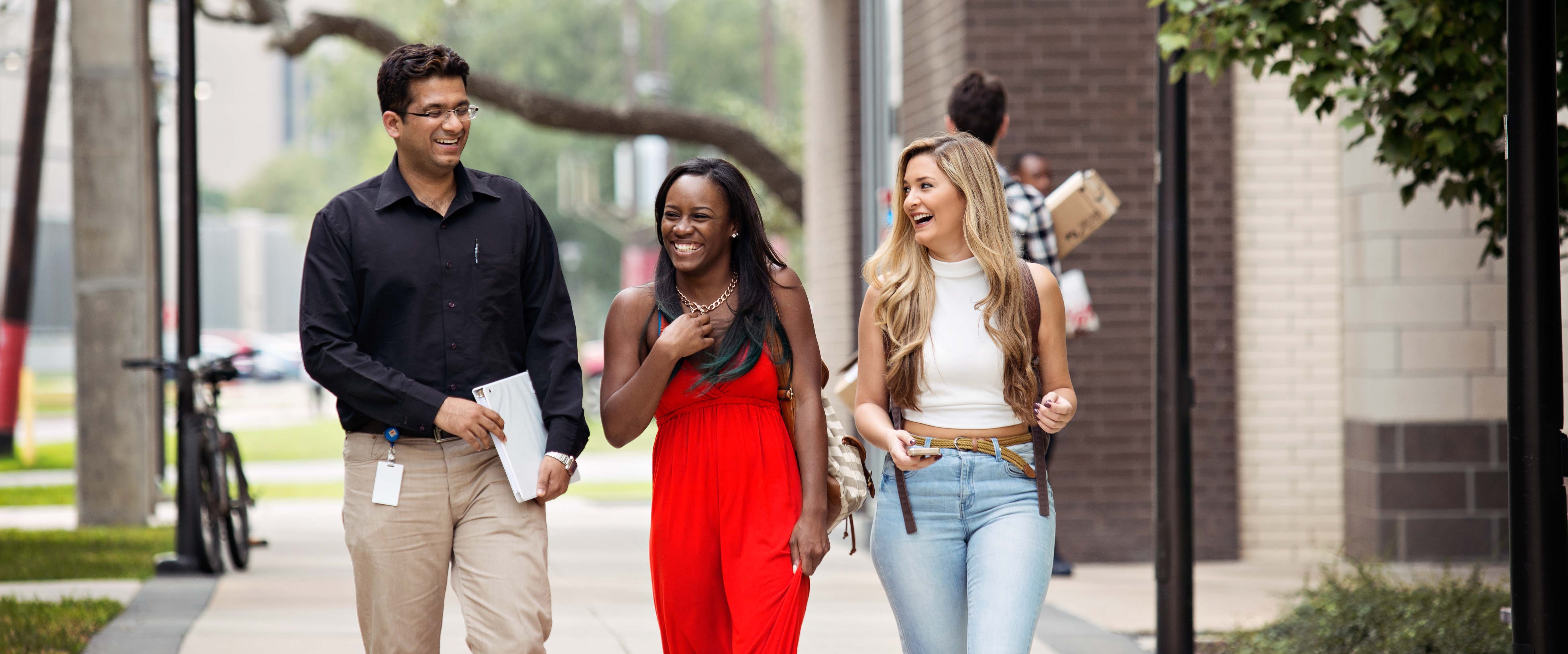 The Department of Sociology at the University of Houston offers graduate training directed towards professional career success in both academic and applied non-academic fields. Our department has successfully placed graduates in top-ranked Ph.D. programs as well as in non-academic positions in public institutions and private organizations.
The Sociology department offers both a thesis track and applied internship track for the Master's degree. Regardless of the track taken, the graduate program broadens the students' sociological background as well as the students' conceptual, communications, and research skills which are necessary for successful careers in an information-oriented and global society.
Our low student-faculty ratio leads to more interaction and guidance and facilitates personal attention to student needs. In addition, our program offers more intensive focus on statistical analysis and other research methods than peer programs. As a result, our graduates are uniquely able to develop research projects, to conduct research using a range of methodologies such as the creation of survey instruments and the conducting of interviews, and to do program evaluations and assessments.
For full time students, the program is a 2 year program. However, students can opt to attend classes part-time, as well. To accommodate work schedules of students who are on graduate assistantships or who are working off-campus, graduate seminars are mainly offered in the evenings during the fall and spring academic terms. Approximately 25 students are actively enrolled in the Sociology Graduate Studies Program.
The program prepares graduates for a variety of professional careers and has a track record of placing graduates in top-ranked Ph.D. programs as well as in non-academic positions in public institutions and private organizations.
The Department of Sociology includes twelve sociology faculty members who are actively engaged in a variety of research projects concerning such policy-relevant and cutting-edge topics as: public education, immigration, religion, law, demography, sexuality, gender, race, health, body, food, and art.  Some of these projects have provided research experience and financial support for students, as well as employment opportunities for graduates.
Overview of Degree Requirements
Once accepted into the program, all students pursuing a Master's degree are required to complete a total of 36 graduate hours in sociology. Students must take five graduate core seminars (15 hours) : Sociological Theory, Qualitative Research Methods, Quantitative Research Methods, Research & Writing in the Social Sciences, and Social Statistics. Students take an additional five substantive graduate courses (15 hours) and six hours of graduate work in either the thesis track or the internship track.
Theses reflect original research projects. A thesis committee is formed at the beginning of thesis hours and the thesis is defended at the end. The internship track allows students, working with faculty, to place themselves within an agency or organization where they learn to apply sociological knowledge and research skills to program evaluation, organizational development, and the daily operations of organizations. An internship committee is formed at the beginning of the internship hours and a final written report is presented and defended at the end of the internship.
For more information about courses and the degree program, please see the Graduate Student Handbook.
Admissions, Application Process, and Financial Assistance
For information about admission requirements and the application process, please review the details under Admission Requirements and Application Process. If you have any additional questions, please contact Dr. Kathryn Anderson, Director of Graduate Studies, or Dr. Stella Grigorian, Graduate Advisor.
Students in our MA program have the opportunity to apply for tuition fellowships and teaching assistantships, scholarships, and need-based financial support. For information about these opportunities, please review Financial Assistance.