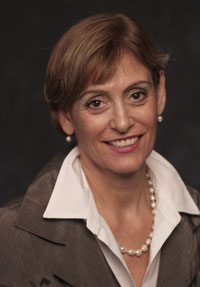 Claudine Giacchetti
Professor of French
Director, French Program
602 Agnes Arnold Hall
Phone: (713) 743-3042
Email
View CV
Teaching | Research Interest | Selected Publications
---
Claudine Giacchetti is a scholar of Nineteenth-Century French literature and has written extensively on women writers of the Romantic period. She is a member of the Agence Universitaire de la Francophonie, and has participated in several research projects funded by French Universities in Paris, Clermont-Ferrand, Toulouse, and Dijon. She received her MA from the University of Paris (VIII) and her doctorate from Rice University. She was recently knighted « Chevalier dans l'Ordre des Palmes Académiques » by the French Ministry of Education.
Teaching
Dr. Giacchetti teaches Business French and directs the Minor in French for Business-related professions. She has taught courses on contemporary France, as well as on 17th, 18th and 19th Century literature, both at the undergraduate and graduate levels. She has created many courses on French women writers and filmmakers, short fiction, and contemporary francophone literature. She also teaches Francophone African cinema. Dr. Giacchetti has developed and directed the faculty-led summer program in Angers, France, where she teaches advanced language, French culture and art history.
Research Interests
Dr. Giacchetti is the author of three books and about 30 scholarly articles published in Europe, the US, and Canada. Her research interests include Nineteenth-Century children's literature as well as women's autobiographies and Memoirs in post revolutionary France. She has also been active in Guy de Maupassant scholarship since the publication of her book on the writer's novels. She is currently working on a modern edition of the Memoirs of the Comtesse Dash, a French novelist of the mid-nineteenth century. She has also received grants to publish the oral narratives she collected in 2009-2010, entitled Hidden Lives: four Jewish girls in Occupied France (1940-1944).
Selected Publications
Books
Poétique des lieux : enquête sur les mémoires féminins de l'aristocratie française (1789-1848)

, Paris, Honoré Champion, 2009.

Delphine de Girardin : la muse de Juillet

, Paris : L'Harmattan, 2004.
M

aupassant : espaces du roman

, Geneva : Droz, 1993.
Recent Articles
"Comment signer maintenant ? Le pseudonyme raconté par les femmes de lettres  (1830-1870)," Romance Quarterly, 60:1 (2012): 41-51.
"La médiatisation de la vie privée dans les mémoires aristocratiques féminins (1800-1848)",La médiation de la vie privée XVe- XXe siècles, Agnès Walch éd., Artois Presses Université, 2012, 97-108.
"Images du port dans l'œuvre autobiographique de la comtesse Merlin (1789-1852)",Errance(s), bohème(s), passage(s), Jacqueline Bel, Xavier Escudero, Benoît Santini éds., Amsterdam : Shaker-Verlag, 2012, 389-401. 
"Le discours touristique dans les mémoires aristocratiques féminins (1789-1848)", Espaces, Tourismes, esthétiques, Limoges : PULIM, 2010, 237-247.
"Figures du père dans les romans de la comtesse de Ségur",

Nineteenth-Century French Studies

, 38 :1-2 (2009-2010) : 24-38.
"Les mémoires féminins, écriture du regret: le cas de Marie d'Agoult (1805-1876)",

De l'âge d'or aux regrets

, Bénédicte Brémard et Marc Rolland, éds, Paris : Michel Houdiard, 2009, 316-325.
"De la filiation et de l'adoption : Maupassant et le code civil",

Maupassant aujourd'hui

, Laure Helms et Jean-Louis Cabanès, éds, Paris : Université Paris Ouest - Nanterre la Défense, 2008, 183-196.
"La mort dans les romans de la comtesse de Ségur",

Devenir adulte et Rester enfant ? Relire les productions pour la jeunesse

, Isabelle Cani, éd., Clermont-Ferrand : Presses Universitaires Blaise Pascal, 2008, 41-52.
" 'Moi qui n'étais pas derrière le rideau' : la révolution de 1830 dans quelques mémoires aristocratiques féminins ",

Dalhousie French Studies

, 78 (2007) : 53-61.
Une hospitalité contraignante : mère et fille dans les romans de Delphine de Girardin",

Dix-Neuf: Journal of the Society of Dix-Neuviémistes

7 (Oct. 2006) : 11-23. www.sdn.ac.uk/dixneuf/index.htm
"Fabrique de médisance :

Les Contemporains

d'Eugène de Mirecourt", in La Médisance, Sylvie Mougin, éd., Presses Universitaires de Reims, 2006 : 379-394.
"Frances Trollope : une touriste à Versailles en 1835", in

Versailles dans la littérature : Mémoire et imaginaire aux XIXe et XXe siècles

, Véronique Léonard-Roques, éd., Clermont-Ferrand : Presses Universitaires Blaise Pascal, 2005 :107-116.
"Le modèle des petites filles: structure familiale dans l'œuvre de la comtesse de Ségur",

Romance

Quarterly 50.3 (2003): 195-203.
"Étranger à lui-même: Figures de l'autre dans l'œuvre de Maupassant",

Romance Notes

, 42.2 (2002): 255-264.
Awards and memberships
2012: CLASS Ross Lence Teaching Excellence Award.
2005 to present : Member, Agence Universitaire de la Francophonie (AUF).
2005 to present : Member, Association internationale des chercheurs en littératures d'enfance et de jeunesse.
1989-2002: member American Association of Teachers of French  (AATF), President AATF Houston chapter (1999-2001)