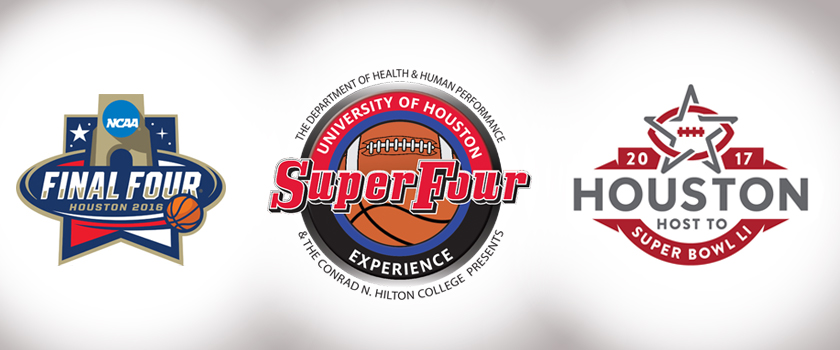 This initiative is to provide an once-in-a-lifetime opportunity for University of Houston students to earn experience and training during two of the largest sporting events in North America by partnering with the 2016 Men's Basketball Final Four Host Committee and the Houston Super Bowl Host Committee. Starting in Fall 2015 students will work closely with both the Final Four and Houston Super Bowl Host Committees and staff in the areas of event planning, event management, sport marketing and communication, budgeting, project management, facility management and guest services, and sport governance, among others.
Training will involve behind the scenes access to planning and event logistics meetings, direct involvement with event management and execution, and administrative support.  Classroom instruction will reinforce degree plan course concepts and skills (e.g., sport marketing) with practical projects and learning opportunities integrated with the field training. 
Each semester will be specifically tailored to the requirements and needs of the events as well as the degree plan courses.  University of Houston instructors will collaborate on the delivery of the courses and will supervise the student internship experience.  Executives from both the Final Four and Houston Super Bowl Host Committee will champion this program and provide direction/guidance/access for students and communication with UH instructors on the needs of the events.
UPDATE - Spring 2017
The Super Four experience was featured in the Spring 2017 issue of the University of Houston Magazine, UH Magazine talked with Dr. David Walsh, clinical assistant professor in the Department of Health and Human Performance, and Anthony Caterina, a lecturer in the Hilton College, about the program.
---
Check out a video on the Super Four experience


Students from the Super Four Course meet after the big game in February 2017.
Update - Fall 2016
Check out images and media reports of UH students and faculty at Super Four training events and promotional tours.
---
Students from the Super Four course working at the Space Center Houston Touchdown Tour.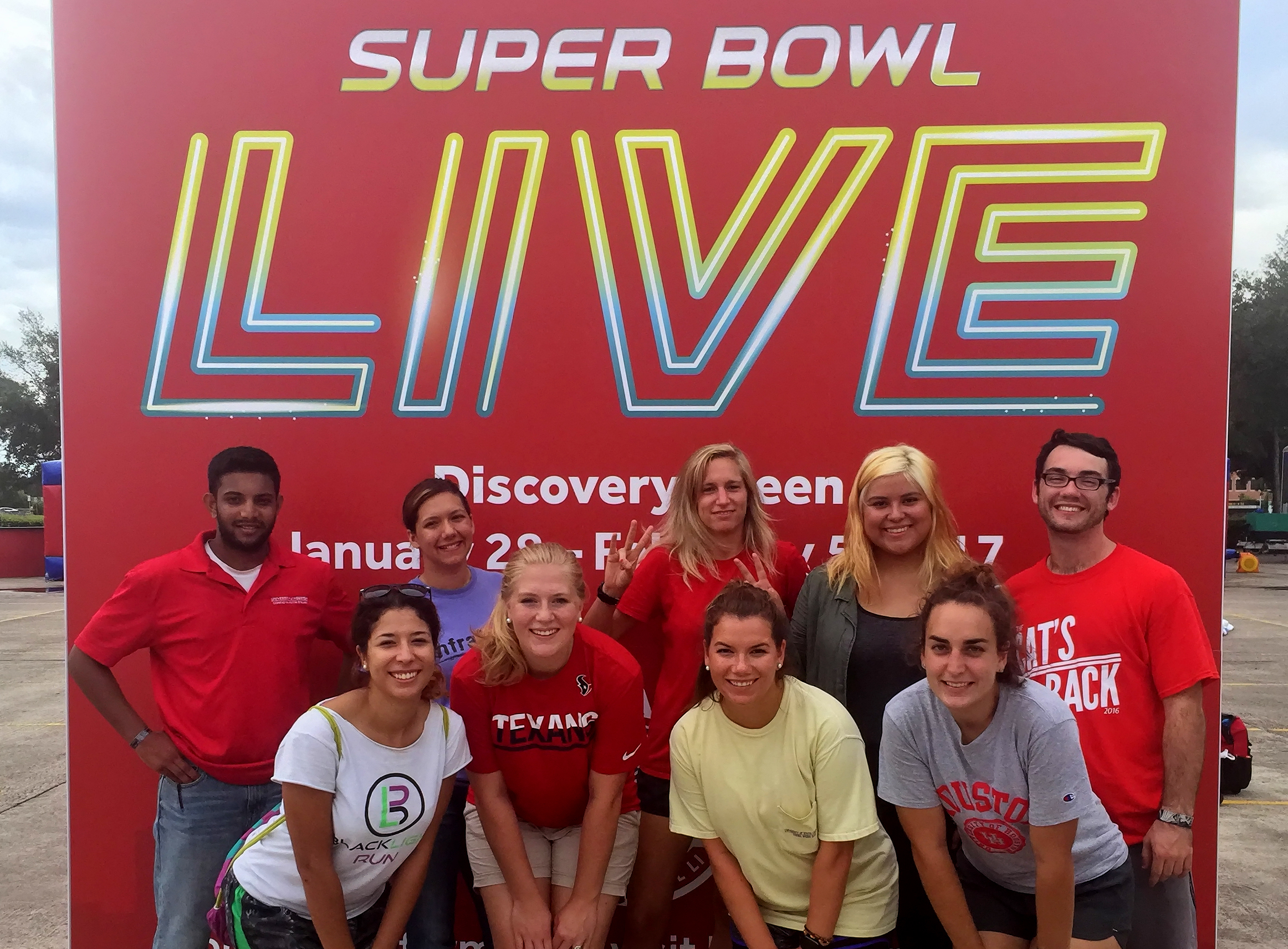 Update - Spring 2016
Mr. Joe Castiglione, Athletic Director at the University of Oklahoma and Chairman of the NCAA DI Men's Basketball Committee spoke to the Super Four class at HHP. Mr. Castiglione has overseen seven national championships in football, softball, and gymnastics as Athletic Director and was named Athletic Director of the Year in 2009. Below are some images from the event.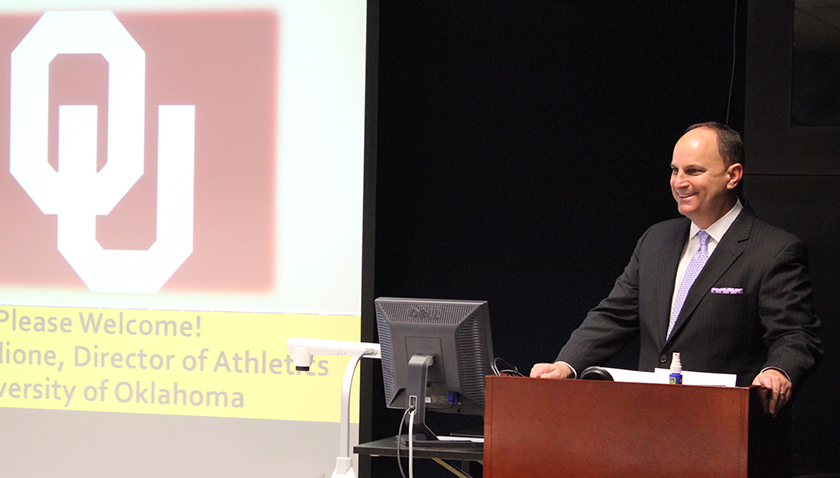 Update - Fall 2015
Images from the Super Four Press Conference
Super Four Students at Homecoming
Start Date and Credits:
The SUPER FOUR Internship Experience will start in Fall 2015. Students will earn course credit in 4 subsequent semesters, culminating in professional football's Big Game in 2017.  A total of 12 course credits will be earned toward student degree plans.  In the sport and fitness administration program, these course credits will go toward the mandatory internship credits of 4690 and 4691 (6 credits each).
Eligibility:
Sport & Fitness Administration majors

A minimum of 3.0 GPA and good academic standing

Sophomores, Juniors (who plan on graduate school or the 4+1 program), and 1st year Graduate students

20+ students will be carefully selected into this experience and opportunity
Deadline:
The deadline to apply is June 1st, 2015. Application acceptance begins immediately, final selections will be made by July 8th. Interviews with top candidates will be conducted in June 2015.
How to Apply:
Resume (with references) and cover letter (include GPA on resume)

A 500-750 word statement of purpose indicating why you believe this program will help your career

3 letters of recommendation (from professors and/or employers only)
Application packets should be emailed or sent to Dr. David W. Walsh, via email: dwwalsh@central.uh.edu or hard copies can be dropped off in Garrison Gym at Room 104Q.