Physical and Delivery Address
Building Location/Map
Parking
Mailing Address
Phone and Fax Numbers
Faculty and Staff Contact
Clinic E-Mail
Physical and Delivery Address
4455 Cullen Blvd.
Houston, TX 77204
Building Location/Map
Our building (the Clinic and the Department) is located on the east side of Cullen Boulevard, just south of Wheeler Street. From I-45 (either direction) exit Cullen Blvd. Head west on Cullen Blvd toward the University of Houston. Continue on Cullen Blvd to University of Houston Entrance 8. Turn left into Entrance 8 and make an immediate left into the Clinic parking lot.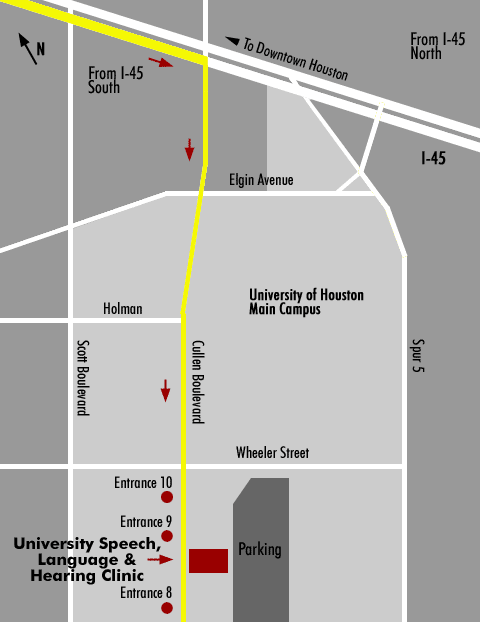 Parking
Please refer to the description and the map above for accessing our parking lot. Parking permits must be obtained from the receptionist in suite 100. Unauthorzied parking may result in fines, towing at the owner's expense, or other penalties.
Mailing Address
Department of Communication Disorders
4455 Cullen Blvd Room 100
University of Houston
Houston, Texas 77204-6018
Phone and Fax Numbers
Clinic
Phone: (713) 743-0915
Fax: (713) 743-2926
Clinic E-Mail
Note there are risks inherent in communicating via email. If you want to proceed, click USLHC@uh.edu. By clicking here, you are acknowledging the risks and choosing to communicate with the USLHC via email.