Note: Although our physical clinic is closed during the COVID-19 restrictions, we are happy to be providing tele-practice for the full range of communication disorders and needs. Please call (713) 743-0915 for additional information and scheduling. 
The University Speech-Language-Hearing Clinic: A United Way agency (USLHC), offers services to infants, children, and adults with speech, language, and/or hearing impairments. These services included testing and treatment. The clinic also offers assistance with the fitting and sales of hearing aids.
This agency is partially funded by the United Way of Greater Houston and staffed by professionals certified in the fields of audiology and speech-language pathology.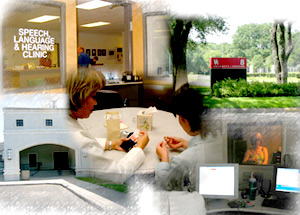 Equitable Treatment Services at the USLHC are available to all people, regardless of race, creed, gender or national origin. All clinic staff, faculty, and graduate clinicians are committed to the promotion and affirmation of diversity, and respect the dignity and worth of individuals regardless of their gender expression and identity, ethnicity, race, sexual orientation, age, disabilities, religious beliefs, and socioeconomic status.
Find out about the location of our clinic, directions to our facility, parking information, contact numbers, and e-mail.
Note there are risks inherent in communicating via email. By
clicking here
, you are acknowledging the risks and choosing to communicate with the USLHC via email.
Our Notice of Privacy Practices can be downloaded by clicking here.
Please also read the Notice of Electronic Disclosure of Protected Health Information (click here).
Schedule an Appointment
To schedule an appointment please phone the clinic at (713) 743-0915. The clinic is open from 9:00 a.m. to 5 p.m. Monday through Friday.
Please note, we are able to provide services via tele-health during the COVID-19 
Fees
The clinic offers services on a sliding scale. Clients are welcome to apply for reduced fees.
Community Outreach Program
Screening and intervention services may be contracted for preschool and school-age children in Houston area locations on the sites of the community settings. Interested agencies are encouraged to contact the University Speech-Language-Hearing Clinic to discuss contracting arrangements by calling (713) 743-0915. Click here for more information about our Community Outreach Program.