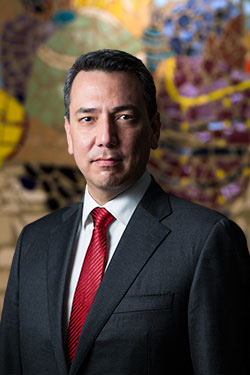 Dear Prospective Student:
Welcome to the Graduate College of Social Work at the University of Houston. The goal of our program is to prepare graduates to address the complex challenges of today and the future to achieve social, economic, and political justice for all. If your interest in social work aligns with this goal, I hope you will consider the Graduate College of Social Work as your new home.
The GCSW is located in the heart of Houston, the fourth largest city in America and the most ethnically diverse metropolitan area in the country. We are an exciting and diverse College that embodies both local and global perspectives. Students in our fall 2015 class speak 15 languages, come from 15 different native countries, and from states across the U.S. We also offer global learning opportunities in China, Hong Kong, Turkey, Bolivia, Central America, Russia, and Wales.
The GCSW offers a unique and innovative MSW curriculum that reflects current and future practice needs. Our environment embraces intellectual curiosity and cherishes debate, while we work to create a just society for all people. The GCSW offers a range of academic courses, diverse field education sites, numerous community engagement opportunities, and a cutting edge research center. Our advanced concentrations in Clinical Practice and Macro Practice and our specializations in Political Social Work, Social Work with Latinos, and Health and Behavioral Health are nationally recognized for their excellence and preparation for advanced practice. We also offer a unique opportunity to shape your own Individualized Specialization to explore a specific substantive area of your choice to meet your professional goals. We offer hybrid courses (online and face-to-face) and an online master's program beginning Fall 2016.
The GCSW's faculty includes an exceptional and diverse group of scholars whose work is recognized worldwide. Their practice experiences and research expertise reinforces the GCSW's long-standing commitment to peace and social justice. In fact, the GCSW is the only college of social work in the world to have a Nobel Peace Prize Laureate, Jody Williams, as part of our faculty. We are further distinguished by having award-winning social work researcher and author Brené Brown on our faculty.
At the Graduate College of Social Work, we are committed to peace and justice for all. Everything we do revolves around this goal. We hope you will join us in this effort as we work together until justice is no longer an aspiration, but a reality.
Alan Dettlaff, PhD, MSW