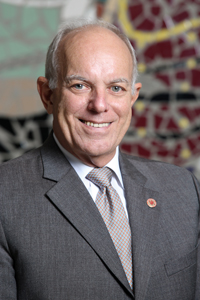 I want to thank you for considering the University of Houston Graduate College of Social Work (GCSW) for your graduate studies. You will find a great deal of information about the GCSW, our various programs and activities, as well as admissions materials on our website. Please be sure to continually visit the College's web site (www.sw.uh.edu) as well as our Facebook page to keep up with our many activities.
The UH GCSW is an exciting, diverse destination college that embodies both 'local' and 'global' perspectives. For example, students in our fall 2010 entering class speak 22 different languages. We strongly encourage global learning through study abroad -- recent travel courses to China, Turkey, and South Africa – and international field placements.
The University of Houston offers a very unique MSW curriculum that reflects the current and future practice needs while we focus our education on developing knowledge and skills for advanced social work practice. Our environment embraces intellectual curiosity, cherishes debate, while we promote and work to create a just society for all people. As the only college of social work in the 4th largest city in the United States, the GCSW offers a range of academic courses, a diversity of field practice education sites, numerous community projects, and a number of cutting edge research centers. Our advanced concentrations in Clinical Practice and MACRO Practice and our specializations in Political Social Work, Gerontological Social Work, Trabajo Social and Health Disparities are nationally recognized for their excellence and preparation for practice.

Our students do well. The 2010 Texas National Association of Social Workers "Student Social Work of the Year" is a GCSW student; the Texas based Hogg Foundation for Mental Health awarded one of our current students a one-time scholarship to celebrate the foundation's 70th anniversary; two of our students were selected from a nationally competitive pool made up of students in health and human services to be Schweitzer Fellows; and in research two of our doctoral students were recognized with awards at the 2010 Joint World Congress on Social Work and Social Development, which was held in Hong Kong. Yes, the GCSW is a college of excellence and passion.
The GCSW's faculty includes a marvelous, diverse group of scholars whose work is recognized worldwide. Their practice experiences and research expertise reinforces the GCSW's long-standing commitment to peace and justice. And the GCSW is further distinguished as being the only college of social work in the world to have a Nobel Peace Prize Laureate on faculty.
On behalf of the faculty, staff, students and alumni of the GCSW, I want to thank you for visiting our web page and considering the GCSW as a possible home for your professional education. Give serious thought to the GCSW if you are seeking an exciting education for change that will strengthen our community for all people.
Sincerely,
Dr. Ira Colby, DSW, LCSW
Dean and Professor of Social Work