How's That 2023 Resolution Going? No worries. Here's some help.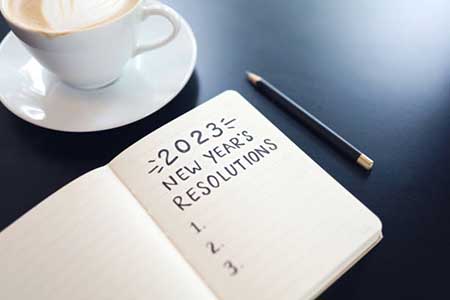 By now you've started the road to The New You 2023 with great enthusiasm, and kudos if you're still on the journey. But for many of us, mid-January brings a realization that the New Year's Resolution to lose weight, go veggie, quit smoking, quit swearing, fill in your resolution here, may not be as easy as it seemed in December.
Not to worry. Here's some help from the faculty of the University of Houston College of Nursing:
Top 5 Ways to Keep Your Health/Wellness Resolutions:
Be Realistic with your resolution/goal.

Realism is knowing that we can only change modifiable factors and achieve rationale goals.

Be Transparent with your resolution/goal.

Transparency allows others to know your goal and support your journey.

Be Strategic with your resolution/goal.

Create a strategic plan, write out the resolution/goal and place it where you see it every day.

Be Self-Accountable with your resolution/goal.

Hold yourself responsible and establish self-reflection checkpoints throughout your journey.

Be Encouraged with your resolution/goal.

Know that the resolution is yours and the only obstacle is yourself.
-Professor of Practice Johnny R. Cortez
Forbes magazine indicates physical, mental and spiritual wellbeing top the list of New Year's resolutions for 2023, as well as becoming comfortable with new technology to assist in those goals. Things like digital platforms and apps to quickly check blood pressure, heart rates and sleep cycles will be employed, as well as products for skincare such as microcurrent facials and light therapy devices.
This is the week most of us fall off the New Year's Resolution wagon. But don't beat yourself up. Wanting to change is a good goal. Dean Kathryn Tart suggests start small to celebrate big victories.
"Think about one thing in your life you are considering changing. Something small, something doable! Make a plan and stick with it. If it is an easy change, then you have a better chance of success! Then your next change, even though a little harder, may not seem so daunting and you have already experienced success."
Good luck!
Read more