Mushroom Research for Pharma, Farmer Planned for Sugar Land Instructional Site
January 27, 2023
Mushrooms are for more than salads and recipes. Their components are used in cosmetics, nutraceuticals, pharmaceuticals, animal feed, and bio-composite materials, such as vegan leather. A new grant from the University of Houston Division of Research will fund a mushroom test beds at the University of Houston College of Technology to produce edible and medicinal mushrooms, as well as fungal mycelium for product research and development.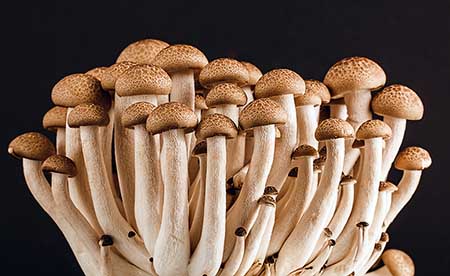 The $320,803 grant also will establish a training center and will bring together research faculty from several UH colleges.
"We will produce different mushrooms and extract compounds for use in research to treat things like cancer, tumors and depression," said Venkatesh Balan, associate professor in the College of Technology's Department of Engineering Technology. He is collaborating with the College's Driss Benhaddou and Weihang Zhu, both professors of engineering technology.
Internet of Things (IoT) technology will improve mushroom farming productivity and efficiency as the growth chamber will be automated. Internet of Things refers to a network of objects that are connected and can exchange data through technologies such as sensors or software.
The test bed will be located at UH at Sugar Land near the College of Technology building. The three
8' X 20' insulated containers will be equipped with refrigeration and aeration. The first container will be used to process the agricultural residues, used as substrate for growing mushrooms. The second container will be used as an observation space and for data collection. The third container will be used to produce mycelium and mushrooms by controlling the environmental conditions, such as light, temperature, humidity and aeration. It is anticipated that 25-50 pounds of mushrooms can be harvested every three weeks.
"The mushrooms will be dried and ground to powder so the components can be extracted into oligosaccharides, proteins, lipids, polyphenols, and chitin for nutritional and skin care applications," Benhaddou said. "The test bed also will be used to produce fungal mycelium used for producing biomaterial composites."
Because the water, light and temperature of the test bed will be automated, the amount of water and energy required to produce the mushrooms will be more sustainable. It also will reduce the carbon footprint more than conventional farming methods. Additionally, growing the mushrooms in shipping containers will help small scale mushroom producers quickly set up and operate reliably and economically.
"We hope to attract the attention of large mushroom companies, as well as organize workshops for local farmers and practitioners," said Zhu.
The UH Division of Research Lab Renovation/New Lab Grant was initiated to support the University's research enterprises through targeted investments in existing labs or creation of small new labs, and to facilitate collaboration among faculty members from different colleges.
Read more