Nursing Student Credits Parents, UHin4 in Reaching Graduation Goal
By Marisa Ramirez
May 10, 2022
The graduation celebration for Maria Espinoza will be a special one that acknowledges her accomplishment and the sacrifices made by her family to help her reach her college dreams.
Espinoza, a first-generation student, will be graduating from the University of Houston College of Nursing. She says her parents had little education and worked several jobs to ensure their children had academic opportunities that put them on the road to a better life. Still, there were challenges.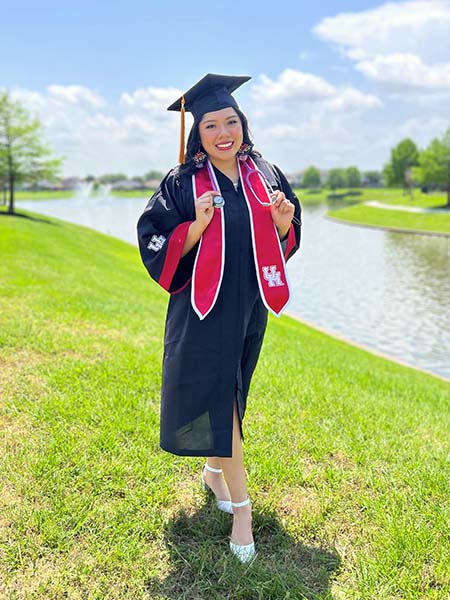 "We often faced difficulties when completing course registrations, filing for FAFSA, and completing other things such as scholarship applications, since the processes were so foreign to us," she said. "We didn't know any individuals who were college students or graduates, so we were extremely unaware of the resources that were available to us."
Espinoza became a full-time nursing student. She managed the long commutes, the stress of keeping up with school, and the pangs of disappointment for missing out on weekends with friends. Her focus was on the bigger picture drawing strength and motivation from her parents sacrifice.
Espinoza says she also chose UH because of its diversity and inclusion.
"There is so much beauty that different cultures have to offer," she said. "Having knowledge about others' experiences and beliefs can also help me better interact with my patients as a nurse because it will allow me to provide comprehensive and patient-centered care."
Like all students, the pandemic brought its own challenges, not the least of which hybrid and virtual nursing classes and labs. Espinoza and her classmates had to use Zoom to learned how to perform health assessments (though demonstrations of their skills were in-person), and nursing clinical experiences were sometimes hard to find.
Still her performance in the classroom matched her resilience. In her favorite classes—Anatomy and Physiology and Medical-Surgical Nursing—classmates and instructors alike recognized her positive and encouraging disposition, along with her decision-making abilities.
"I think the obstacles she has overcome to be where she is have made her resilient amid the stressors of nursing school and the hospital setting," said Anita Schulte, professor of practice with the UH College of Nursing. "That resilience will continue to help her as she enters the nursing profession at a time when so many nurses are burning out and leaving, and I know she will be a real asset to her workplace."
Espinoza credits the UHin4 program with helping her reach her academic goal.
"[The program] allowed us to maintain a set tuition while I worked full-time. During my first semester, I commuted to school Tuesdays and Thursdays for back-to-back classes from 8 a.m. to 6 p.m. and worked Monday, Wednesday, Friday, Saturday and Sunday. Although it was exhausting, I continued to go to school full-time until my last semester in nursing school."
The UHin4 program is an initiative from the Office of the Provost that supports students with comprehensive plans to help them navigate a course to graduate in four years. This four-year plan saves families time and money so students can graduate and start working or pursuing advanced degrees quicker.
After graduating, Espinoza will work for Memorial Hermann hospital as an emergency room nurse. She has advice for other students as they continue their academic life.
"College is not easy and there are several obstacles that will arise, but it's important to remember we have and will continue to survive difficult days," Espinoza said. "Although it can be stressful, college can be such an amazing time in your life. It is a time for growth, and opportunity, so take advantage of it and enjoy the moment."
Read more