Nursing Professors Seek Removal of Bias in Nursing Education
June 23, 2022
An article by Shermel Edwards-Maddox, University of Houston College of Nursing professor of practice, and Danielle Quintana, clinical assistant professor, explores ethics and implicit bias in nursing education.
The article, published in the journal Teaching and Learning, says "nurses possess the responsibility of promoting equality and diversity by treating all patients and colleagues with respect and dignity."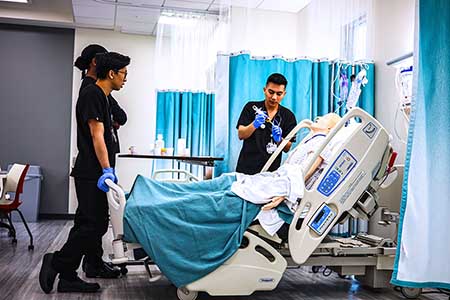 The authors say it begins by identifying unknown biases.
"There are things that we do that we are not aware of that may be offensive and may show bias, like not using correct pronouns," Edwards-Maddox said.
Drawing from the articles Reducing language bias in nursing education, and The impact of whiteness on the education of nurses, the report concludes that "nursing strives to be at the forefront of quality healthcare and that recognition of implicit bias is an essential tool to improve the care nurses at the beside offer to patients."
Edwards-Maddox says the bias in healthcare is systemic and has been that way long before today's nurses began their training.
"Medical charts say 'male' and 'female.' That's what I mean by systemic bias," Edwards-Maddox said. "An electronic medical record is classified as 'male' or 'female,' and a person's sexual identity could change over time," she said.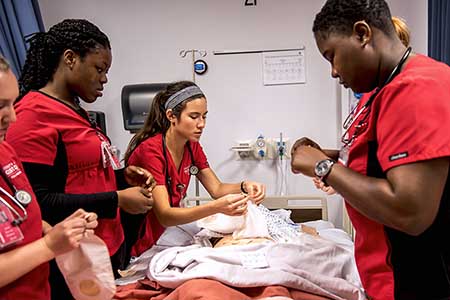 The article says changing the education of nurses is the first step to creating a better healthcare system, and nursing textbooks and hospital documents are the first places to start.
"They are filled with heteronormativity," Edwards-Maddox said.
Heteronormativity is when heterosexuality is assumed to be the normal mode of sexual orientation.
"We expect all people to fall into those categories. So, there are going to be these differences, and they are based on these stereotypes, and we think they apply to all."
She cites statistics about African American women and childbirth as examples of how bias can be deadly.
"They are more likely to die in childbirth, and education or social-economic status does not matter. They are dying with postpartum hemorrhage, and they are not being listened to. They complain and are not being listened to, resulting in an adverse event. In Texas, the numbers are high," Edwards-Maddox said. "If they have an African American provider, their outcome is better."
Edwards-Maddox and Quintana highlight new ways to educate students about bias by creating the materials used in nurse training.
"We received a grant through the Good Samaritan Foundation to build materials and resources for nurse educators in Texas to implement into their teaching. Our goal is to have simulations, case studies, assignments and activities to get the conversation happening," she said.
"Hopefully, we can produce nurses who are culturally aware. Bias is not just about race; it can be about views of the homeless population, people with HIV, or a patient's sexual orientation. People can be biased about anything."
Nursing students are also encouraged to take a test to determine their underlying biases.
"What's tricky with implicit bias is that you don't wake up knowing you are biased, so, it's important to identify," Edwards-Maddox said. "It's about nursing care that is personable and equitable."
Read more