User Experience Lab at UH Teaches Students New Skills for the New Hot Job
By Dennis Spellman
January 27, 2022
Many of us have experienced the frustration of buying a product that is hard to operate, like a digital alarm clock that comes with a confusing manual to explain how to set the alarm. Now, students from the UH College of Technology are learning how to discover flaws in products before they go to market, how to improve products that never worked as intended, and how to be part of a new in-demand workforce.
The college's Elizabeth Rodwell, assistant professor of digital media, opened the doors to one of the University's first User-Experience (UX) labs. The UX lab is located on the Sugar Land instructional site.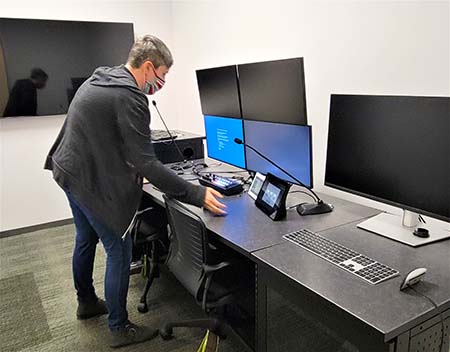 "We make sure products are going to meet the needs of the audiences because when products work well, we are all happy," Rodwell said. "The lab is two rooms, a control room and an observation room. It looks like a TV station control room."
The UX lab uses various techniques to determine whether a product is easy to use, including high-tech eye trackers that follow a person's head and eye movements to determine if something is confusing or easy to use.
What's happening in the lab is so cutting-edge that students studying UX are seen as valuable employees to corporations, even before they earn their degrees.
"UX is super-hot right now. I cannot count the number of times companies ask if I could send them UX students," Rodwell said. "Some great companies have approached us because they do not have UX labs."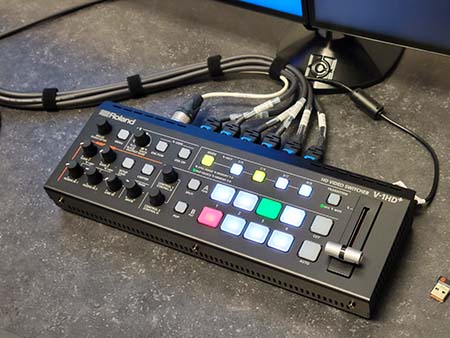 She cites Schlumberger and Axion Space as examples of area businesses interested in future employees with this valuable UserX experience.
While the students are learning a state-of-the-art science, the products they test don't have to be high-tech items.
"It could be a thermostat, an electric tea kettle, or my kid's alarm clock that we can't figure out how to change the time because we lost the manual," Rodwell said.
The College of Technology teaches UX through its Department of Information and Logistics Technology. It is a mandatory first-year class.
Rodwell believes that, in the future, any company that employs designers and programmers will also be hiring UX experts.
UX is not only a new science in the business world; it's also still getting organized within academia. However, Rodwell believes colleges and universities will eventually offer degree programs specifically for UX.
"People are still trying to figure out how to teach UX," Rodwell said. "We are going to see a lot more UX training at universities."
While the study of UX is still in its infancy, at UH, other academic disciplines are recognizing its value.
"We have people from all over the university like historians, graphic designers, computer scientists and anthropologists, who are utilizing UX testing," she said.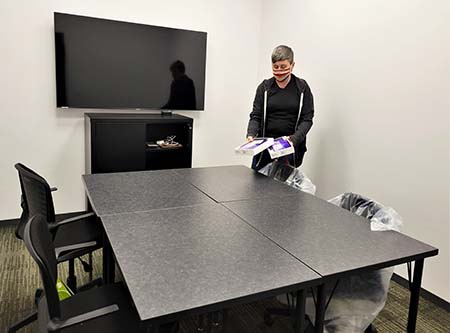 Rodwell is an anthropologist who became involved in UX because she studied how people interact with media and technology. History professors at UH are also deeply involved in UX by pushing the technical boundaries of how to teach students about historical events in a way that brings those events to life and make them easier to understand for adolescents.
"Everything that they are doing is an opportunity to bring this history to kids in middle school," Rodwell said.
UX is all about creating products that are easy to use. Rodwell points to Apple as a leader in perfecting the user experience.
"A little kid can figure out how to use an iPad. They figured it out without any instruction," she said. "Apple has been doing that since their first desktop."
Rodwell believes that all companies that manufacture a product will have to do the same to compete in the global marketplace.
"They absolutely cannot get away with not looking at usability," Rodwell said.
Read more