For One Nursing Student, Commencement is an Achievement, Path to Hope
December 6, 2022
"Leaving the program just wasn't an option. That somehow would have meant something worse, and I didn't want to find out what was beneath rock bottom."
Commencement for Nneka Omoruyi will be more profound than many others crossing the stage this December. While she accepts the degree from the UH College of Nursing's rigorous Second Degree Bachelor of Science in Nursing program, the achievement means a great deal more.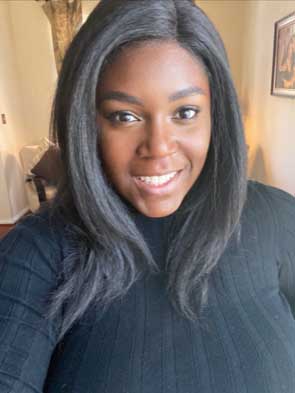 "I wanted to focus my passions into this degree, and I knew that I wanted a path to freedom, stability and hope," she said.
The Second Degree BSN program is for students who have a bachelor's degree in another subject, but now want to become nurses. The rigorous, accelerated program begins in January and ends in December. Students are counseled not to work during this time because of the program's intense demands that include clinical rotations, copious readings, labs and weekly exams.
It was at the beginning of the program that Nneka suddenly found herself without a place to live. She was estranged from family, and began a months-long process of balancing her studies, personal life, mental and physical health, as well as basic needs. She lived temporarily in Huntsville and drove the sometimes two-hour commute to get to classes in Sugar Land.
"I commuted from Huntsville and sought out other short-term options. I had to work to support myself and soon was having health issues," she said. Working and balancing program demands began to wear on her, and her health. After a visit to the doctor she was faced with the reality that she needed to undergo a major surgery.
"I was not sure how I could manage to have a surgery, heal and graduate on time," she said. Still, the passion for nursing pushed her forward.
Confiding in her professors and friends from class, she connected to sustainable options and available resources that allowed her to pursue her studies part-time so she could work at Houston Methodist hospital as well as an area pharmacy to support herself. She connected with financial assistance in the way of scholarships: The College of Nursing Dean's Scholarship, Fred & Mabel R. Parks Foundation Nursing Scholarship, and the Sherry Luce Memorial Second Chance Scholarship (she is the first recipient of this newly endowed scholarship).
"The program gave me purpose, as did my professors who came together to let me know that I was needed in the field of nursing," she said.
Nneka's future includes working as a psychiatric nurse resident at the Menninger Clinic with individuals struggling with mental health challenges. She says her work will be fueled with the same passion that pushed her through her own struggles—a passion that became the driving force to her own survival.
"Words cannot express how much gratitude I have for all who helped me. Though I have had many losses this year, what I gained in love and support from friends is more than anything I could have asked for. Walking across that stage will be the product of my thanks and gratitude," she said.
Read more