Graphic Excellence from UH Digital Media Students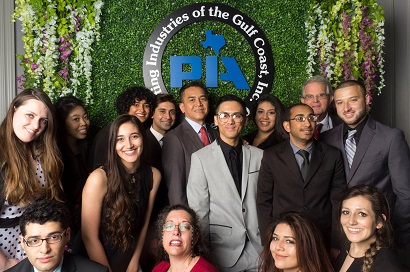 Twelve students from the University of Houston Digital Media program were recognized for design and printing excellence at the Printing Industries of the Gulf Coast Annual Graphic Excellence Award Gala. The award ceremony recognized the best professional work of the printing industry in the Texas-Louisiana Gulf Coast area, while applauding the work of the next generation of graphic communicators.
"I'm so very proud of these students, whose work has shown us that the industry is alive and well and in good hands," said Jerry Waite, professor and coordinator for the digital media program.
Students and professionals were honored in an April award ceremony. The UH student winners are:
Printing Category:
Best Entry—Kelsi Richter, Chocolate Package Design Project
Excellence—Rosa Valazquez, Chocolate Package Design Project
Excellence—Maggie Gutierrez, Suraj Batavia, Jesus Villarreal, Film and Digital Corrected Images
Excellence—Monica Martinez, Scotty Floyd, My Four Color Process Notepads
Design Category:
Best Entry—Samantha Elisa Valasquez, Creative Holds No Limitations
Excellence—Bianca Benavidez, Alantean Movie Poster
Excellence—Anthony Gorrity, Graphic Communication Week Poster
Excellence—Leslie Galarreta, Jessica Alba Image
Excellence—Christopher Buenaseda, Magazine X Cover
"These students have done a phenomenal job," said Monika Alters, instructional associate professor. "I couldn't be more proud of them. They were able to apply the skills taught in the DIGM program and create beautiful designs, worthy of recognition. I see a bright future ahead for them.
The Printing Industries of the Gulf Coast (PI-Gulf Coast), one of the state's oldest trade associations, is an organization of graphic communicators in the Texas-Louisiana Gulf Coast and is the official representative of the graphic arts industry to business, government and the public. PI-Gulf Coast is an affiliate of Printing Industries of America.
 "This recognition from industry professionals confirms the talent this students possess and the contribution they will make in the digital media profession," said Assistant Professor Jean Pierce.
The Digital Media program's printing focus prepares leaders to control the production of print media from beginning to end. Courses are focused primarily on digital print reproduction and, in particular, personalization that results in documents tailored to each recipient's needs.
Students pursuing a focus in packaging enter the third largest industry in Houston. All manufactured products must be packaged to inform the consumer, enhance sales and to protect the product during shipping. Students in both areas of emphasis learn from industry experts and have opportunities to network with industry professionals.
Read more