College campuses like the University of Houston can attract professional bicycle thieves. One thief can commit several thefts in one day. Properly securing your bicycle with a quality lock will reduce a theft opportunity.
Locks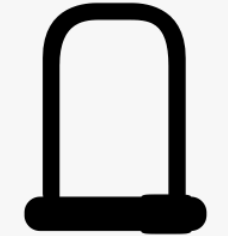 The first step in securing your bicycle is selecting a reliable lock. UHPD recommends, U-shaped locks made by Kryptonite or another reputable manufacturer, many of which come with an anti-theft warranty. The U of these locks is too large in diameter for all but the largest cutters, and the metal hardened to withstand most types of cutting action. When shopping, make sure the lock is a standard flat key model as opposed to the round key model, which has been proven easy to pick. We recommend against the use of cable or chain locks. It would take only a few minutes to cut through these types of locks.
Do not secure your bicycle to a sign post.
It would take only a few minutes to cut through the cable lock.
The sign post can be pulled out of the ground.
The bicycle can be lifted over the pole by removing the sign.


Do not secure your bicycle to fences.
"A chain is only as strong as its weakest link." It would only take a few minutes to cut through a fence board.


Do not lock your bicycle to trees and shrubs.
It would only take potentially a few minutes to cut through a part of the tree.
You can damage the tree. The many trees on campus are one reason we have such an attractive campus.


Do not lock your bicycle to stair rails.
Locking a bicycle on a stair rail will impede stairway traffic and could result in the impounding of your bicycle by the Environmental and Physical Safety Department.


Do it Right and Keep Your Bike!
You have the lock and you are at the bike rack, how do you secure your bike to minimize opportunity for theft? The lock is placed around both the frame of the bicycle and front wheel. Placing your lock around only the front tire often results in only securing the front tire. Look around campus and you will see several orphaned bicycle tires. Remember to secure both the front tire and frame. The front wheel is easy to remove and a thief will take your bike and leave it behind. When a thief steals a bicycle with no front wheel the thief is going to need another front wheel. If you fail to secure the front wheel you might become his target.


Four steps to protecting your bicycle at the University of Houston.
Use an approved bicycle rack.
Use a quality U-shaped lock.
Place your lock through the frame and front tire.
Register your bicycle with the UH Parking and Transportation. This is required of all s

tudents, faculty and staff who have a bicycle on campus

.