Welcome to the College of Nursing!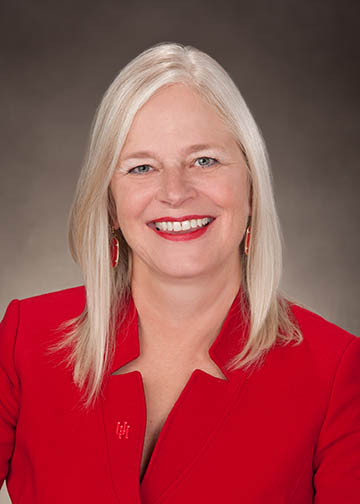 Welcome to the new academic year for the University of Houston College of Nursing!
Thank you for being a student at the University of Houston and thank you for choosing to be a nurse! I am impressed with and listened intently to the new students in orientation when they stated why they selected UH College of Nursing. Among their responses were "the excellent reputation of the College of Nursing in the nursing community," "I want to be a UH alumni like my husband so we can enjoy being alumni together!" "I want my MSN degree to stand out when I go for the next job in my organization," "So many in my family have a degree from UH – now I will be joining them," "I love the University of Houston and am so excited to start my nursing career."
The amazing College of Nursing faculty will equip our students to embark upon a career as an excellent nurse leader and excellent nurse clinician. Students, faculty and staff will collectively spend thousands of hours on Zoom, in clinical, classroom, simulation labs, doing research or volunteering, thus adding to the strength and vibrancy of our communities and the nursing profession.
I am especially proud of each of our students for persevering through the most incredible year of any of us have ever known. In 2020/2021 we walked with our students through the COVID-19 pandemic, social, political and racial unrest. Our courses, clinicals and lives were impacted and disrupted. We worked harder than we have ever worked using our nursing knowledge and science to save lives, protect our community, care for our families and teach our own children. Yet, our students graduated on-time and are now more ready than ever before to work in environments where nurses are incredibly needed, trusted, and respected.
Even with all that transpired our NCLEX-RN first-time pass rate was 100% in 2020, putting us in the top 8% of the entire nation for all nursing programs. Our nursing program has the lowest median debt of any university nursing program in the state of Texas. We know funding is incredibly important and we thank our donors for their impactful support that means so much, especially in times such as these.
Our most exciting news is we have been approved by the THECB and SACS-COC to begin the Doctor of Nursing Practice (DNP) program fall 2021. We welcome our inaugural cohort of DNP students and look forward to all they will achieve. The College of Nursing invites you to consider this professional level of nursing and we especially welcome our alumni to apply to the DNP program at UH. We know that in 2023 Texas will be 57,000 nurses short. There is a place for you in this profession and you are needed.
Welcome to the Cougar Nation!
Your Dean,
Kathryn Tart, EdD, MSN, RN
Founding Dean and Professor
Humana Endowed Dean's Chair in Nursing