Project Inspires Students to Look Beyond the Microscope
Plant Physiology students at the University of Houston took their skills to a new level by turning what they learned over a semester into works of art. For the first-ever Plant Physiology Art/Design Exhibition, students created an original plant physiology-inspired piece of art using any media of their choice.
The exhibition, attended by professors and students, displayed a wide array of inspirational artwork by students who chose ordinary objects as a canvas to create unique works of art.
After the exhibition, the art was evaluated by their peers on the last day of class.
Project to Promote Student Creativity
Lisa Farmer, instructional associate professor with the Department of Biology and Biochemistry at the College of Natural Sciences and Mathematics, encouraged her students to pick a topic and choose a medium they could manipulate into a work of art.
"I didn't want to squelch their creativity by trying to exert too much control over what the students were trying to produce," said Farmer. "I wanted all students to engage creatively with plants."
Students also were asked to create a small portfolio that explained the inspiration for their work and the materials they used. Some students went as far as to document the creativity process using video incorporated into the final project.
Personal Experiences Serve as Inspiration
Aryana Pourmotamed, a biology major, won the First Place People's Choice Award for creating life-like roses made from air-dried clay. Her artwork was titled "Beauty and the Beast."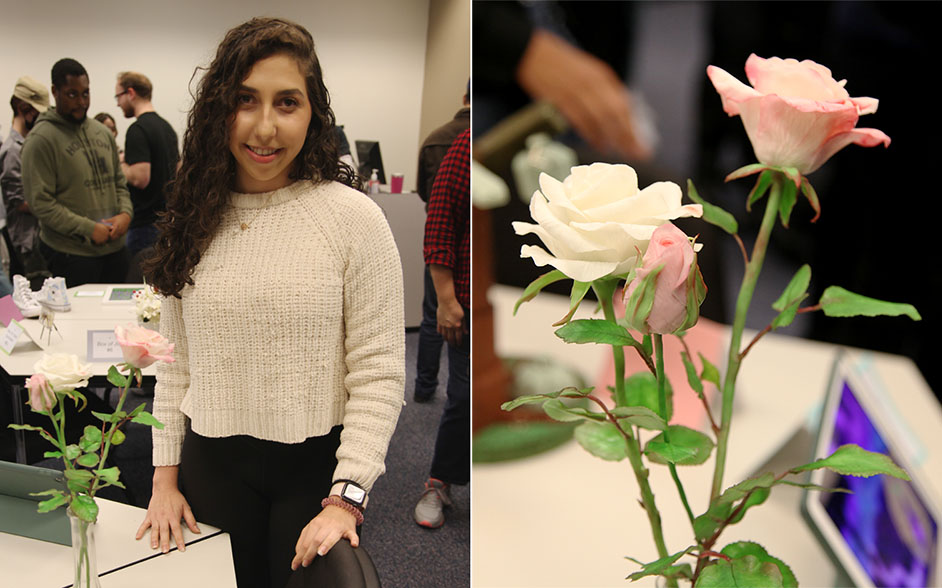 "I chose this method because my mother used to make different types of decorative flowers when I was younger," said Pourmotamed. "I knew from previous experience I could make a rose that would look great on display."
Pourmotamed used petroleum jelly, white glue, corn starch and glycerin to make the clay for the roses. The ingredients were heated and mixed in a frying pan, cooled, and stored in a container until it was time to assemble the flowers. It took about a month to create her work of art.
"I didn't do it all at once and a lot of the parts have to be left alone to dry after being shaped and colored overnight," she said.
Marcel Gugala's project is a wintry creation of his grandparents' house in Poland.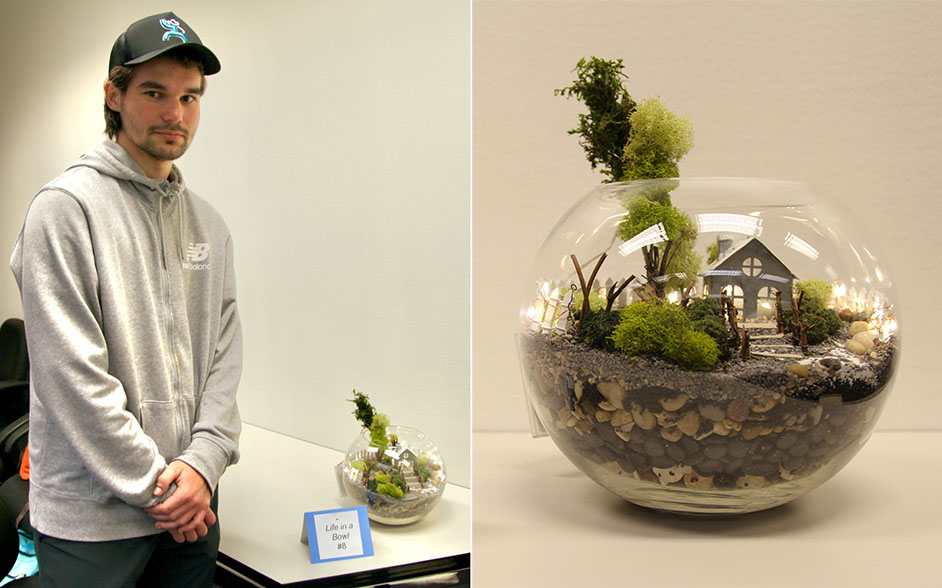 "I never truly had the winter experience in Poland, so this project is how I imagine what my grandparents' house would look like when it's covered in snow," said Gugala.
His project, titled "Life in a Bowl," is made from materials that include toilet paper rolls, wire, mini-twinkle lights and greenery that resembles the landscape surrounding his grandparents' home. Gugala created the scene in a fishbowl with a base of four different layers of rock and sediment to simulate the terrain.
Gugala said it only took about six hours to assemble his project.
Goal to Unite Plant Physiology and Art
In summer 2022, Farmer had an idea to incorporate science and art into her class. Her goal was to get students motivated to create something that inspired them based on what they learned.
Farmer got the idea to create an exhibition from her experience as a graduate student in Wisconsin.
"A faculty member commissioned me and a few other students to design art pieces for the new genetics and biotechnology building on campus," she said. "It was a proud moment personally to be able to advertise plant physiology through art to everyone who came to our new building."
Creating New Possibilities for Plant Physiology
Farmer believes the aspect of art in plant biology is missing in college courses and wants to increase awareness in this area. Thanks to the overwhelming response from her fall exhibition, plans are in the works to keep it going for future semesters.
Donna Pattison, NSM assistant dean for student success, believes this creative approach to plant physiology could also fulfill needs outside the classroom.
"It would be great to take the art these students have created and use it to add character to the blank spaces we have within our NSM facilities," said Pattison. "We should definitely do this again."
- Chris Guillory, College of Natural Sciences and Mathematics