Half of Finalists from NSM
The 2022 University of Houston exCITE Talks final round consisted of 10 undergraduate students who shared their co-curricular learning experiences and how these experiences played a role in their academic and professional development. Five of the finalists were College of Natural Sciences and Mathematics students, and two took home Amazon gift cards as prizes.
In all, 49 students applied for the competition. Finalists delivered a three-minute elevator pitch accompanied by a single slide. Faculty and staff members served as judges.
The competition, hosted by the UH Office of the Provost, is modeled after the Three-Minute Thesis (3MT) competition held at over 200 universities worldwide. 3MT challenges graduate students to present their research in three minutes.
Part of Cougar Initiative to Engage
exCITE Talks is part of UH's Quality Enhancement Plan, called Cougar Initiative to Engage (CITE), which focuses on offering students more co-curricular learning opportunities and increasing student participation in these programs. The event allows students to be competitive in an academic environment while gaining important professional development through public speaking and presentations.
"We really want all of our students who participate to have the chance to give an elevator pitch about a co-curricular experience that has really changed them," said Anne Dayton, director of CITE. "We partner with University Career Services to hold a workshop for contestants so that they know how to give an elevator pitch."
NSM Students in the Final Round of Competition
Ishmam Alam, Biology Major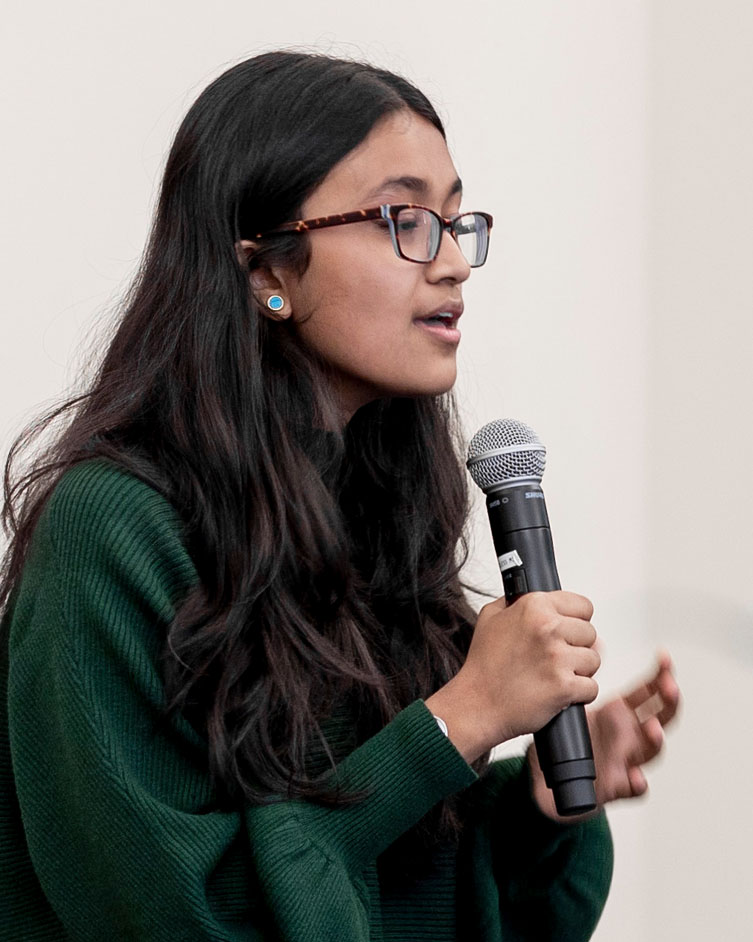 Ishmam Alam, a biology major, participated in a summer undergraduate fellowship. Her work uncovered new ground on the relationship between a supervisor and employee. She looked at the effects on the employee's physical health, particularly blood pressure.
"Participating in exCITE Talks was a great learning experience," said Alam. "I participated so I could have the opportunity to talk about a topic to which I have invested much time and am very passionate about."
Alam appreciated the opportunity to present her findings to a general audience rather than one that has ties to a scientific field, which she said was something she had never done before.
Funmi Babajide, Biology Major, Third Place in Competition
Funmi Babajide, a biology major on a pre-med track, participated in the year-long Cougars in Cancer Program. She placed third in the exCITE Talks competition, winning a $150 Amazon gift card.
"I was privileged to join one of the few National Cancer Institute-funded labs on campus," Babajide said. She was part of the lab of Tasneem Bawa-Khalfe, associate professor of biochemistry, in the Center for Nuclear Receptors and Cell Signaling.
"I was able to join the lab after meeting Dr. Bawa-Khalfe on an elevator," Babajide said.
Babajide explained that initially she did not know much about the research subject, but she began asking questions and reading papers to gain a greater understanding. During the research experience, she realized she wanted to change her focus of studies from an M.D. path to studies pertaining to an M.D./Ph.D. to allow for a future in translational clinical research.
Claudia Castano, Biochemistry Major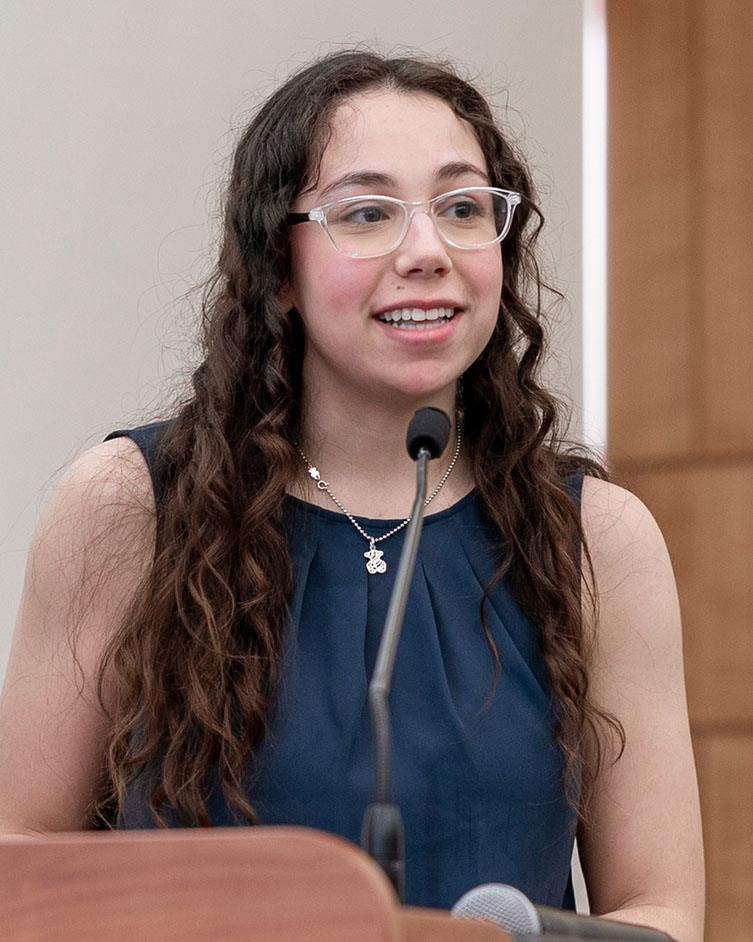 Claudia Castano, a biochemistry major on a pre-med track, volunteered in the emergency room at Memorial Hermann Hospital. Since so many patients spoke broken English, she took note of the great need for hospital translators and the role they play in connecting patients with the care they need.
"I went into this thinking I would build connections with doctors and nurses," Castano said.
Castano was impressed with the way she was treated by hourly wage workers who don't wear scrubs. Her experience has inspired her to become a doctor who values everyone in the workplace and recognizes all the work that is done behind the scenes to keep hospitals operating smoothly.
Preston Lee, Mathematical Biology Major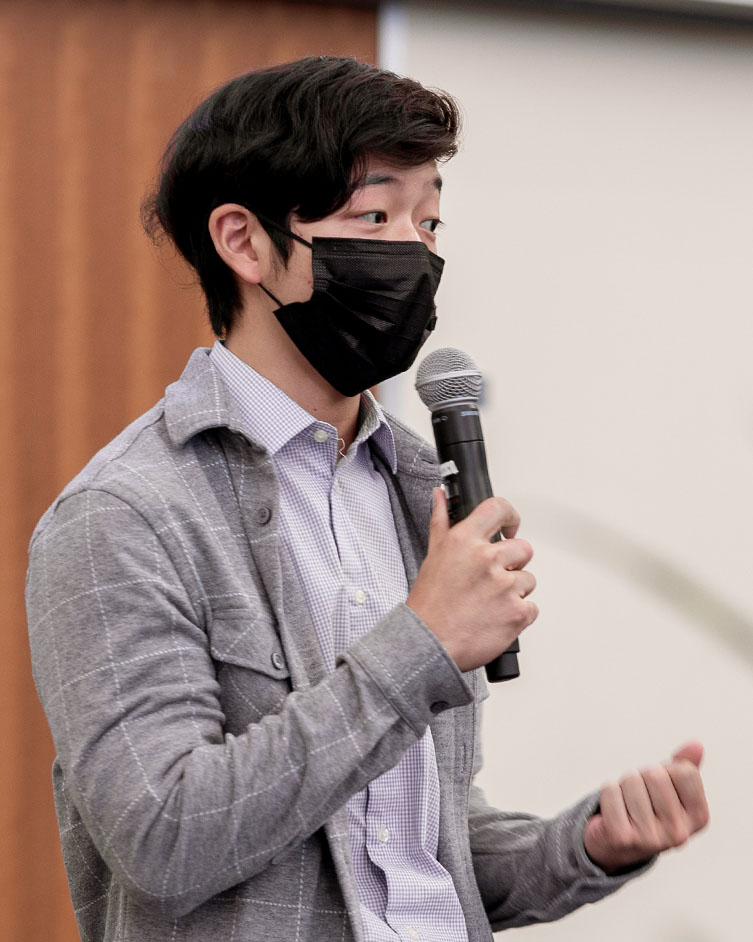 Preston Lee is a mathematical biology major pursuing a career in epidemiology. With an interest in museums and how they impact the educational community, Lee interned at The Health Museum in Houston this past summer.
Lee's presentation centered on his goal to provide a way for the community to revisit the museum through a digital lens while providing a fun and innovative way to learn about health.
"I wanted to reconnect the museum with the community," said Lee. "I found augmented reality to be the most fun and engaging, based on experiences at other museums with this type of visitor engagement."
Because of his work, The Health Museum obtained a grant of $50,000 to expand augmented reality development.
Alexis Ruiz, Biology Major, People's Choice Winner at Competition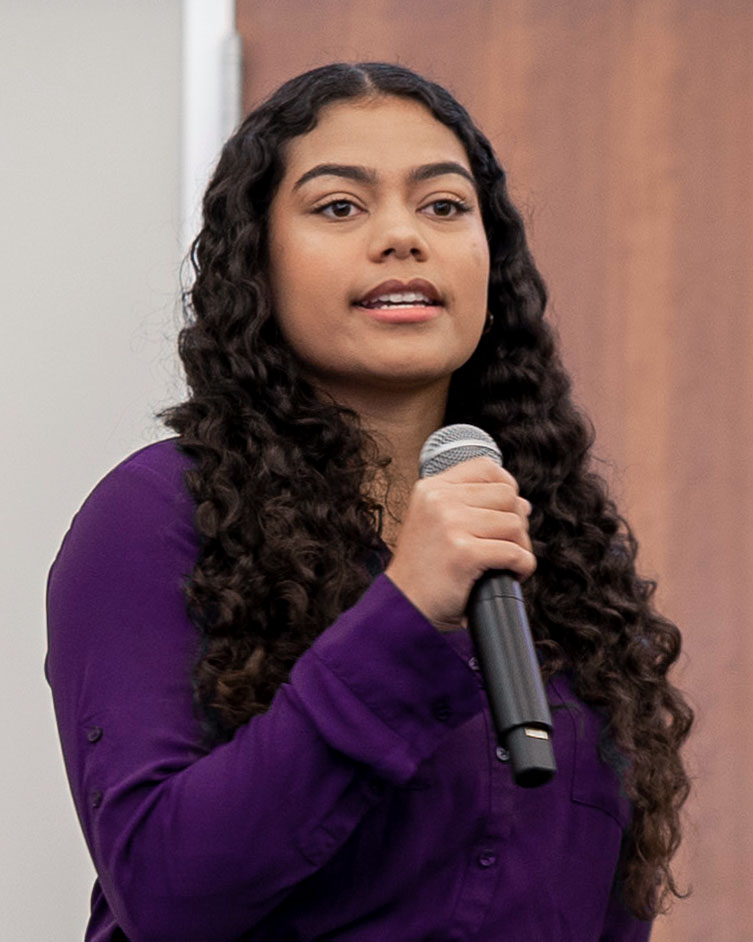 Alexis Ruiz, a biology major interested in medical school, studied metastasis in triple-negative breast cancer. She earned the People's Choice Award at the exCITE Talks, winning a $100 Amazon gift card.
"My experience has shown me how much research and medicine overlap," said Ruiz. "There is so much untapped potential that research has made possible in medicine."
Ruiz said her research has prompted her to focus more on making contributions to cancer research. She was drawn to triple-negative breast cancer because it is considered the most aggressive form of breast cancer with the highest mortality rate.
Read more about the Cougar Initiative to Engage
- Chris Guillory, College of Natural Sciences and Mathematics