Nearly 1,400 Students Graduate with NSM Degrees in 2020
Commencement is a long-standing tradition of universities. But the onset of COVID-19 altered the way graduation is celebrated.
The College of Natural Sciences and Mathematics went virtual to honor the achievements of its Spring, Summer and Fall 2020 graduates, holding a live stream Graduation Celebration on December 18. The NSM event recognized nearly 1,400 students receiving bachelor's, master's or doctoral degrees.
A large part of the event was the celebratory video and photo messages submitted by graduating students. The event also incorporated many of NSM's commencement traditions, including a message from the dean and NSM Alumni Association, a student speaker and award presentations. The presentation of the graduating students' names at Fertitta Center is also available on the NSM Commencement page.
Graduate Numbers
132 Doctoral Degrees
174 Master's Degrees
1,085 Bachelor's Degrees
Undergraduate Academic Honors
118 summa cum laude graduates, 3.9 to 4.0 GPA
146 magna cum laude graduates, 3.70 to 3.89 GPA
158 cum laude graduates, 3.50 to 3.69 GPA
Dan E. Wells Outstanding Dissertation Award
Two doctoral graduates received the Dan E. Wells Outstanding Dissertation Award. This award goes to a doctoral student who has performed outstanding research and submitted the best dissertation to the College. The winners receive a certificate and an award of $1,000.
Nominated dissertations are evaluated for:
Significance and impact of the research
Originality of the work
Quality of the scholarship
Quality of the presentation and organization of the dissertation
Jiaxuan Li – Spring 2020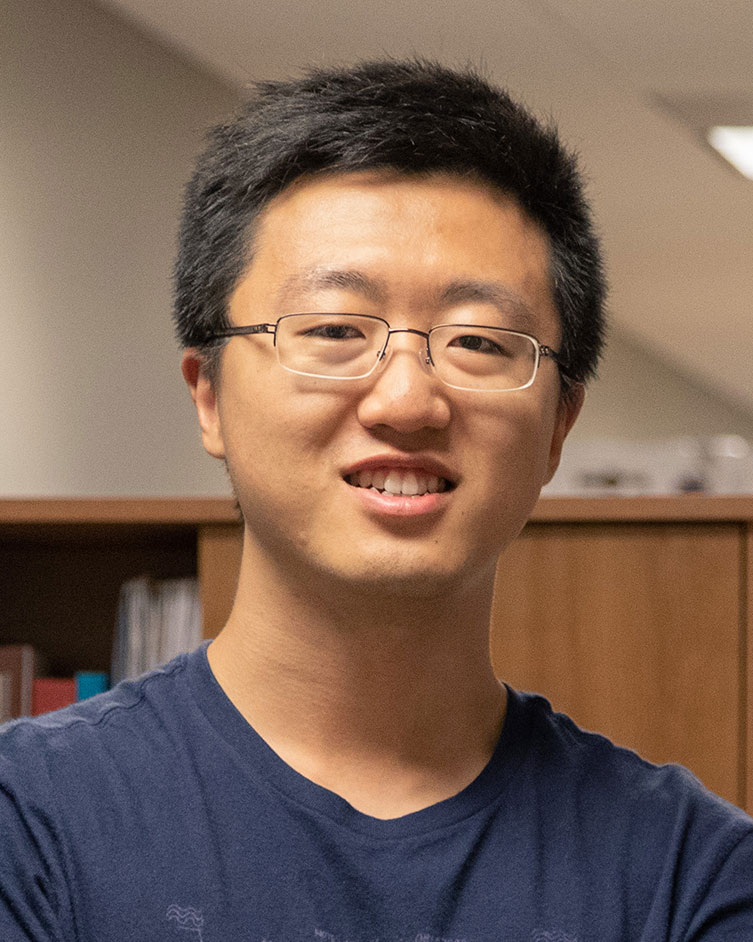 For Spring 2020, the award went to Jiaxuan Li, a geophysics Ph.D. graduate in the Department of Earth & Atmospheric Sciences.
His dissertation, "Inverting In-situ Anisotropy in Global Subduction Slabs Using Deep Earthquakes and Imaging Binary Mixtures and Fractures," was centered on three main research topics: deep earthquakes, binary mixtures and machine learning in geothermal energy development. His advisor was Yingcai Zheng. Li is currently a postdoctoral researcher at Caltech.
Riddhiman Medhi – Summer/Fall 2020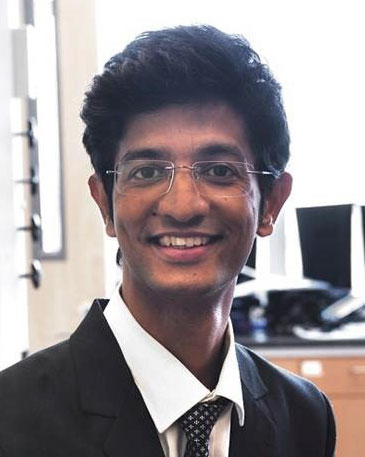 The Summer/Fall 2020 recipient was Riddhiman Medhi, who completed his Ph.D. in chemistry in August. His dissertation was "Enhancing the Scope of Metal Oxide Nanoparticles via Doping and Plasmonic Coupling." The work was centered on the development of reliable new procedures for the synthesis of nanoparticles used to make improved semi-conductors.
His advisor was Randy Lee. Medhi is currently doing postdoctoral research at Cornell University in Ithaca, New York.
Seven 4.0 Summa Cum Laude Graduates
The celebration also recognized seven exceptional undergraduate students who graduated "summa cum laude" and with a perfect 4.0 GPA.
Spring 2020
Beatriz Leyva, B.S. in biochemistry. She is currently pursuing a Doctor of Dental Surgery degree at UTHealth School of Dentistry at Houston.
Shangyi (Shelly) Fu, B.S. in biology and in liberal studies. She is currently a first-year medical student at Baylor College of Medicine.
Rami Ghannam, B.S. in computer science. He is a software engineer at P97 Networks.
Ashira Santos MacSwain, B.S. in biology. She is working as an emergency medical technician and applying to medical schools.
Fall 2020
Mian Ahmad, B.S. in biology. He will be working as a research assistant and applying to medical schools.
Anh To Nguyen, B.S. in computer science. She will be pursuing a career in software design and development.
Carl Anthony Suerte, B.S. in biology. He has applied for a Fulbright Research Grant to do research in Japan.
Student Speaker – Carl Suerte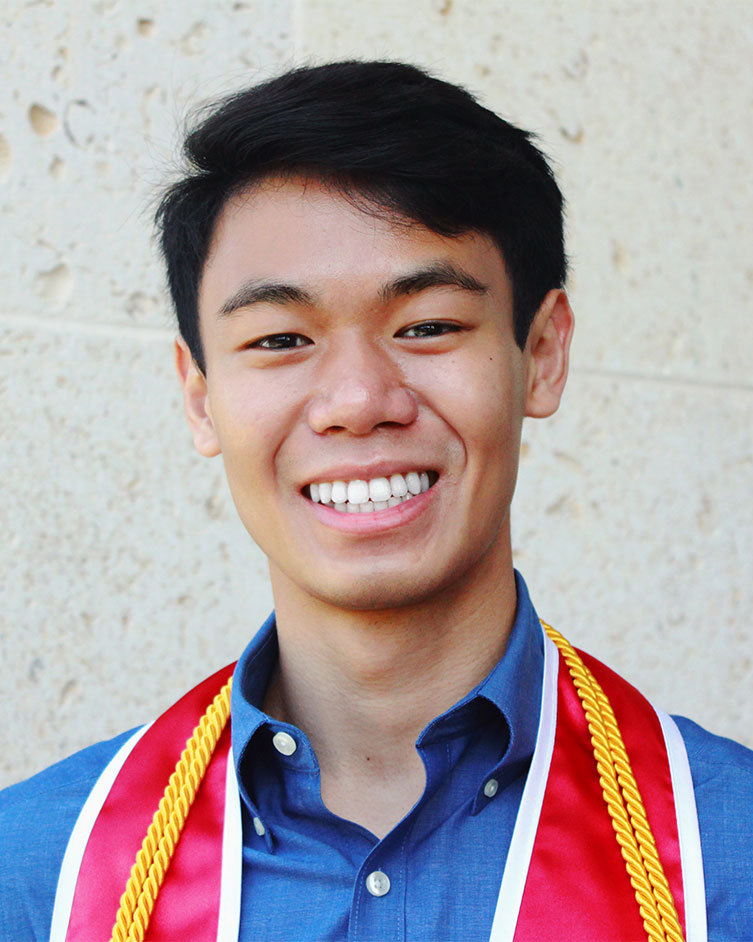 Carl Suerte, a biology major with a chemistry minor, spoke on behalf of the students. He was selected through a speech-writing competition open to all of NSM's 2020 summa cum laude graduates.
During his speech, he reminded the graduates that they could "no longer rely on seemingly more influential people to make a change. It is now our responsibility to be defenders of justice, compassionate educators, healers who do no harm, innovators of responsible technology, ethical scientists, and, most of all, advocators of the truth."
Suerte, who came to UH with a four-year Academic Excellence Scholarship, quickly became active in undergraduate research through participation in the Houston Early Research Experience.
With the assistance of a Summer Undergraduate Research Fellowship and later the Provost's Undergraduate Research Scholarship, he was active in Brigitte Dauwalder's lab in the Department of Biology & Biochemistry. There he researched the brain's role in behavior and was part of the lab during his four years at UH.
Suerte was selected for the Houston Scholars Program during his sophomore year and received a grant to conduct research at the University of Tokyo in Robert Campbell's lab. He worked on developing novel, high-performance tools to image signaling in the brain.
"Through this experience, I was able to get a better understanding of international collaboration in academia and learn new things about the world through cross-cultural experience," he said.
Suerte hopes to return to Japan to continue his research and is considering pursuing a doctoral or medical degree.
UH's Oldest Graduate: Philip Ahern, M.S. Applied Mathematics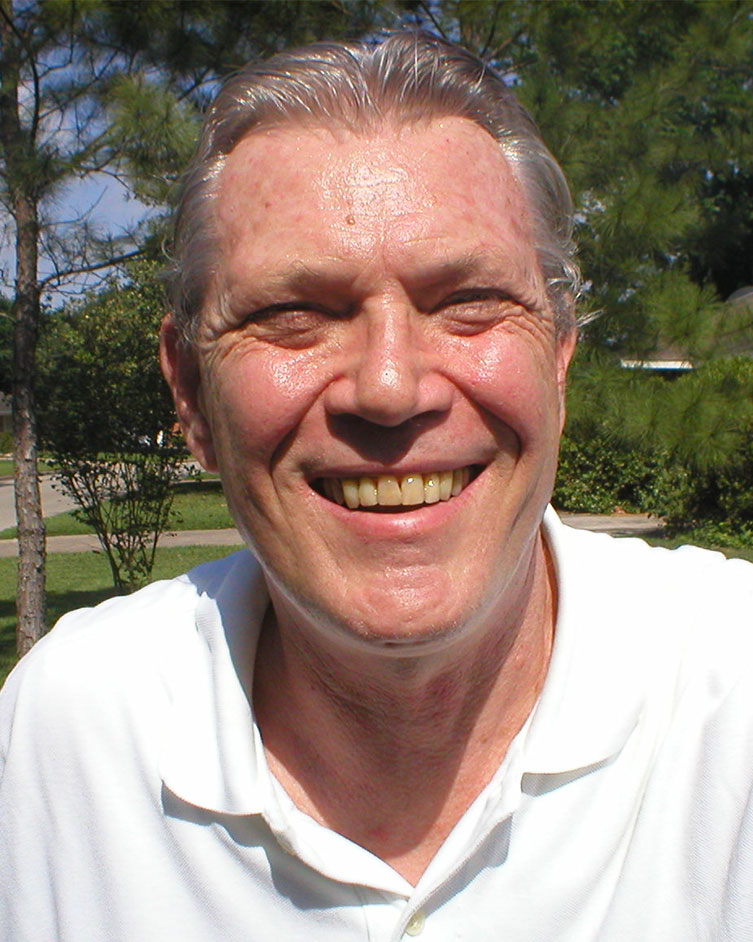 NSM had the distinction of having UH's oldest graduate for 2020. Philp Ahern, 80, graduated in the summer with a master's degree in applied mathematics.
Ahern has been involved with music most of his life. Though he earned a degree in economics in 1963, he worked as a musician in the 60s and 70s. He then taught music courses at the college level after completing a master's degree in music composition.
In 2011, Ahern completed a B.S. in computer science at University of Houston. "My interest in mathematics grew out of my interest in music, as did my interest in computer applications," Ahern said.
"As a performer and a teacher of music, I became interested in the ways that music and mathematics intersect," he said. "The components of sound - sound waves - can be expressed in terms of mathematical equations, and a knowledge of these components can be used to create new sounds that are not quite the same as those made by traditional musical instruments."
During his career, Ahern has written several compositions. "Two of them I am particularly proud of: The Song for Susan, performed by a woodwind quintet, written in honor of my wife, and the Wedding Song for Elizabeth and Kyle, performed by a string trio and piano, written in honor of my daughter and her husband."
Ahern is currently tutoring and teaching mathematics part-time at Houston Community College. He hopes to continue teaching mathematics at the college level for at least another 10 years.
- Kathy Major, College of Natural Sciences & Mathematics