Rooftop Garden Provides Education Opportunity for Horticulture Society
There are few places on the University of Houston campus as unique as the greenroof on the Burdette Keeland Jr. Design and Exploration Center.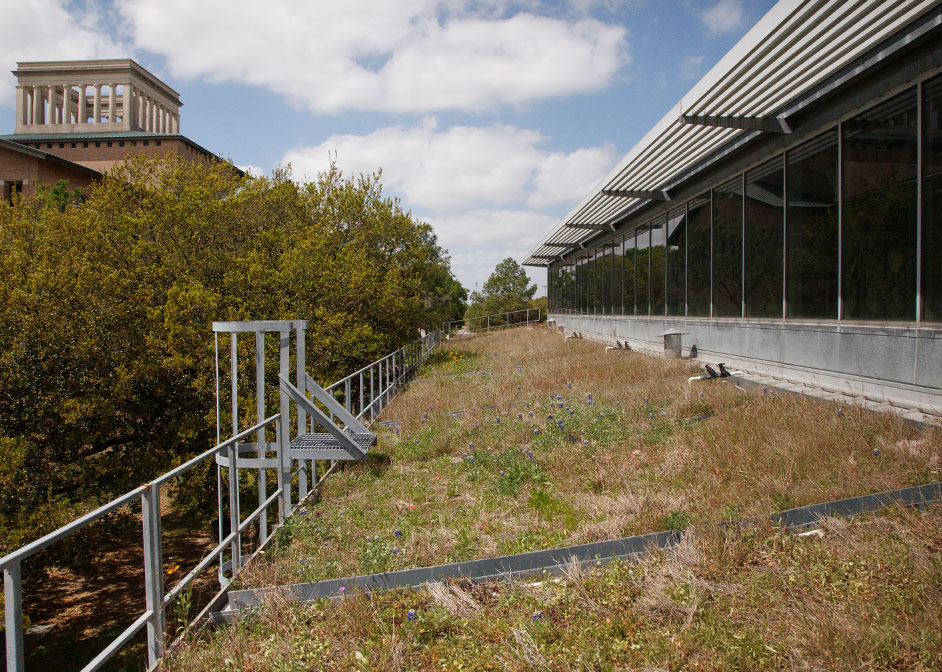 On a spring day, you will find bluebonnets, Indian paintbrush wildflowers, prairie grasses and butterflies covering the roof of the building. The beauty is thanks to the work of the Horticulture Society, a student organization of UH's College of Natural Sciences and Mathematics, and the vision of students and faculty in the Gerald D. Hines College of Architecture.
The structure was designed by UH architecture professor Geoffrey Brune to include a sloping roof with seven different planting beds. Inside, the building is currently used by architecture students as a lab space, although at one time, it served as the "Old Band Building."
The building was completed in September 2007, and the Horticulture Society started maintaining the rooftop garden in 2010. Their faculty advisor is assistant dean for student success and biology and biochemistry instructional professor Donna Pattison.
"I love being up there," said Pattison. "Personally, I think it's one of the coolest spaces on campus. You just don't expect a prairie to sit on top of a roof like that."
Claire Alverson, president of the Horticulture Society and biology major, said the roof provides an outlet for the group to teach conservation, because it is seeded with native Texas plants.
"The cool thing about native plants is you can have a beautiful landscape, and you don't have to take care of it much," she said.
Many Uses Within One Roof
The Horticulture Society uses the greenroof as a demonstration and teaching space. With several flower planting beds, it's possible for students to test different plants in each bed, with different growth conditions and watering regimes.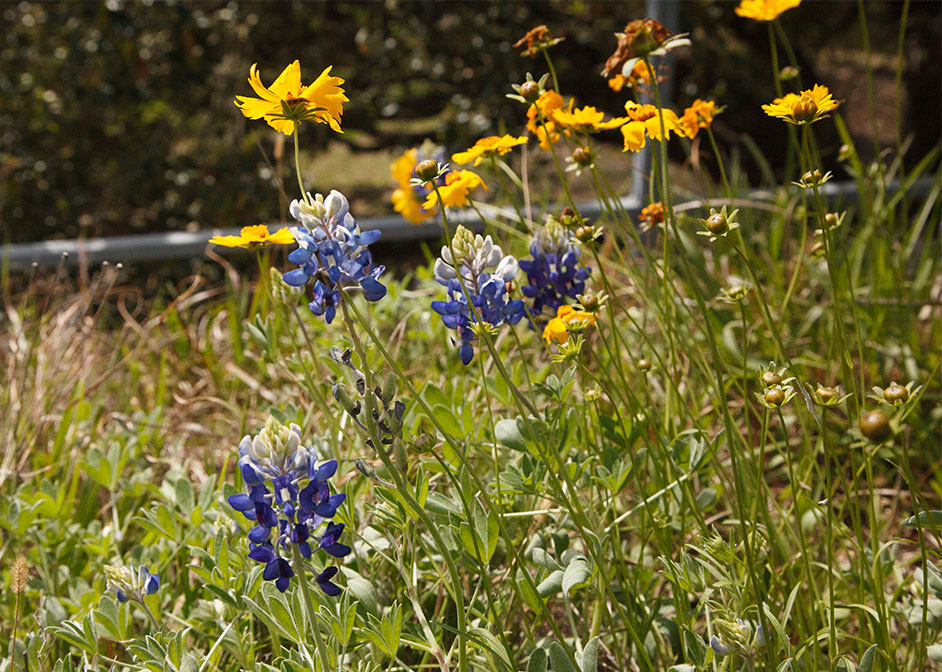 In addition to bluebonnets and Indian paintbrushes, the rooftop garden includes lanceleaf coreopsis and Indian blanket sunflowers, lemon mint, American basket flower and standing cypress.
"We have a pocket prairie up there," said Pattison. "It's native. It's natural. Because this is their normal climate, the plants do very well, and it is extremely low maintenance. Which is helpful, because you can't get on that roof all the time."
Pattison and the students visit the greenroof a handful of times a year for reseeding, irrigation maintenance and trimming. Most of their day-to-day work with plants is spent in NSM's greenhouse.
The roof also benefits the urban environment. The plants provide a location for pollination, and seeds collected from the roof can be used to re-seed other pocket prairies.
Rooftop green spaces can also be used to cool down the climate.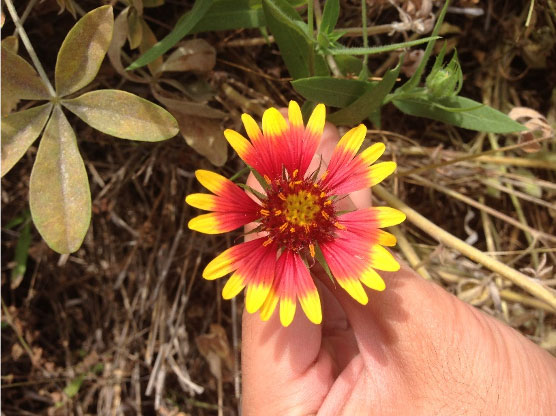 "Cities soak up more heat because of all the concrete, and they reflect it back," Pattison said. "Greenroofs reduce that heat pool effect in cities. This can keep the overall temperature of an urbanized area down some. You're also reducing the heat cost of the building itself by having that roof on your building."
Looking to the Future
To keep the green space flowering, Pattison and students seed bluebonnets, along with a mix of native wildflowers and grasses, and re-seed them every couple of years. They do not dig up topsoil because there is only six inches of it, and they do not want the lightweight synthesized soil mix, held in place by thatch, to blow off the roof.
Alverson, who is interested in a career in urban conservation, would like more students to know about the greenroof.
"Conservation is really lost in cities," she said. "Even having a small greenroof is important since it shows that people can have conservation in a small space. It doesn't have to be a giant park."
Pattison would like a new irrigation system installed on the greenroof, as the original one is nearing the end of its lifespan.
Other plans include putting a sign at the ground level with pictures and notes about what is on the roof and what the public can do to mitigate the loss of native prairie land in the Houston area, along with a summary of the greenroof's architectural design.
Pattison hopes the group's work on the roof serves as an example to other organizations trying to do something similar.
"The fact that it is so low-maintenance is really promising for other projects here in Texas," she said.
- Rebeca Trejo, College of Natural Sciences and Mathematics