Three Sites Added to Cross-State Project
The Texas Commission on Environmental Quality (TCEQ) awarded University of Houston Earth and Atmospheric Sciences research assistant professor James Flynn $808,000 to add new aerosol monitoring sites to the Houston area.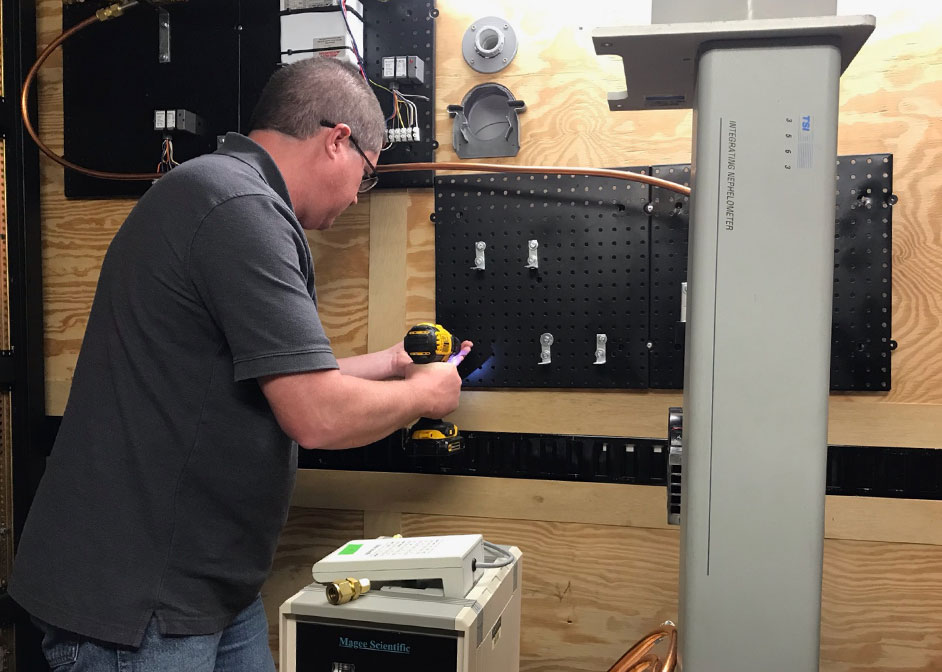 The grant expands work Flynn and his team began last year in El Paso to monitor the effects smoke from biomass burning (wildfires, agricultural burning, etc.) has on air quality. Three sites in the Houston area will be added at Aldine and the Galveston airport, which are TCEQ-owned sites, and in Liberty County. In total, Flynn's team will be monitoring four sites, including the continuation of the El Paso site.
Flynn is joined by co-principal investigators Yuxuan Wang, assistant professor of atmospheric chemistry in the College of Natural Sciences and Mathematics, and Peggy Lindner, an assistant professor in the College of Technology and the Honors College. The project is also a collaboration with Rebecca Sheesley and Sascha Usenko, associate professors at Baylor University.
The team will purchase new equipment and build sampling trailers to use as labs.
The TCEQ chose El Paso and Houston because of the cities' unique atmospheric environments. El Paso's environment contains pollution from trucks crossing the border and driving on Interstate 10, as well as from dust storms and wildfires. The city has also been the subject of other TCEQ studies.
Houston was chosen because it has a much larger ozone problem than El Paso and presents different challenges in identifying smoke events because of its high humidity, the emissions from industry and its larger population.
Flynn's team will also work with the National Oceanic and Atmospheric Administration to ensure their data is equivalent to the administration's own carbon aerosol monitoring data and can be incorporated into NOAA's national system in the future. However, Flynn points out, NOAA focuses on more remote areas, while his team is working with urban areas.
Examining Effects of Burning on Air Quality
"It's long been theorized that these smoke events can impact ozone levels, and Houston is not in compliance for ozone standards," Flynn said. "If ozone is coming in with the smoke plumes, then it's not being locally generated. It's not something that we in Houston are causing, whether it's people driving cars, the power plants or the refineries."
Flynn explains if it's determined that smoke brought in from other regions caused the high ozone, the state can argue an exceptional event case to the U.S. Environmental Protection Agency.
Agricultural burning or wildfires from other states, such as Arizona, Louisiana and even Alaska, have been shown to have an impact on the Texas environment, Flynn said.
He adds that industry is interested in this research because it could prove that high ozone was not caused by them. On the other hand, Flynn said, industry also likes to claim smoke caused the high ozone – when the data may show otherwise.
Measuring Wavelengths
To gather the data on smoke particles, Flynn will work primarily with two instruments: a nephelometer and a tricolor absorption photometer.
The nephelometer measures how light is scattered by particles, measuring them at three wavelengths. This lets researchers see the size of the particles and how they interact with different wavelengths of light.
The photometer similarly uses three LED lights with different wavelengths to measure how much light each wavelength absorbs.
Flynn explains these measurements are vital in determining the source of the smoke. Soot, which is black carbon, absorbs all wavelengths. However, brown carbon, which comes from organic sources, absorbs one wavelength more than another. The light that is reflected is what gives it its color.
In addition, the nephelometer helps researchers whittle down their analysis further by helping them differentiate between dust and smoke.
Wang and at least one UH graduate student will work with the data generated from the project to confirm biomass burning, where the burning occurred and where plumes came from.
"My role will be to paint a more complete picture," said Wang. "Bring the data sets into the context of other quantitative data such as satellite and transport modeling so that we can tell whether the area is impacted by biomass burning."
Science Assisting Policy Makers
Much of Flynn and Wang's work can become policy-relevant science.
"While we don't set the regulations, and we're not involved in determining what the regulations should be," he said, "we collect data for those who are making the decisions, like the TCEQ, to ensure that they've got the best data available when they make their determinations."
Flynn hopes that if his team shows the same level of high performance in Houston as it did in El Paso, more carbon monitoring sites could be added all over the state.
Rebecca Sheesley, co-principal investigator and associate professor in the Department of Environmental Science at Baylor University, said "we have good reason to think that we'll be able to help the TCEQ quickly and accurately identify the influence of biomass burning in Houston and El Paso."
Flynn's goal was to have the sites running by April 1, but delays due to the COVID-19 global pandemic have pushed that date back several weeks.
Flynn adds that even though the grant is funded by the TCEQ, the findings of the grant are the authors' work and do not necessarily represent the TCEQ.
- Rebeca Trejo, College of Natural Sciences and Mathematics