Geophysical Data Collected During Research Cruise
It's one thing to get hands-on experience outside the classroom. It's a completely different undertaking to set off on a 30-day voyage on the Atlantic Ocean.
More than 20 University of Houston students were part of a research project investigating the geologic and tectonic formation of Walvis Ridge, an underwater volcanic mountain range in the South Atlantic off Namibia.
Undergraduate and graduate students from UH's College of Natural Sciences and Mathematics' Department of Earth and Atmospheric Sciences had the unique opportunity to do research on board the seismic research vessel Thomas G. Thompson. The trip was led by UH geophysics professor William Sager.
Twelve students participated in the first cruise with the task of collecting seismic reflection data. They set sail from Montevideo, Uruguay, on November 5 and disembarked at Walvis Bay, Namibia, on December 7. Another group of students boarded the vessel on December 10 to gather magnetic data around Walvis Ridge. They ended their journey in Cape Town, South Africa, on January 5.
According to Sager, the data collected from the trip will be used to better inform researchers about the Cretaceous development of Walvis Ridge and why the hotspot chain is more complicated than the Hawaiian Islands, the classic example.
"We're trying to figure out how things in the ocean basins got to be the way they are," said Sager. "That tells us about the processes operating in the ocean basins."
The data will also be used to choose sites for an ocean-bottom drilling expedition by the International Ocean Discovery Program that Sager will lead later this year.
Crucial Data
Graduate student Sriharsha Thoram participated in both trips – spending 60 days at sea. The first 30 days were spent working the night shift.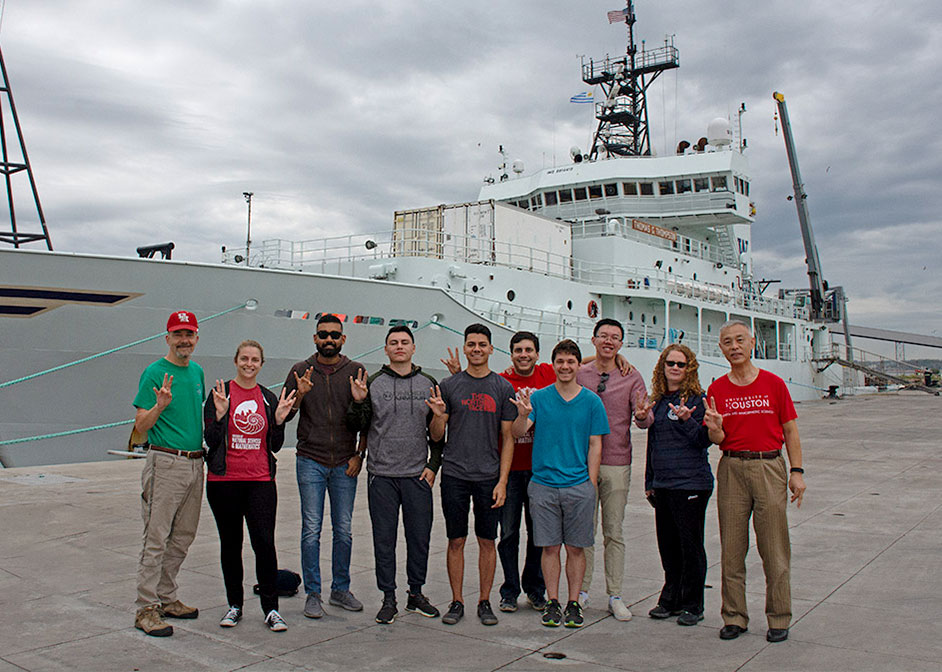 "Initially, it was tough to get used to that," Thoram said. "I would miss most of the meals. That was my sleeping time."
Thoram is a Ph.D. student in geophysics whose research depends on the data gathered on the trip. He studies oceanic plateaus and uses magnetic data to infer the development of the plateaus.
"Marine geophysics excites me, because roughly only five percent of the oceans have been mapped to date and there are many things about them that we don't yet understand. And oceans constitute 70% of the Earth," Thoram said.
"This project gave me an invaluable opportunity to personally collect data over Walvis Ridge for my research," he added. "It was a truly rewarding experience."
Undergraduate Perspective: A Sense of Wonder
A sense of wonder is one of the takeaways Sager hopes students gained from the research experience.
"When you go out in the ocean like this, we are making a 'picture' of the ocean floor that no one's ever seen before," Sager said.
Geology senior Amanda Pascali certainly felt this way.
She had her concerns before signing up for the trip out of fear of isolation. Even though her professors made it possible for her to join the research cruise and a student dropped out of the trip, opening a spot for her, Pascali was still not convinced.
"I didn't know if I had time. All the excuses that you make up because you're too afraid to do something," she said.
But her curiosity gave her courage.
"I've always had this wonder about seeing the isolated corners of the earth," she said.
On the research expedition, Pascali monitored the instruments used for mapping the sea floor – a task she said was not strenuous but required attention to detail. A team of two was always on watch to monitor the instruments, while other students used a computer program to filter out the "noise" in the swath bathymetry data constantly being collected.
Hard Work and Intriguing Information
As intended, this cruise was no vacation.
"When I get one of these opportunities, I try to take as many students as I can because it's hard work, but a great experience," Sager said. "You don't get a break until you come back."
He adds what made the trip particularly interesting is that Walvis Ridge is a more complicated formation than previously thought.
"But that's great news because it means it's unusual," Sager said. "We'll learn something from trying to figure out the history of it."
This research is part of a multi-year study on Walvis Ridge for Sager and Thoram. The study was funded by the National Science Foundation. Donors Karen Love (M.S. '85, Ph.D. '90) and Dr. Alex Woronow (M.S. '73), who both studied geology at UH, donated funds to help pay for student travel. Their donation was matched by ExxonMobil.
Sager said the expedition showed students how geophysics is done at sea.
"Here at UH, we have projectors and blackboards; we have a lot of theory," Sager said. "Students don't see the practical aspect of it. When you actually have to go do it, you have to figure things out on the fly. I hope they see what it takes to bring this all together."
For Pascali, it put life in perspective.
"I learned science, but I also learned things about life that you can't learn from taking a class where you get in your car and you go home and you have all your luxuries," she said.
And for Thoram, it not only gave him hands-on experience, but he also took on a leadership role and learned better problem-solving techniques.
"These kind of experiences are very rare to come by," he said.
- Rebeca Trejo, College of Natural Sciences and Mathematics
View this post on Instagram