Lifelong Educator Dedicated to Showing Beauty of Mathematics
Every year, the College of Natural Sciences and Mathematics recognizes excellence in teaching with the John C. Butler Teaching Award. This annual award, which goes to one tenure-track and one instructional faculty member, was established in memory of the late NSM Dean John Butler.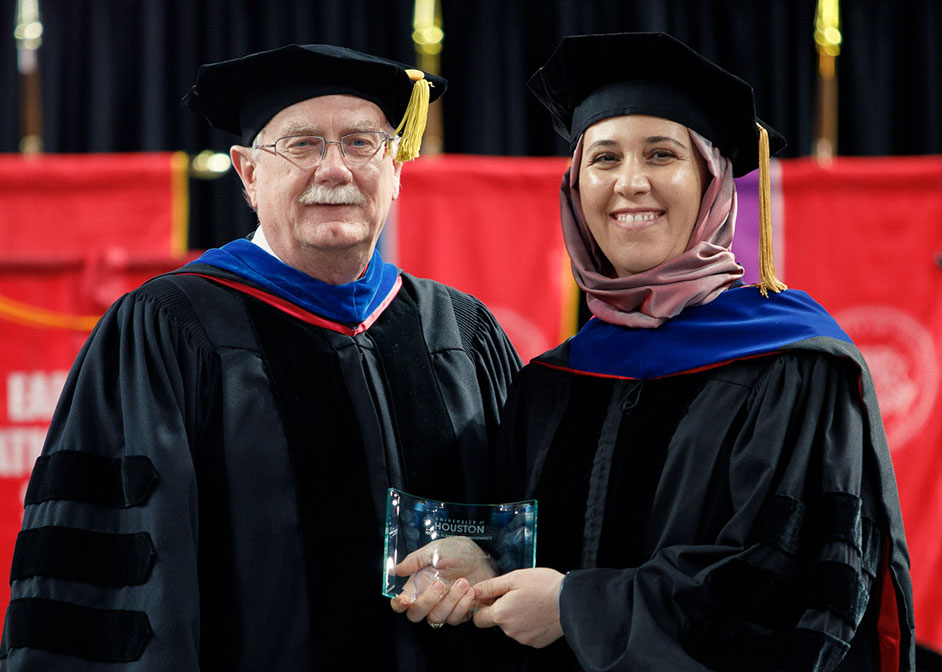 For 2019, the instructional faculty recipient is Melahat Almus, instructional assistant professor of mathematics.
Long History of Excellence in Teaching
Almus has a long history of excellence in teaching, starting in her early years as a high school mathematics teacher, when she was awarded 'Teacher of the Year,' two years in a row.
Almus arrived at the University of Houston as a graduate student in mathematics. After graduating with a Ph.D. in mathematics, she remained at UH, where students have benefited from her teaching ever since.
As one student recommender wrote, "Dr. Almus is, unequivocally, an excellent mathematician; however, the qualities that make her an exceptional educator go well beyond her technical capacity."
Approaching and Analyzing the Problem
In her teaching statement, Almus writes, "I teach my students how to approach and analyze the problem, determine the steps, and be patient and careful about following each step."
With this philosophy, Almus has taught a wide range of math courses, all the way from Math 1300 to Math 4389. Students overwhelmingly report that her thorough approach to teaching helps them make sense of a difficult subject.
As one student wrote, "I was never good at math. I always received mediocre grades. […] I am going to walk out of Pre-Cal with an A as well. It was hard work, but Dr. Almus made it exciting," while another student observed that "Dr. Almus utilized tools – such as videos, animations and 3D software – that, as a visual learner, really helped me grasp the concepts we were learning so quickly."
Almus has a reputation for her thorough approach to teaching, taking the time to share course materials, as well as work through problems, step by step, with students. As one of her colleagues observed, she "spends massive amounts of time making her classes perfect."
"Mathematics is beautiful, puzzling, and delightful," Almus said.
- Rachel Fairbank, College of Natural Sciences and Mathematics