Researchers Gather Data off Coast of Antarctica to Improve Predictions of Future Sea-Level Rise
Antarctica is one of the most remote spots on earth, roughly the size of the United States and Mexico combined and home to a rotating roster of scientists.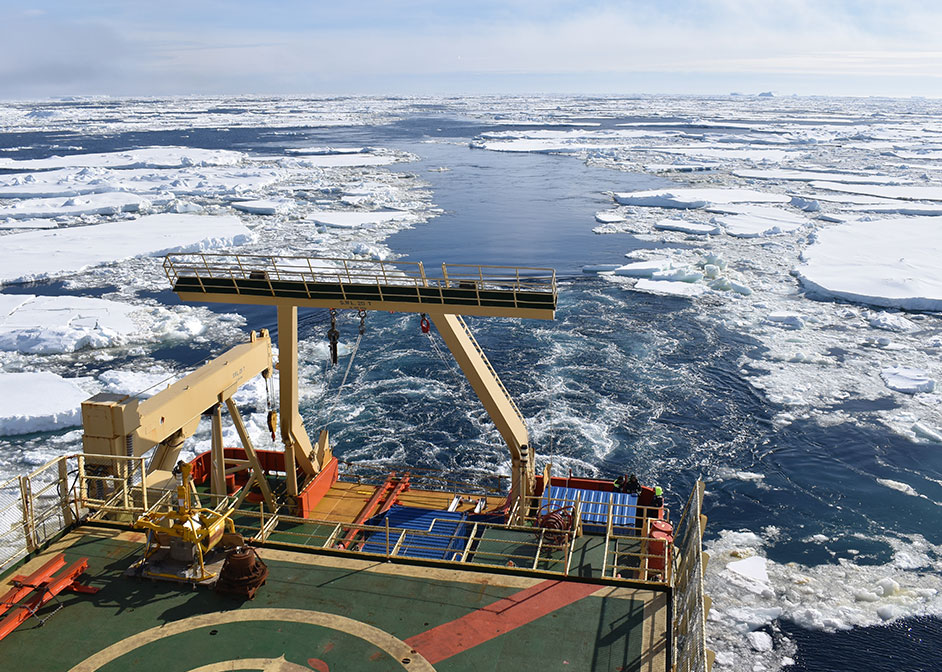 The Amundsen Sea off Antarctica's western shore is even more isolated. But the icy expanse is proving to be fertile ground for researchers, plowing the waters in search of clues that will help scientists more accurately predict future sea-level rise.
Two Missions. One Goal.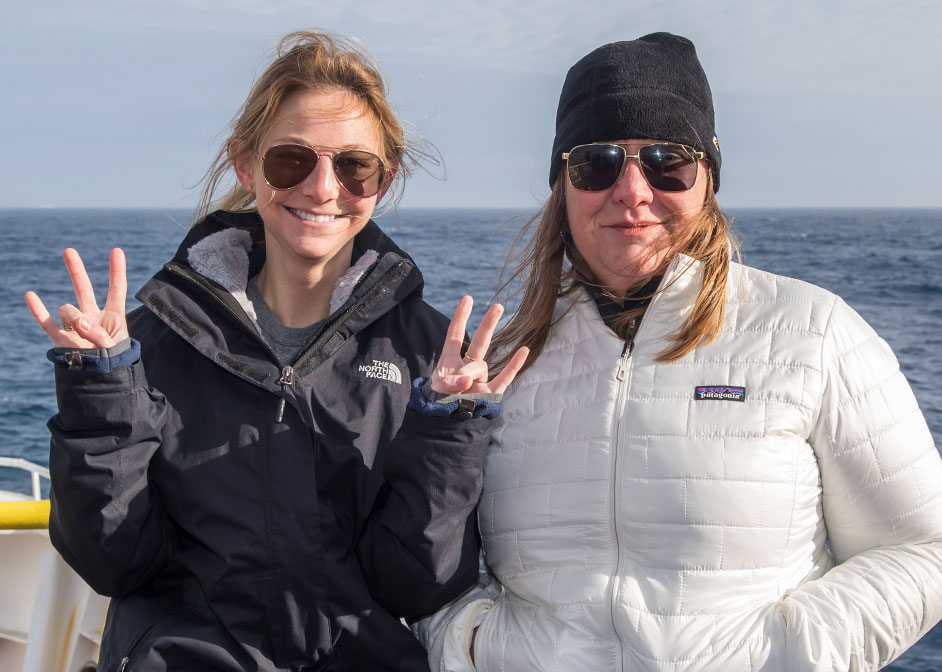 Julia Wellner, assistant professor of geology in the University of Houston's College of Natural Sciences and Mathematics, is directing two projects that are taking place in the Amundsen Sea this spring. UH PhD students Delaney Robinson and Rachel Clark are there, too, working on specialized ships that are spending February and most of March dodging icebergs and plowing through sea ice in the service of science.
The missions:
An international effort to study the Thwaites Glacier, involving dozens of researchers from the United States and the United Kingdom, funded by the U.S. National Science Foundation and the Natural Environment Research Council in the UK. Wellner and Robert Larter, a marine geophysicist for the British Antarctic Survey are co-principal investigators on the marine geology project, Thwaites Offshore Research, known as THOR. The effort will continue until 2022.
The International Ocean Discovery Program (IODP) Expedition 379 has scientists – led by co-chief scientists Wellner and Karsten Gohl, senior scientist at the Alfred Wegner Institute in Germany – aboard the JOIDES Resolution scientific drill ship. Funded by NSF and its international partners, Expedition 379 is charged with collecting sediment cores and logging data in the Amundsen Sea Embayment to investigate the development and sensitivity of the West Antarctic Ice Sheet.
Both groups set sail from Chile in late January. Wellner and Robinson are on the JOIDES Resolution, on the drill ship's first trip to the Amundsen Sea; Wellner, now on her 10th trip to Antarctica, is keeping tabs on her THOR team via satellite phone and email. Clark is part of the THOR team, sailing aboard the RVIB Nathaniel B. Palmer research vessel.
Understanding How Glaciers Have Behaved in the Past
Both ships are collecting sediment cores, which researchers study to reconstruct where the ice has been in the past; coupling that information with records of past water temperatures will allow scientists to predict future glacier behavior as the surrounding seawater grows warmer.
Wellner doesn't make predictions of how far and how fast sea levels will rise. But accurate predictions require an understanding of how the glaciers have behaved in the past, and the study of those sediment cores, composed of sand, silt and mud, offer clues to how and when the sediment was deposited in decades and centuries – even millenniums – past.
Sea-Level Rise
The work is crucial for helping nations prepare for the impact of future warming because the Antarctic ice holds so much frozen freshwater – a complete collapse of the West Antarctic Ice Sheet alone could result in a global sea-level rise of as much as 4.3 meters, or about 14 feet.
The two projects differ in scope, but Wellner said the science goals are the same. "We are determining how the ice behaved in the past in each of these projects, just at different timescales. Both projects aim to understand the controls on past ice flow so we can have a better idea about how it will behave in the future."
The Thrill of Discovery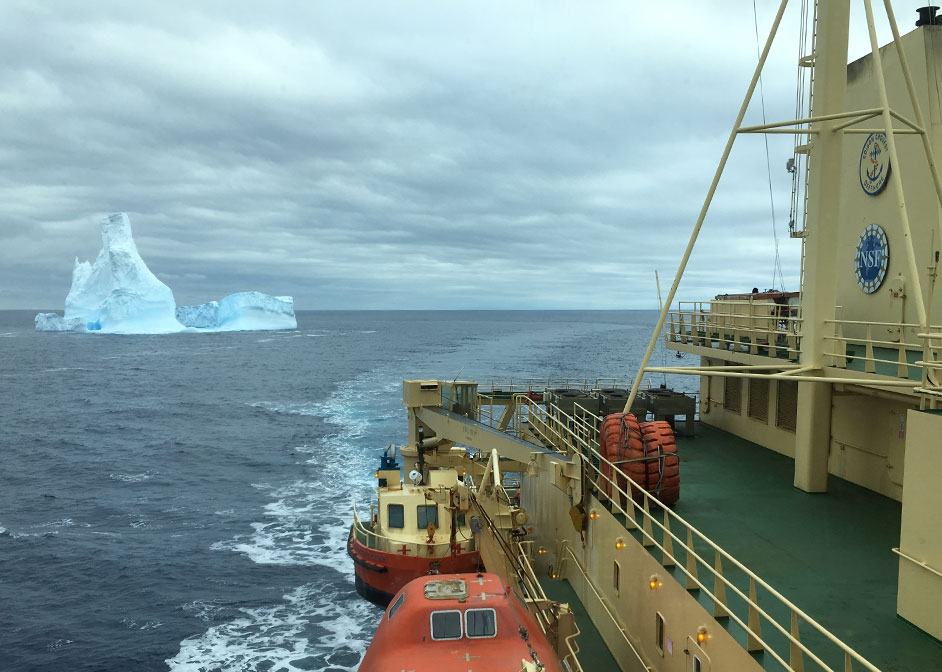 Antarctica is more than just the southernmost continent. It's also the coldest, windiest and driest, and it is almost completely covered by ice. Even by Antarctica's standards, the Amundsen Sea is a lonesome spot.
Victoria Fitzgerald, a NSF graduate research fellow and geology PhD student at the University of Alabama, described working on a rocky outcropping along the coast.
"To say the wind hurts is an understatement," she wrote on the THOR blog. "It's -10°F outside and the wind chill is around -20°F; I look around and take in what will be the next 12 hours of my day. This isn't an island that you can relax and drink a margarita on. It's a stone desert filled with ice, penguin poop, and Adelie penguin parents who are running in all directions away from their tenacious chicks who are begging for another snack.
"My selfish romanticized notion of touching Antarctica has quickly morphed into reality: Antarctica is cold and desolate and I'm pretty sure it wants to kill us."
She meant that in a good way, of course. Still, Antarctica isn't for everyone.
Wellner told Craig Cohen, host of Houston Public Media's Houston Matters, before leaving, that working in Antarctica – most research cruises last about two months – means 12 hour days, seven days a week.
The good news? There's not much to do except work.
And that work, she said, can be amazing.
"The true excitement of a science cruise is the discovery that happens in real time," she said.
That's especially true in Antarctica, where glacial melting means ships working at the edge of the ice may be in a spot where no ships have ever been. "We can see something for the very first time and know the excitement of discovery."
- Jeannie Kever, University Media Relations