Geophysics Field Camp Students Got Hands-On Experience
In August 2017, Hurricane Harvey triggered catastrophic floods in the Houston region, leaving behind an untold number of changes. This year, during the annual University of Houston Geophysics Field Camp, which is organized and run by professor of geophysics Rob Stewart, undergraduate students got the opportunity to quantify some of these changes. They collected data for an ongoing study examining sediment distribution and changes in Bolivar Roads, the main ocean channel into Galveston Bay, which separates Galveston Island and Bolivar Peninsula.
This area, part of the Houston Ship Channel, was mapped using sonar just a few weeks before Hurricane Harvey. Now, in an effort led by Will Sager, professor of geophysics in the Department of Earth and Atmospheric Sciences, students in the Geophysics Field Camp helped to map the area again, in order to understand what changes Hurricane Harvey wrought on the seafloor.
Seafloor Composition Characterization Performed in August 2017
In August 2017, Sager and a group of graduate students collected data on the seafloor depths and sediment types, as a demonstration project to bolster efforts in coastal surveying. Then, a few weeks later, Hurricane Harvey hit, and Sager realized the data they had just collected could be of use in quantifying the storm's impact.
"In our survey before Hurricane Harvey, we found many instances of current-caused sediment features, such as sand waves, which we think may be a feature caused by currents changing course at a bend in the channel," Sager said.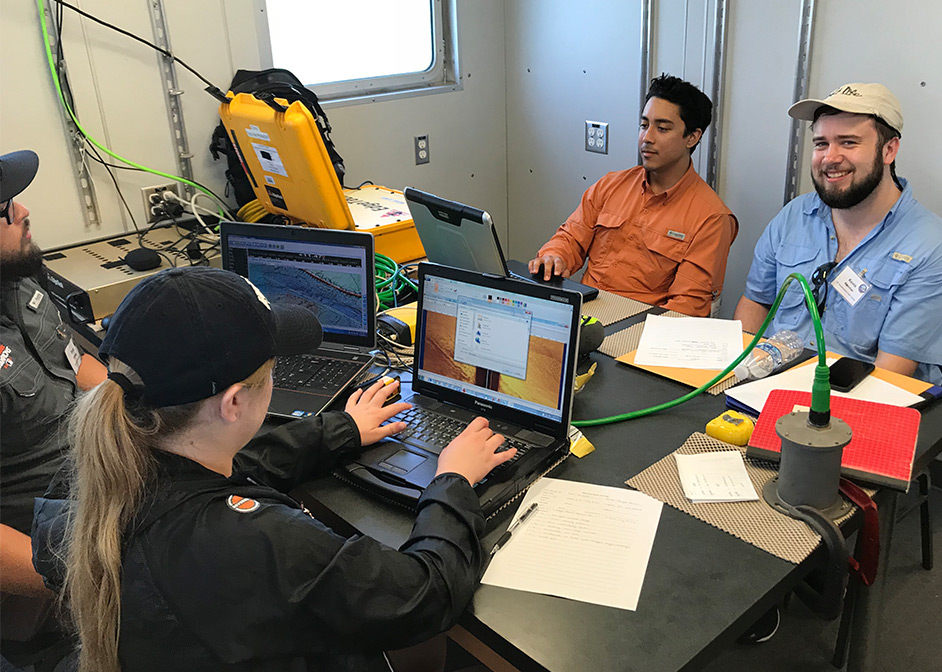 After Harvey, with funds from a National Science Foundation grant, Sager and students were able to repeat the sonar survey of the Galveston Bay seafloor.
In a continuation of this effort, in this year's field camp, 30 students got the opportunity to head out on a research boat, in order to expand the survey. Using two types of sonar, students collected data on the distribution of sediment types and structure of the seafloor. Funding for this additional survey time was generously provided by Carolyn and Jerry Warren (M.S. '65).
Sediment Features Blown Away After Hurricane Harvey
"Getting good data is more work than you realize," said Lynn Nguyen, one of the students on the field excursion. For Nguyen, this field camp was her final class before graduating with a bachelor's degree in geophysics. "It's a satisfying feeling, when you get that data."
The data the students gathered showed that the sedimentary ridges are less prominent after Hurricane Harvey.
"What happened in Harvey was similar to the nozzle of a firehose, with all that water going through very quickly, ripping up a lot of the sandy sediments and carrying it out to sea," Sager said.
"Out in the field, collecting this data, you learn how this all works," Nguyen said.
- Rachel Fairbank, College of Natural Sciences and Mathematics