Decreased Ozone Levels Due to Increased Regulations
Ozone comes with a toll on human health, causing lung damage and exacerbating conditions such as asthma, emphysema and bronchitis. The costs are significant, with high ozone days linked to increased hospital admissions for respiratory and cardiovascular conditions.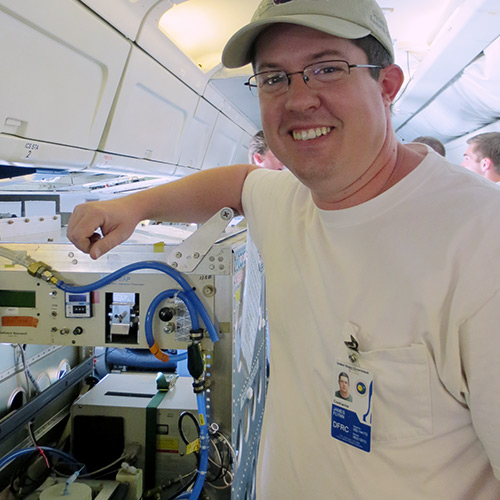 James Flynn, research assistant professor, is the lead investigator for a series of ozone monitoring stations in Houston.
Related News: Despite progress toward cleaner air, ozone is still a concern in the Greater Houston regionWithin the Houston area, once-high levels of ozone have been steadily dropping for the past decade, due to increased regulations at both the federal and state level.
Ozone Levels in Houston Region
"Ozone is one the bigger air quality issues in the Houston area," said James Flynn, research assistant professor in the University of Houston's Department of Earth and Atmospheric Sciences. "We have a high concentration of petrochemical and petroleum refineries, which, coupled with our geographic location and large population, compounds the ozone levels."
Ozone is a secondary pollutant, meaning that it is not directly emitted, but rather produced from the chemical reaction of different compounds. Within Houston, ozone is formed from the reaction of nitrogen oxides and volatile organic compounds (VOCs), the main source of these being from refineries and car exhaust, in the presence of sunlight.
Ozone Monitoring Sites Spread Throughout Houston Region
Flynn, who has been in the College of Natural Sciences and Mathematics since 2006, is the lead investigator for a collection of ozone monitoring stations around Houston.
This project, which is funded by the Texas Commission on Environmental Quality, offers continuous monitoring of ozone levels within the region, in places ranging from The Woodlands, all the way out to East Galveston Bay.
The main monitoring site sits 200 feet up, atop Moody Towers on the UH campus. The Moody Tower location offers monitoring that is free from highly localized influences, such as nearby idling cars or delivery trucks, while also being centrally located.
Recently, funding for this monitoring project was extended for another year, in what has been a decade-long effort by the University of Houston.
Firsthand Experience with Health Impact of Ozone Exposure
Flynn's first experience with the health impact of ozone exposure, which he likens to a "chemical sunburn on your lungs," was during high school, when he worked outside at an airport.
"During certain parts of the year, when I first started working there, it hurt to breathe," Flynn said. Later, when he started working in air quality research, he put two-and-two together, realizing he'd been working in a high-ozone area.
Ozone Levels in Houston Dropping Due to Increased Regulations
Over the course of his career, Flynn has seen the ozone levels in Houston drop. He credits this drop to the increased regulations, including that of highly reactive VOCs, which are a class of compounds that react, again and again, to form large amounts of ozone.
Decreasing emissions of highly reactive VOCs is an example of how making specific changes can lead to an overall big change.
"It's all about making targeted reductions, which will cause the most limited amount of disruption to the majority of people," Flynn said. "Targeting specific compounds will give you a bigger return on your investment."
- Rachel Fairbank, College of Natural Sciences and Mathematics