Will Fund Master's in STEM Education and Professional Development
Changes in education start by investing in teachers.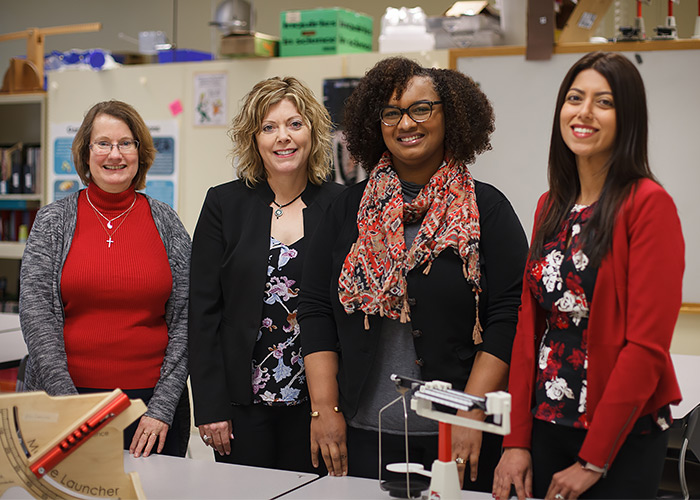 (Shown from left-to-right) Jennifer Chauvot, associate professor of curriculum and instruction; Paige Evans, clinical professor, teachHOUSTON; Leah McAlister-Shields, teachHOUSTON academic program manager; and Mariam Manuel, instructional assistant professor, teachHOUSTON.A six-year, $2.8 million grant from the National Science Foundation aims to do just that, by funding a program to develop STEM teacher-leaders. During the course of this program, local high school teachers will receive master's degrees in STEM education, as well as four years of ongoing professional development.
Training Teachers to be Leaders
"The opportunities provided through this grant will develop teachers to serve as leaders within their own schools, communities, and even on a national platform," said Paige Evans, a clinical professor in the teachHOUSTON program, and the principal investigator for the grant.
This grant was awarded to the teachHOUSTON program, which is a collaboration between the University of Houston's College of Natural Sciences and Mathematics and the College of Education. This grant is also in partnership with the National Math and Science Initiative and the Greater Houston high-needs school districts.
LEAD Houston to Build Cohort of STEM Teacher-Leaders
The program, called the Enhancing STEM Teacher Leadership Through Equity and Advocacy Development (LEAD) in Houston, or LEAD Houston for short, will build a cohort of secondary STEM teacher-leaders in local high-needs school districts.
Through two consecutive cohorts, 30 selected candidates will complete a 14-month master's degree in STEM education. After receiving their degree, they will continue in the program for an additional four years of professional development. During this time, all participants will be required to work as classroom teachers. In recognition of this time commitment, these teacher-fellows will also receive a yearly stipend.
Jennifer Chauvot, chair of the department of curriculum and instruction and co-principal investigator for this grant, will spearhead the master's program at the College of Education.
Best Practices for Addressing Disparities in STEM Education
One LEAD Houston focus will address disparities in STEM education for students coming from underserved populations.
"When it comes to student success in STEM, such as academic performance and achievement, we see huge disparities in minority students," said Leah McAlister-Shields, program manager for teachHOUSTON, and professional development coordinator for the grant. "Our goal is to address this disparity."
Culturally Responsive Teaching Normalizes Student Experiences
The curriculum for this program will focus on best practices for eliminating these disparities.
"One way to help address this is culturally responsive teaching, which recognizes that culture has an impact on how students learn," McAlister-Shields said. "The types of images you use in your classroom, the types of books that you reference, all of these are important for normalizing a student's experience through use of their own cultural references."
The master's curriculum, along with the professional development, will focus on the best methods for ensuring student success. In turn, these teachers will effect change within their own schools.
Creating Change in STEM Education
In addition to these opportunities, teacher-fellows will attend the national Laying the Foundation teacher training conference, put on by the National Math and Science Initiative. This four-day summer conference offers the opportunity for hands-on, teacher-to-teacher training at a national level.
"The long-term goal is to cultivate teacher-leaders, who are empowered to serve as change agents in STEM education reform," said Mariam Manuel, a teachHOUSTON instructional assistant professor, engineering education instructor for the master's program, and co-principal investigator for the grant.
The teachHOUSTON program is dedicated to addressing the shortage of qualified secondary STEM teachers through field-based pre-service teaching experiences. teachHOUSTON offers undergraduates the opportunity to graduate from college in four years with a bachelor's degree from the College of Natural Science and Mathematics as well as a teaching certificate.
More information on the LEAD Houston program can be found here.
- Rachel Fairbank, College of Natural Sciences and Mathematics