Recognizes Research Achievements and Service
"Chemistry empowers people," said Scott Gilbertson, M.D. Anderson Professor of Chemistry in the University of Houston's College of Natural Sciences and Mathematics. "One of the problems that medical research has is they lack the ability to make unique molecules."
Gilbertson was selected as a member of the 2017 class of Fellows for the American Chemical Society (ACS). The ACS Fellows Program recognizes and honors members for their outstanding achievements as well as their service to the Society.
Gilbertson's selection as a Fellow comes after an involvement in ACS that dates back to his days as a graduate student. Over the years, he has attended dozens of ACS meetings, given countless talks, and served on the Division for Organic Chemistry Executive Committee.
"I am a synthetic chemist," Gilbertson said. "The principal tool for my research is the ability to make new molecules, whether it's developing new catalysts or looking at biological probes."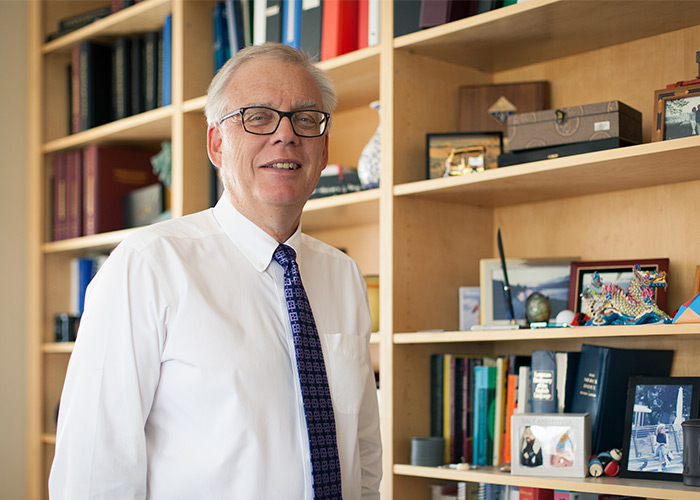 Gilbertson's research group has numerous collaborations with researchers at the Texas Medical Center as well as University of Texas Southwestern and University of Texas Medical Branch. Projects include developing molecules that can be screened for potential medical uses, as well as developing peptide catalysts for better reaction selectivity.
His group also has a long-running collaboration with addiction researchers at the Center for Addiction Research at UTMB.
"We are looking at behaviors that lead to relapse," Gilbertson said. "The two principal behaviors are impulsivity, which is taking action without regard for consequence, and reactivity to cues, such as when addicts return to their old environment. These are behaviors that drugs can have an impact on."
His research for this particular collaboration focuses on developing small molecules to interrogate and interrupt the serotonergic system, which is involved in addictive behaviors.
"Our ability to synthesize molecules creates bridges to the medical center," Gilbertson said. "This is one of the areas in which UH can have a big impact."
The citation for Gilbertson's selection noted his "groundbreaking development of parallel methods for catalyst preparation for the synthesis of transition metal phosphine complexes with stable secondary structure," his "development of pharmacotherapeutics for cocaine addiction," and his "impact on synthesis/medicine."
For the 2017 class of Fellows, 65 members were selected, with the announcement appearing in the June 19 issue of Chemical & Engineering News. Fellows will be honored at the fall ACS National Meeting in Washington, D.C.
- Rachel Fairbank, College of Natural Sciences and Mathematics