Will Collect Meteorite Samples as Member of ANSMET Field Team
Dr. Minako Righter, a researcher and lab supervisor in the Department of Earth and Atmospheric Sciences at the University of Houston, is set to depart for Antarctica. She will be a member of the annual field excursion for the Antarctica Search for Meteorites (ANSMET) program, which is run by Case Western Reserve University.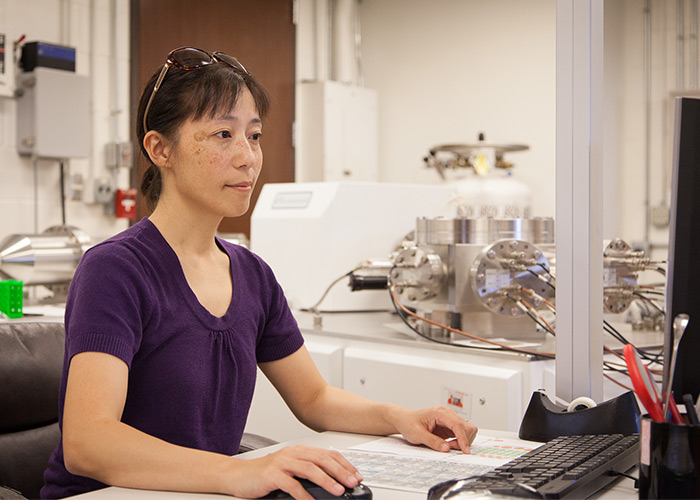 Dr. Minako Righter will spend six weeks in Antarctica as part of the Antarctica Search for Meteorites program.ANSMET, funded by NASA, has been leading annual field excursions along the Transantarctic Mountain Range since 1976 (program description). During that time, over 21,000 meteorite samples have been recovered. Sometimes called the 'poor person's space program,' ANSMET has yielded thousands of samples at approximately one percent of the cost of a space mission.
"In most settings, meteorites are hard to find because they look very similar to other rocks," Righter said. Although there are subtle differences which can be recognized by experts, the rarity of meteorites, along with the abundance of Earth rocks, makes it difficult to discover and identify potential samples.
"In Antarctica, it's easier to find meteorites because everything is covered in ice," Righter said.
A ground cover of mostly ice means that there is an increased chance that any rock recovered from the surface was one that fell from the sky. Along the mountain range, strong winds erode the ice cover, exposing layers from previous years, which leads to an enrichment of meteorites.
Each field expedition is made up of eight people, with a mixture of ANSMET veterans and first-timers. Selection is highly competitive, with an average of 100 people applying each year. This year, due to the fact that the team will be breaking up into two smaller groups to collect specimens at two separate locations, Righter will be the only first-timer.
"As a first-timer to Antarctica, I am very lucky to be surrounded by such an experienced team," Righter said.
Before the start of the expedition, Righter will arrive at McMurdo Station for 10-14 days of training and survival lessons with the rest of her team. After training, the team will break up into two separate groups to spend the next six weeks collecting specimens.
Samples collected on ANSMET missions are shipped to the Antarctic Meteorite Laboratory at NASA Johnson Space Center in Houston, where they are cataloged and preserved by curatorial staff. ANSMET staff and volunteers do not keep any samples for their own use, nor do they receive any special privileges for the distribution of samples.
What field members do get to keep is the knowledge that they have helped advance our understanding of the solar system beyond.
"This is a once-in-a-lifetime experience," Righter said.
- Rachel Fairbank, College of Natural Sciences and Mathematics